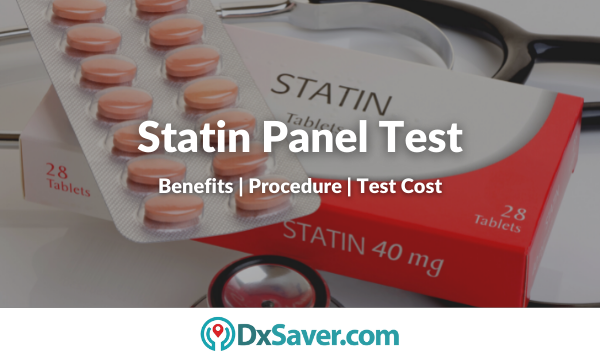 Statins are drugs used to lower cholesterol and are widely prescribed medications in the world. They are prescribed for people with high levels of low-density lipoprotein (LDL) or bad cholesterol. Statins may also help increase your levels of healthy high-density lipoprotein (HDL) or good cholesterol and improve the health of the arteries. Although statins are relatively safe for most people they are not recommended for pregnant patients or those with active or chronic liver disease. Statin panel test is a blood test that is used to monitor statin effects.
This article covers all the significant topics related to the statin panel test such as the test cost, preparation for tests, risk factor, and how to get tested for a statin panel test.
What are statins?

Types of statins

Benefits of statins

Statins side effects

What can put you at risk?

What is the statin panel test?

Preparation for statin panel test

What happens during the statin panel test?

Risk of statin panel test

How to get relief from statin side effects?

Provider locations
For our readers who are interested in knowing the statin panel test cost beforehand, we begin with that section.
How much does the statin panel test cost?
Statin panel test costs $249 in the US. Prior appointment isn't required. You can order tests online by comparing the price or visiting the nearest lab during lab business hours. You will get the results in your email in 2 to 3 business days after completing the procedure. Apart from this, doctor consultation is available for any kind of further treatment or medical advice.
The table below shows the statin panel test provider and their prices. You can know more and book the test by clicking on the "Book Now" button.
Name of our Partner Labs

Book Online at Offer Price

Reports – 1 to 3 days

The entire U.S.

Required to visit the lab

$249
Statin panel test cost with insurance
Many insurance companies in the U.S. cover all the vital tests like the statin panel test. However, the coverage provided by private health insurance companies and national health insurance programs like Medicare varies widely. Most of the health insurance policies cover statin panel test costs only once or twice a year and when your physician orders more than twice in a year, you should pay the test cost out of pocket. So, you are recommended to check if your health insurance policy covers the statin panel test cost.
Our statin panel testing providers do not accept any kind of health insurance policy. However, they can provide you with an itemized receipt containing all the details viz the name of the test, code of the test, and CPT code which is necessary for insurance reimbursement purposes.
What are statins?
Statins are a group of drugs which is prescribed by doctors to help lower cholesterol levels in the blood. Statins block the action of a liver enzyme that helps produce cholesterol. And they are also called HMG-CoA reductase inhibitors. Some studies also show that statins can reduce the risk of heart attack, stroke, and even death from heart disease by about 25% to 35% in certain people.
Doctors may recommend statins:
If a person has a peripheral arterial disease or already had a heart attack or stroke

When the LDL cholesterol level is 190 milligrams per deciliter (mg/dl) or higher

If you are 40–75 years old with diabetes and an LDL cholesterol level of 70 mg/dL or higher

When you are 40–75 years old with a high risk of developing stroke or heart disease or an LDL cholesterol level of 70 mg/dL or higher
Statins are the first-line treatment for high cholesterol and coronary heart disease. Apart from this, statins also help the lining of the blood vessels work better, reduce the amount of inflammation and damage done to cells through oxidation, and keep blood platelets from clumping together, thereby reducing the risk of a blood clot.
Types of statins
Currently, there are seven types of statins approved by the U.S. Food and Drug Administration. They include:
Atorvastatin (Lipitor)

Fluvastatin (Lescol)

Lovastatin (Mevacor, Altoprev)

Pitavastatin (Livalo, Nikita)

Pravastatin (Pravachol)

Rosuvastatin (Crestor)

Simvastatin (Zocor)
Although there are various types of statins, they all work similarly and offer the same level of effectiveness. So, the doctor will prescribe a statin based on the cholesterol level and other risk factors for cardiovascular disease. You may need to try 2 to 3 different statins before finding the one that is effective for you.
Benefits of statins
Most statins successfully help lower the LDL (low-density lipoproteins) or the bad cholesterol. Lowering these levels with statins helps decrease the risk of stroke, heart attack, and other vessel-related diseases. Statins work better than any other treatment for cholesterol. Additionally, they also help to relax the blood vessels, which leads to a decrease in blood pressure. High-intensity statin may help to slow and potentially reverse the growth of artery-clogging atherosclerotic plaques. And they may also make them less prone to rupture and cause heart attacks and strokes.
Statins side effects
Many people who are taking statin drugs tolerate them very well. However, some may have side effects.
The most common side effects of statin may include:
Headache

Abdominal cramping or pain

Bloating or gas

Nausea or vomiting

Diarrhea

Drowsiness

Dizziness

Difficulty sleeping

Flushing of the skin

Muscle aches or weakness (myalgia)

Constipation

Rash

Low levels of blood platelets
Rare side effects of all statins may include:
Memory loss or confusion

Increased blood sugar (can lead to diabetes)

Kidney damage

Liver damage
Pain in the upper abdomen or chest, dark or bloody urine may also be a sign of serious kidney and liver disorders. So, consult your doctor if you have any of these symptoms while taking a statin. In rare cases, rhabdomyolysis may occur in an estimated 2–3 in 100,000 people taking this type of drug per year.
What can put you at risk?
Although side effects are possible for anyone who is taking the statin, certain factors can make it more likely that you'll have side effects from taking a statin.
You are more likely to have side effects of statins if you:
Take multiple medications to control cholesterol

Have kidney or liver disease

Drink a lot of alcohol

Have some other health conditions (like hypothyroidism or neuromuscular disorders)

Are female

Have a small body frame

Are 65 years or older
Certain drugs may also interact with statins and increase the risk of side effects, it may include:
Gemfibrozil (Lopid), another variety of cholesterol drug

HIV treatments called protease inhibitors – saquinavir (Invirase) and ritonavir (Norvir)

Amiodarone (Cordarone, Pacerone), medication for irregular heart rhythms

Few antibiotic and antifungal medications, like clarithromycin and itraconazole (Onmel, Sporanox)

Some immunosuppressant medications like cyclosporine (Gengraf, Neoral, Sandimmune)
A doctor will thoroughly discuss the risks and possible benefits, before prescribing a statin to anyone with liver disease. When the liver disease is chronic & stable, taking a low-dose statin may carry greater benefits than risks. But when the liver disease is progressive, guidelines warn against using statins. And the doctor may reduce the dosage of the statin, switch statins, or stop their use when the liver disease develops while taking a statin. It is important to note that women who are pregnant, breastfeeding, or intending to become pregnant should not take statins.

What is the statin panel test?
Statin can be valuable for managing LDL and preventing heart disease. Although there are many benefits in taking statins, side effects can be a concern, especially when you have effects that are painful or bothersome. Do not suddenly stop taking the prescribed medication without talking to your doctor. Because when you have side effects from the drug, doctors may adjust your dosage or even recommend a different statin. Statin panel test is a blood test that is used to monitor statin effects.
Statin panel may include the following tests:
Lipid Panel – Complete cholesterol test is also called a lipid panel or lipid profile. Doctors use this test to measure the amount of good and bad cholesterol and triglycerides in your blood. It can also help determine the risk of the buildup of fatty deposits in your arteries that can lead to narrowed or blocked arteries throughout your body. High levels of cholesterol levels are a significant risk factor for coronary artery disease.
Alanine Aminotransferase (ALT/SGPT) – The alanine aminotransferase test is a blood test that checks for liver damage. Doctors use this test to find out if a drug, disease, or injury has damaged your liver.
Coenzyme Q10 (CoQ10) – Coenzyme Q10 test is a blood test that can provide an accurate measurement of plasma CoQ10 concentrations. CoQ10 is an antioxidant that the body produces naturally and the cells use CoQ10 for growth and maintenance. The levels of coenzyme Q10 are low in people with certain conditions like heart disease and in those who take cholesterol-lowering drugs (statins).
C-Reactive Protein (CRP), High Sensitivity (Cardiac Risk Assessment) – This test is a simple blood test that can be done to check your C-reactive protein level. Because the level of C-reactive protein increases when there is inflammation in your body.
Preparation for statin panel test
This testing requires fasting and you should not consume food or beverages other than water for at least eight hours before visiting the lab.
What happens during the statin panel test?
Statin panel test requires a blood sample. A lab tech or healthcare professional will take the blood sample from a vein in your arm. To make the vein fill with blood & swell up, the lab tech will tie a band around the upper part of the arm. They will clean the area with an antiseptic and place a needle into the vein. You may feel a slight prick/stinging sensation when the needle goes in. They will collect the sample in a test tube. After taking the blood, a lab tech will remove the needle & band. And they will put a bandage/gauze over the area where the blood was drawn.
Risk of statin panel test
There is little risk in having a statin panel test. It is common to have slight pain/bruising in the area where the needle was inserted. However, these symptoms go away quickly.
How to get relief from statin side effects?
Your doctors may suggest some ways to relieve the side effects. It is essential to discuss these steps with your doctor before trying.
Taking a break from statins may help you know if the drugs are the cause of muscle aches or other side effects

Switching to another statin drug or dose

Try to change your exercise routine gradually and skip intense workouts if you're not used to them

Consider other cholesterol-lowering medications to lower your cholesterol

Try coenzyme Q10 supplements, it may help prevent statin side effects in some people
Provider locations
A statin panel test can be done in any of the following locations by visiting the lab near you. To know the statin panel test cost, refer to the first section of the article.
Alabama

Alaska

Arizona

Arkansas

California

Colorado

Connecticut

Delaware

Florida

Hawaii

Georgia

Idaho

Illinois

Indiana

Iowa

Kansas

Kentucky

Louisiana

Maine

Michigan

Minnesota

Mississippi

Missouri

Montana

Nebraska

Nevada

New Hampshire

New Mexico

North Carolina

North Dakota

Oklahoma

Oregon

Pennsylvania

Puerto Rico

South Carolina

South Dakota

Tennessee

Texas

Utah

Vermont

Virginia

Washington

West Virginia

Wisconsin

Wyoming
Frequently Asked Questions
Will insurance cover my testing cost?
No, insurance will not be covered in the billing. However, they will provide you with a receipt for insurance reimbursement purposes.
How should I book my appointment?
You can choose the most suitable provider from above and make an appointment by following the instructions mentioned by them.
Can I cancel my lab test order?
Yes, you can cancel your lab test order any time before your testing. A refund will be initiated after deducting the cancellation fee. However, cancellation is at the discretion of the provider.
Do the providers offer result interpretations?
Yes, a few providers may provide doctor consultation who will take you through the results and provide clarification if needed.
How do I receive my report?
To ensure your privacy, the test report will be mailed to you by the provider.
Other topics you may also be interested in:-
Summary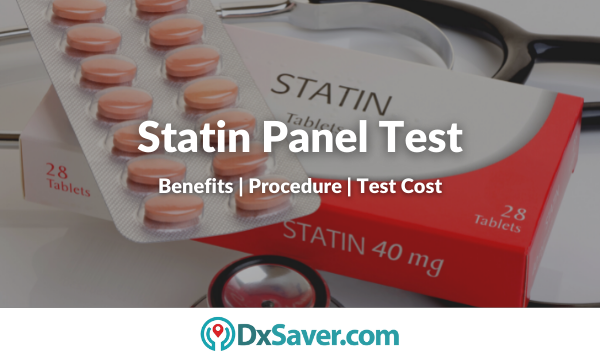 Author Rating





Brand Name
Product Name
Price
Product Availability