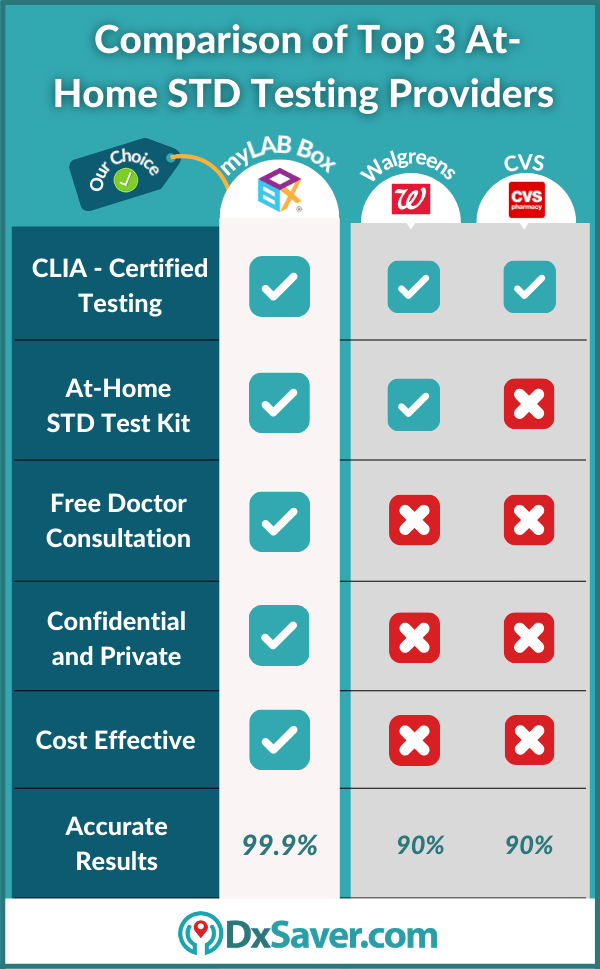 STDs refer to sexually transmitted diseases that are spread from one person to another, usually during vaginal, anal, and oral sex. This article covers the options for STD testing at home including a comparison of different providers of at-home STD test kits.
At-Home STD Test by Walgreens
There are many people who think that Walgreens offers at-home STD testing. This is only partly correct. Walgreens sells at home STD test only for HIV and UTI testing. It also offers a screening kit for vaginal health and a test to check for testosterone. If you are looking for Walgreens at home HIV / UTI test kits or sexual health kits, you may order those for home collection or for store pickup on the link below:
If you are looking for more comprehensive at-home STD kits covering multiple STDs like Chlamydia, Gonorrhea, Syphilis and many other STDs including HIV, you will have to consider other options. 
While Walgreens is a good option for some people, for those who are looking for discreet testing at home, we recommend MyLab Box. We discuss in detail the home STD testing options in the article, but if you want to know more about the at home STD tests kit delivered to your doorstep by mylab Box, please look at the options below.
Get your at-home STD test kit from mylab Box – Options
The home test kit delivery is available across the US. Once you send back the sample, reports are sent to you within the next 5 days. You also get a free physician consultation if you test positive. The testing is CLIA certified and 10,000s of satisfied customers vouch for the professional, discreet and reliable testing.
Top selling STD test packages are given below:
Different At-Home STD Packages

Price & Online Booking

Chlamydia & Gonorrhea Kit

Tests for the top 2 out of 4 STDs in the US – Chlamydia and Gonorrhea

$79

Safe Box

Tests for the most common 5 STDs

STDs tested include Chlamydia & Gonorrhea, Trichomoniasis, HIV (I & II)

$169

Uber Box

Very thorough testing for 8 STIs 

HIV (I & II), Hepatitis C, Herpes Simplex Type II, Syphilis, Chlamydia, Gonorrhea, and Trichomoniasis.

$199

HIV Test

$79
To explore other combinations of STIs and STDs, click on the link below
Detail of Top at-home STD providers in the US
The top three providers of at-home std test in the US are:
MyLab Box

LetsGetChecked

Everly Well

CVS 
STDs are really common, and lots of people who have them don't show any symptoms at an early stage. If STD is left untreated it can lead to serious health problems. On the bright side, with advancements in treatment techniques and antibiotics, most STDs are easy to cure. So we highly recommend every sexually active person get tested for STD screening at least once a year.
The article below covers the at-home STD test kit cost, STD home test kit providers in the U.S, their accuracy of testing, how accurate are they, how to book STDs sitting from home.
At-home STD test kit

STD home test kit cost

At-home STD test Walgreens

At-home STD test CVS

Accuracy of at-home STD test kits

Comparison of CVS, Walgreens, and myLab Box

How to get an at-home STD test kit

Advantages of myLAB box STD home-test kit
At-home STD test kit
You can check for STDs at home with the STD test kit. It requires a simple oral swab collection and an easy finger-prick blood spot collection as mentioned in the instructions on the kit and then post it back. And the test results will be emailed to you within 2 to 5 business days.
Home test kits are mostly preferred by the people who are not convenient in having an awkward conversation to answer questions about their sexual history with a medical physician in the lab, who do not have time from their everyday busy schedule, taking an appointment and visiting the testing center.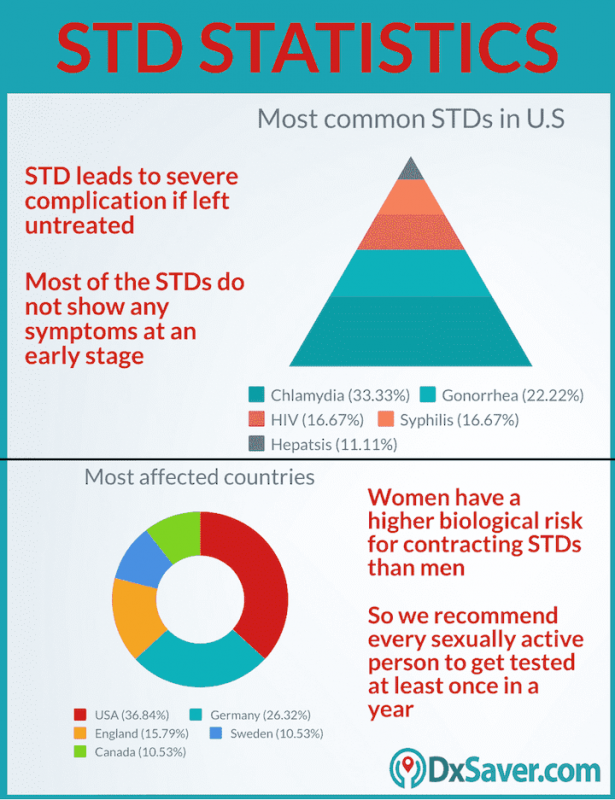 Walgreens branches offer only one STD home test kit online, which is an HIV test kit and the other STD test kits can be purchased only in their stores. In short, Walgreens does not provide all STD home test kits.
CVS Pharmacies offer an STD home test kit online. But when you're testing, you may have questions or concerns about the accuracy of tests or the results. A positive result with this test does not mean that you are definitely infected, but rather that additional testing should be done in a medical setting which would be an overcharge.
In this article, we explain in detail about the difference between an over-the-counter STD test kit from Walgreens/ CVS and the comprehensive at-home STD test kit readily available online from one of our testing providers.
STD home test kit cost
The Walgreens do not offer at-home testing or any online options for STD tests other than the HIV test. Many Walgreens locations have in-store clinics. STD HIV test costs around $45 at Walgreens. The clinicians will also go over the different types of STDs and STIs which can be purchased in-store. The cost of taking different tests can vary, starting from $100 and capped at $150.
The CVS pharmacies provide the STD home testing kit which can be either purchased online or bought in-store. At-home STD tests at CVS prices are around $45 for an HIV test and can go up to more than $140 for other specific tests like Herpes/ Gonorrhea/ Trichomoniasis/ Syphilis test.
But, presently, online test options are not available at CVS to screen for Mycoplasma genitalium or HPV. While HPV is a well-known STD. According to the 2015 Sexually Transmitted Diseases Treatment Guidelines issued by the Centers for Disease Control (CDC), Mycoplasma genitalium was included as one of the "emerging issues."
There are many options out there and we have identified the best and affordable at-home STD test kit providers, their information, and listed them for our readers. One of our STD testing providers (CLIA – Certified) located across the U.S. offers an at-home STD test kit.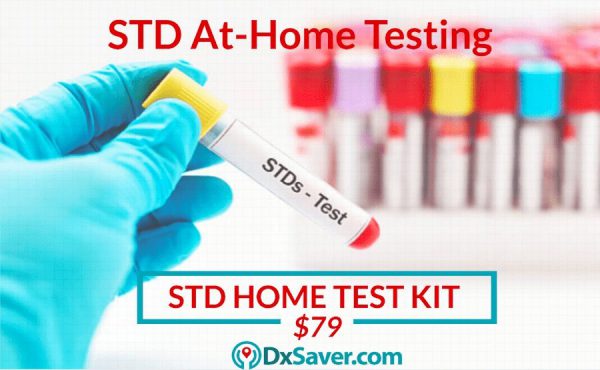 At-home STD test Walgreens
As we mentioned above, Walgreens does not provide any other STD home test kit. They provide only in-store testing.
These test prices vary widely, starting from $45.99 and increasing up to $150. But, these tests only screen for HIV. You can look for other providers in the U.S. if you want to get tested for any other STDs other than HIV.
Walgreens Clinic providers are skilled to test, diagnose, and provide treatment. However, this currently includes only HIV screening. If you are worried about other STDs and want to get tested for others, you can book online from one of our testing providers.
At-home STD test CVS
CVS Pharmacies is one of the leading pharmaceutical drug store chains and healthcare providers in the U.S. CVS at-home test cost start from $45.99. Unfortunately, this test does not provide accurate test results. One should always get an additional medical setting which eventually leads to burdensome bills.
How accurate are they?
In the case of oral swab test used by Walgreens and CVS takes saliva as a sample. The results are generally quite accurate 90% of the time. But, Walgreens show results for only HIV and other STDs are gone undetected. You never know what type of disease you are infected with and almost all the STDs show no-less signs and symptoms in the early stage since you have contracted the disease.
Our testing partner, myLAB box provides 99.9% accurate test results within 2 to 5 days for STD. They get it right the first time as they use FDA-approved techniques and are CLIA – Certified labs, so you don't need to worry about the false positives or negatives and additional medical tests that can emerge with the Walgreens test.
CVS, Walgreens Vs. Other health providers in the U.S.
One of our partner laboratories (CLIA – Certified) networks that offer at-home STD test kit, and located across the U.S. The following info-graphic shows the comparison of STD testing facilities offered by the health providers.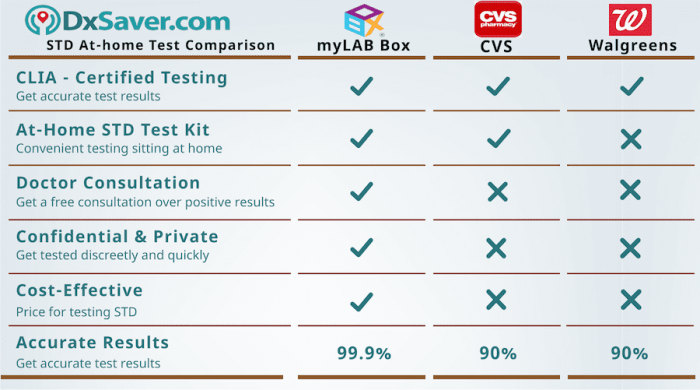 Thankfully, our STD testing provider has various benefits and other options that are easily accessible to anyone in the country.
How to get an at-home STD test kit?
People who live in small towns where anyone's coming and going could be easier to notice. My Lab Box at-home STD test kit can be ordered online where the test kit will be delivered to your home and the package doesn't tell where it comes from and what it contains. You can follow the steps as said in the instruction papers and mail it back to the mentioned address. Unlike Walgreens and CVS test kit which needs to be bought over the counter and exposing the personal identity while getting tested for it.
Get your at-home STD test kit
Advantages of myLAB Box STD home-test kit
Our partner, myLAB Box provides various testing options for screening other STDs such as HPV, chlamydia, gonorrhea, syphilis, herpes, mycoplasma genitalium, and more.
Walgreens and CVS provide individual test options and you cannot ascertain which particular test is right for you. You might be exhibiting symptoms of other STDs and be worried and confused about it. Thus, comprehensive test bundles are perfect to screen for the most common STDs at once and not leaving the comfort of your home.
An over-the-counter HIV test is very good. Unfortunately, since these rapid results only test for HIV infection, so you're missing out on overall STD diagnosis. So, we recommend you to take a test for all the most common STIs. Plus, there's a chance you could go through hefty co-pay due to multiple visits for various tests at these counters.
Sometimes, you may not even have a Walgreens clinic or CVS pharmacy branch in range to your home. Even though they cover most of the states across the country, even a network of this size can't include every square mile. People who live in the rural locality don't have access to take a test, and their chances for STD testing are limited.
Why should you choose our partner over Walgreens, CVS
Our at-home STD testing provider has several advantages and easily accessible to anyone in the country, which will get you rapid lab-certified results without leaving the comfort of your home, and if the test results are positive you'll get a free doctor consultation for further treatment. MyLAB Box home STD test kits cost lower than the Walgreens/CVS providers. The test cost at Walgreens and CVS are set high at $100. Being pharmaceutical companies they do have answers to any health query still, they are not qualified doctors to provide exact prescriptions and best medications.  Also, stepping into a Walgreens clinic, you should be prepared to answer questions about your sexual history and personal issues.
This provides a reasonable option to choose our partner, myLAB Box for those who want to save time, and get affordable STD testing.
Four big advantages of getting tested with our partner laboratory:
Affordable

Private and confidential

Convenience (At-home testing)

Accurate and reliable
You don't want to end up spending more than you can afford. Our STD testing provider offers valuable service in means of low cost, and nationwide home testing kit.
Get your STD home test kit in the
US
One of our partner laboratories (CLIA – Certified) networks that offer at-home STD test kits, private and quick testing, and located across the U.S.
Name of our Partner Labs

Book Online Now

(Home Test Kit)

Reports – 1 to 5 days

The entire U.S. 

Home-test kit provider

Starting Price

$79
Multiple STD Testing Combo 
Taking multiple STD tests individually might be more expensive, rather go with a comprehensive test package which is considerably low cost compared to all the individual tests summed up.
We have identified the most selling STD in the U.S. at-home products of myLAB Box and listed them below with some details.
4 Panel STD at Home Test ($169) – Get tested for the 4 common STDs sitting at home – Chlamydia, Gonorrhea, HIV, & Trichomoniasis – Order Now
8 Panel STD at Home Test ($199) – Get 8 tests sitting at home. HIV (I & II), Hepatitis C, Herpes Simplex Type II, Syphilis, Chlamydia, Gonorrhea, & Trichomoniasis –  Order Now
14 Panel STD at Home Test ($369) – Get the most comprehensive home STD test kit covering Chlamydia (genital, throat, rectal), Gonorrhea (genital, throat, rectal), Hepatitis C, HIV I & II, Herpes Simplex 2, Syphilis, Trichomoniasis, Mycoplasma Genitalium, HPV (optional add-on for women 30 years of age and older) – Order Now
FAQ on STD booking through our partner labs
Can I cancel my lab test order?

–

Yes, you can cancel your lab test order anytime before your testing. The refund will be initiated after deducting the cancellation fee. However, cancellation is at the discretion of the provider.
Provider Locations
STD home testing can be done in any of the states of the US. Please follow the above links to decide on your test and make the booking online.
Other topics you may be interested in:-
Reference Articles:
Healthline: "https://www.healthline.com/health/healthy-sex/at-home-std-test"

NPR: https://www.npr.org/sections/health-shots/2017/08/13/536905120/you-can-order-a-dozen-std-tests-online-but-should-you
Summary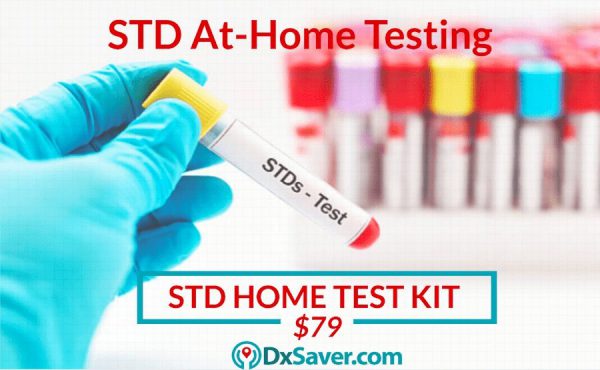 Author Rating





Brand Name
Product Name
Price
Product Availability