Sexually Transmitted Infections are defined by the name itself. STDs are contracted from one person to another by sexual contact, including vaginal, anal, and oral sex. Some STDs also spread via non-sexual means such as blood products.
In this article, we explain in detail what are STDs, how are STDs spread, the types of STDs that cannot be cured, the symptoms of STDs, how to get tested for STDs, and at-home testing kit options.
What is an STD?

STDs vs STIs

Symptoms & Signs of STDs

What are the types of STDs that cannot be cured?

Types of STDs that can be cured

How to get checked for STD?

Is there an STD home test kit available?

How much does STD testing near you cost?

Providers Locations
What is an STD?
According to the Centers for Disease Control and Prevention (CDC), 20 million new sexually transmitted infections are reported in the United States each year. There are more than a dozen different types of STDs that are caused by different bacteria, parasites, virus and other microorganisms that transmits during sexual intercourse. Following are the 8 most commonly reported STDs;
HIV

Syphilis

Hepatitis B

Gonorrhea

Chlamydia

Trichomoniasis

Herpes Simplex Virus (HSV)

Human Papillomavirus (HPV)
Most of the time STDs do not show any early symptoms or signs of an infection. The symptoms typically appear after one or two weeks after you had unprotected sex or sex with an infected person. It's is important to get tested for STDs if you suspect being exposed to STDs to avoiding serious health complications and for your safety of your partner(s), and general public health.
STDs vs STIs
Sexually Transmitted Diseases (STDs) are also known as Sexually Transmitted Infections (STIs). There are no different from one another. However, from the diagnostic perspective diseases are medical conditions that cannot be cured or will be present/recurring in the individual for lifelong. Whereas, infections are temporary conditions affecting the individual in a multitude of symptoms and signs.
Here in the context of Sexually Transmitted Diseases, it means the STDs that cannot be cured. The virus causing STDs are incurable, namely – HIV, Herpes, Human Papillomavirus, and Hepatitis.
Sexually Transmitted Infections are caused by bacteria, yeast, or parasites that can be cured using appropriate antibiotics.
People who are affected by viruses causing STDs, such as HIV or Herpes, will be infected for life. But, there are antiviral treatments that significantly reduce the risk of passing on the disease and can reduce symptoms.
In general, both STDs and STIs refer to medical conditions that are spread via sexual contact.
Symptoms & Signs of STDs
STDs cases have been skyrocketing lately. The main reason is that STDs play in silence and do not show symptoms until a certain time period has been passed. Thus, the person who has been affected with an STD may not even know and acts as a carrier and spreads it to other sex partners.
Following are the symptoms of STDs/STIs –
STD Symptoms in Women
Unusual vaginal discharge

Painful urination

Pain during sexual intercourse

Lower abdominal pain

Heavy menstrual bleeding
STD Symptoms in Men
Thick penile discharge

Burning sensation while urinating

Swollen testicles

Anal itching

Irritation inside the penis

Painful bowel movements
Common Symptoms
Fever

Headache

Weight loss

Diarrhea

Joint pain

Jaundice

Sore throat
Another reason for the widespread of STDs is that they are often misunderstood with Urinary Tract Infections (UTIs) as most of the STDs affect the genital tract. If the STDs are left untreated at an early stage, they can lead to serious reproductive health consequences such as infertility or mother-to-child transmission.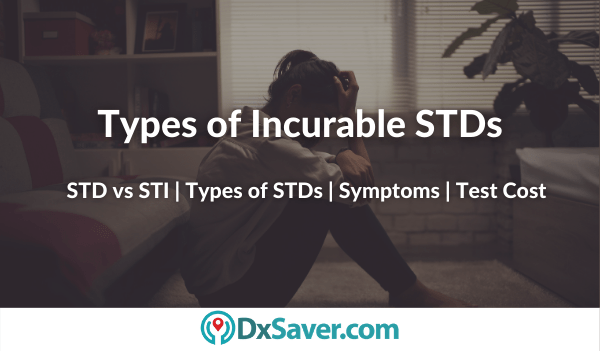 What are the types of STDs that Cannot be Cured?
There are more than 30 different types of microorganisms such as bacteria, viruses, and parasites that are known to be transmitted through sexual intercourse.
Eight of these pathogens contribute to the eight most commonly reported sexually transmitted diseases. Due to medical advancements, out of these 8 infections, 4 STDs have curable treatment and medications. The curable STDs are syphilis, gonorrhea, chlamydia, and trichomoniasis. The other 4 are viral STDs that cannot be cured, they include:
Hepatitis B

HPV (Human Papillomavirus)

HSV (Herpes Simplex Virus)

HIV (Human Immuno Deficiency Virus)
STDs that cannot be cured: Hepatitis B
Hepatitis is a family of viruses that are named alphabetically due to their nature of infecting the liver as their primary organ. Hepatitis B is a Sexually Transmitted Disease that is spread via vaginal, anal, oral sex and by coming in contact with genital fluids or blood. This disease is also spread through the exchange of used toothbrushes or razors in which the blood of the infected may carry and sharing the used needles for tattoos and shooting drugs.
Symptoms and signs of Hepatitis B include –
Dark urine

Extreme fatigue

Vomiting 

Abdominal pain

Loss of appetite

Joint pain

Yellowing of the skin and eyes (jaundice)
If you experience any of the above symptoms and suspect that you are exposed to Hepatitis B, then get tested for STDs right away to avoid life-threatening consequences like liver cirrhosis and liver cancer.
STDs that cannot be cured:
HPV
Human papillomavirus, also known as HPV is an extremely common STD. According to a study from CDC, about 9 out of 10 sexually active people will contract HPV in their lifetime. HPV is an incurable STD and, in some cases, it can lead to:
Cervical cancer

Genital warts

Oral cancer
For this reason of incurableness, many children are vaccinated to protect against the HPV virus. Women, in particular, are asked to take pap smear tests to check for HPV once every few years, as they are more prone to HPV infection than men.
STDs that cannot be cured:
HIV
The most popularly known STD is the Human Immuno Deficiency Virus, also known as HIV. This is a deadly virus that fights the body's immune system especially the CD4 cells (T-cells) which are primary cells that defend us against infections. HIV infection progresses in three stages. If HIV is left untreated, it weakens the body's immune system leading to AIDS (Acquired Immunodeficiency Syndrome) which is the advanced and last stage of HIV infection.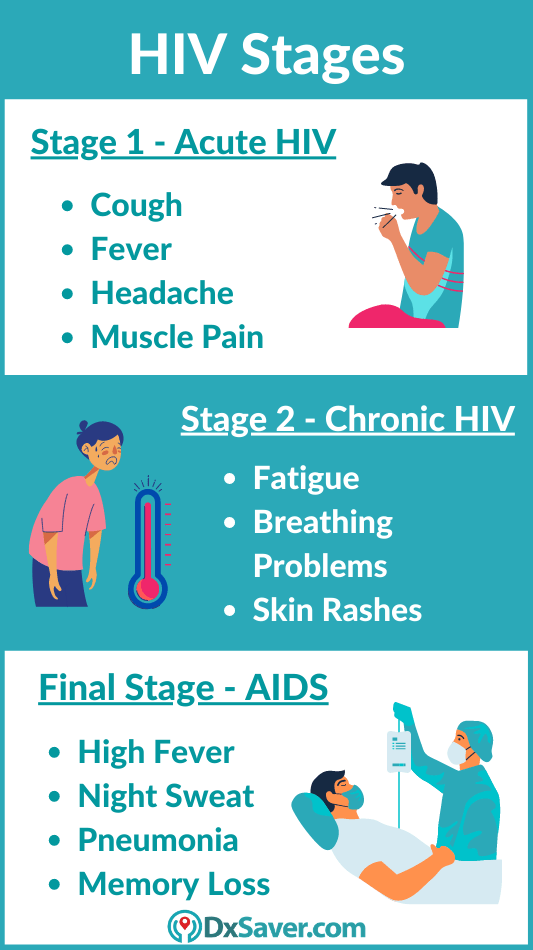 If the disease is addressed early with testing, you may have a chance of suppressing the HIV's activity by taking antiviral medications and thus keeping a check on it for several years. However, once HIV is contracted it stays with you lifelong. Get checked for HIV with the HIV RNA early detection testing here.
STDs that cannot be cured:
Herpes
This is caused by a virus known as Herpes Simplex Virus. Herpes is a very common and chronic STD. Herpes is of two types, named numerically – HSV 1 and HSV 2. They are distinguished by the area the virus predominantly attacks and causes infection. HSV 1 is known for oral herpes and HSV 2 causes genital infection, also called genital herpes.
Symptoms and signs of Herpes STD include –
Blisters and sores in the mouth and genital areas

Vaginal discharge

Pain and itching in the genitals

Pain during urination

Fatigue

Fever

Enlarged lymph nodes

Red blisters on the skin

Lack of appetite

Burning or tingling around the genitals
Read more on symptoms of Genital Herpes in women and Herpes in men here.
Types of STDs that can be Cured
Three bacteria causing STIs and one parasite causing STI are generally curable with existing, effective single-dose regimens of antibiotics.
The four curable STDs and the pathogens caused by are:
How are STDs treated?
Bacterial STDs can be treated with antibiotics if treatment begins at an early stage. Unfortunately, viral STDs like HIV cannot be cured, but you can control and/or eliminate symptoms and reduce the risk of transmission to others by taking antiviral drugs. If your given antibiotics to treat STD, you should take all of the drugs prescribed by your physician, even though you stop showing symptoms. Also, avoid taking someone else's medication to cure your infection; this will lead to severe difficulties to diagnose.
If you suspect your partner having STD-related bruising and other symptoms, but thinking or hoping your partner doesn't have is no protection — you need to know for sure by having your partner tested for STDs. This way you can protect yourself and start diagnosis for your partner at an early stage avoiding major health complications.
How to get checked for STDs?
There are different forms of tests to get diagnosed with STDs. Firstly, your physician may ask you to take any of the following tests like using a cotton swab in the infected area such as mouth, throat, vagina, anus, or penis or may be asked to take a blood sample or a urine sample. The test shall be taken based on the medical and sexual history you have and the symptoms you experience.
Is there an STD home test kit available?
There are STD home test kits available to get tested at home. You can order an STD test kit online from one of our testing providers. Order your STD home test kit now! All you need to do is follow the instructions mentioned on the testing kit and post it back. STD home test kit requires a simple oral swab collection and an easy finger-prick blood spot collection and the results will be mailed to you within 2 to 5 business days.
It is mostly preferred by people who have who do not have time from their everyday schedule, taking an appointment, and visit the testing lab. Also, those who are not convenient in having an awkward conversation to answer questions about their sexual history with a medical physician in the lab can prefer a home testing kit.
How much does STD testing near you cost?
There are many options available for the STD home test kit, but we have identified the best and the affordable home test kit providers and have listed them out for our readers. One of our STD testing providers who is a CLIA – Certified also offers an at-home STD test kit at an affordable price across the U.S.
The following table shows the STD home test kit and STD testing cost at 3 of our partner laboratories (CLIA – Certified) network located across the U.S.
Name of our Partner Labs

Book Online

Reports – 48 hours

The entire U.S.

Required to visit the lab

Exclusive $10 discount auto-applied on checkout by shopping through DxSaver.com

Starting from

$24
$14

(Home Test Kit)

Reports – 2 to 5 days

The entire U.S.

Home-test kit provider

Use code "DX25" to avail exclusive 25% discount on checkout by shopping through DxSaver.com

Starting from

$99

$74.25

Reports – 72 hours

The entire U.S.

Required to visit the lab

Starting from

$24
Providers location
STD tests can be done in any of the following states either at the provider's location or home. To know the STD test cost in these locations, check the above table.
Alabama

Arizona

Arkansas

California

Colorado

Connecticut

Delaware

Florida

Hawaii

Georgia

Idaho

Illinois

Indiana

Iowa

Kansas

Kentucky

Louisiana

Maine

Michigan

Minnesota

Mississippi

Missouri

Montana

Nebraska

Nevada

New Hampshire

New Mexico

North Carolina

North Dakota

Oklahoma

Oregon

Pennsylvania

Puerto Rico

South Carolina

South Dakota

Tennessee

Texas

Utah

Vermont

Virginia

Washington

West Virginia

Wisconsin

Wyoming
Frequently Asked Questions
Will insurance cover my STD testing cost?
No. Generally providers do not accept the insurance in order to ensure your privacy. However, they will provide you a receipt for insurance reimbursement purposes.
How should I book my appointment for STD testing?
You can choose the most suitable provider from above and make an appointment by following the instructions mentioned by them.
Can I cancel my lab test order?
Yes, you can cancel your lab test order anytime before your testing. A refund will be initiated after deducting the cancellation fee. However, cancellation is at the discretion of the provider.
Do the providers offer result interpretations?
Yes, few providers may provide doctor consultation who will take you through the results and provide clarification if needed.
How do I receive my report?
In order to ensure your privacy, the test report will be mailed to you by the provider.
Other topics you may be interested in –
Summary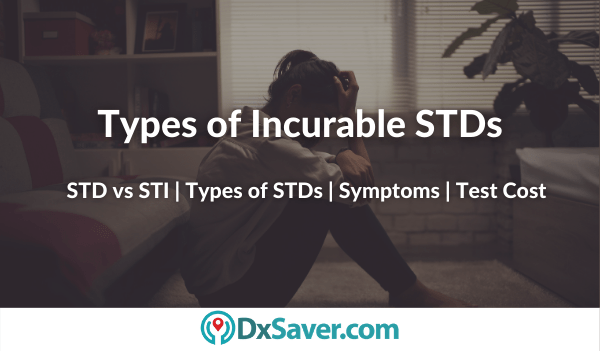 Author Rating





Brand Name
Product Name
Price
Product Availability