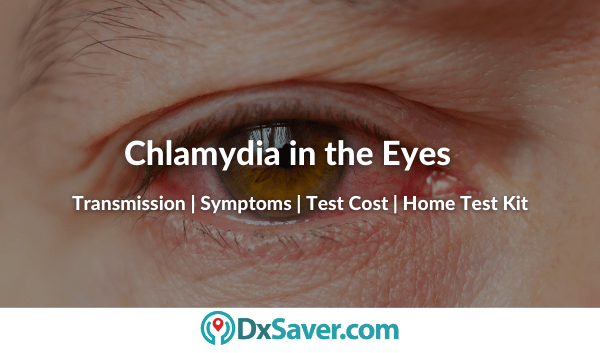 Chlamydia is a highly contagious disease that spreads through sexual contact. Chlamydia-causing bacteria also has the potential to spread to the eyes, by touching eyes with your hands after unprotected sex. Eye chlamydia is identified from frequent tears, pink eyes, swollen lymph nodes around the eyes, and irritations.
The article below covers the chlamydia test cost, symptoms of eye chlamydia in men and women, eye chlamydia treatment, prevention, and how to get tested for chlamydia sitting at home.
Chlamydia Test Cost

What is Chlamydia?

Chlamydia in Eye

Other Symptoms of Chlamydia

Chlamydia Tranmission

How is Eye Chlamydia Treated?

How to Get Tested for Chlamydia?

Is There Any Preparation Required Before the Test?

Is there a Home Test Kit Available for Chlamydia?

Providers Location
Chlamydia Testing Cost
Chlamydia test cost ranges between $49 and $79 in different labs and facilities across the US. We have listed below the best Chlamydia test providers from across the US. You can get tested sitting at home. The details of the providers are given below. Please feel free to click on the link and book at your preferred provider.

Name of our Partner Labs

Book Online

Reports – 48 hours

The entire U.S.

Required to visit the lab

Exclusive $10 discount auto-applied on checkout by shopping through DxSaver.com

Starting from

$59

$49

(Home Test Kit)

Reports – 2 to 5 days

The entire U.S.

Home-test kit provider

Use code "DX25" to avail exclusive 25% discount on checkout by shopping through DxSaver.com

Starting from

$99

$74.25

Reports – 72 hours

The entire U.S.

Required to visit the lab

Starting from

$59
Chlamydia test cost without insurance
Generally, insurance companies in the US do not cover the screening tests of sexually transmitted diseases (STDs) including chlamydia. However, policies from providers like Medicare and UnitedHealth vary widely. We recommended you get checked with your health insurance provider regarding the chlamydia test coverage.
Our above-mentioned Chlamydia STD testing providers offer do not accept any health insurance. But, on request, they may provide the itemized receipt which contains all the required details like the name and code of the test, and the CPT code necessary for insurance reimbursement purposes.
What is Chlamydia?
"Chlamydia Trachomatis" is the bacteria behind Chlamydia STDs. Chlamydia is contracted from one partner to another by sexual contact, including anal sex, oral sex, genital touching, and vaginal sex. According to the Centres for Disease Control and Prevention, there were nearly 4 million cases of chlamydia infection in the US in the year 2018 alone.
Almost two-thirds of new chlamydia infections are reported from teens falling between the age group of 15-24 years. Thus, it is always a good choice of testing/screening for STDs like Chlamydia every 6 months if you have multiple sex partners.
Chlamydia in Eye
Eye Chlamydia is often referred to as the symptoms of Chlamydia that start to appear in/around the eyes. Chlamydia can affect the eyes if the sex partner has touched his eye (without washing the hands) after sexual contact including genital touching with the Chlamydia infected person. Chlamydia in eye also called Chlamydial Conjunctivitis.
Symptoms of Eye Chlamydia
Chlamydia in the eye is identified by the following symptoms –
Irritation.

Swollen eyelids.

Photophobia.

Mucous discharge.

Pinkish eyes (Conjunctivitis).

Tearing.

Swollen lymph nodes around the eyes.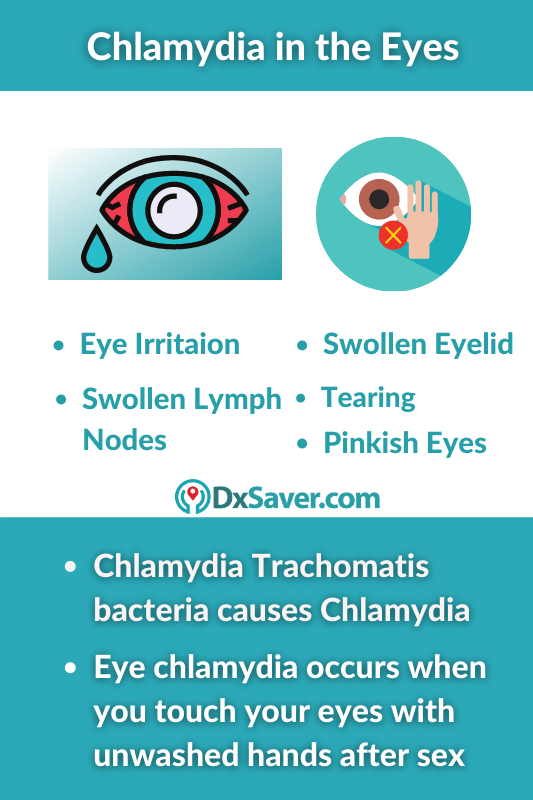 Other Symptoms of Chlamydia
If you are infected with chlamydia then the symptoms tend to keep a low profile and do not show any symptoms for several weeks until it spreads to other body parts. However, some may experience early symptoms and some may see the following symptoms after a few days/weeks.
Following are symptoms and signs of Chlamydia in men and women, besides the symptoms in the eyes.
Chlamydia Symptoms in Women
Abnormal vaginal discharge

Swelling in the vagina

Painful sex

Vaginal bleeding during sexual intercourse

Abdominal pain or back pain
Chlamydia Symptoms in Men
Pain in the urethra

Milky, watery discharge from the penis

Pain or swelling in the testicles

Pain while urinating
Common Symptoms
Pain or bleeding while urinating

Urge to urinate

Itching, bleeding, or mucus discharge in the rectum

Redness or itching in the eye

Sore throat, cough, or fever
Chlamydia Tranmission
Chlamydia STD transmits via sexual intercourse. The bacteria can survive for a few minutes out of the moist genital area on the hands. If you accidentally touch your eyes with the unwashed hands after sex, then the bacteria will get into the eyes and starts manipulating causing symptoms like irritation.
Pink eyes may also be a cause of certain allergies or dust particles, however, this is not the case if you are an avid player in bed having multiple sex partners. If you are sexually active and experiencing symptoms like eye irritation, tearing, swollen eyelids, and/or photophobia, then get tested for Chlamydia as quickly as possible.
How is Eye Chlamydia Treated?
When it comes to STDs, people do not feel comfortable reaching out for treatment and diagnosis and expect eye chlamydia to go away after a few days without any treatment. But, be cautious because STDs like chlamydia may lead to severe health complications like PID, and infertility if left untreated. The bacteria that entered needs to be terminated with the help of antibiotics to stop seeing the symptoms and to get cured completely.
After the confirmation of the chlamydia bacteria with a blood test, your physician will prescribe some antibiotics to be taken over a period of time. Most importantly,  you should not have sex again until you and your sex partner(s) have completed treatment.
And, after the treatment, it is advisable to ensure that you have got rid of the Chlamydia bacterium by getting tested again after 1 month of antibiotic treatment.
How to Get Tested for Chlamydia?
Chlamydia testing is done either by a blood test or urine test or by using a cotton swab to take the sample from the infected areas like the cervix, urethra, and eye. Generally, women get Chlamydia infection in their cervix, throat, or rectum whereas men get the infection in their urethra, throat, or rectum.
In the case of a blood test or cotton swab, you'll be required to visit the lab to give the specimen. After the sample is collected, it is sent to the lab for analysis. If you are taking a urine test, then the specimen can be self-collected at home where the special home kits are offered by our labs located across the United States.
Is There Any Preparation Required Before the Test?
For the urine sample, you should abstain from urinating for at least one hour before the test. The sample to be tested must consist of clean-first-catch urine. First-catch urine is about 20-30 ml of the initial urine stream. Be careful not to mix it with water or any other substances, as this might dilute the sample.
Women are encouraged to avoid cleansing the labial area (outer part of the vagina) before providing a sample. Otherwise, there is no special preparation required for the test.
Is there a Home Test Kit Available for Chlamydia?
Absolutely. A home test kit for Chlamydia is available for those who are not comfortable talking about their sexual history to doctors. We are proud to say that one of our lab partners provides an at-home chlamydia testing kit service across the US.
You will order the home test kit that will be sent to your home containing all the tools and information (the box will not reveal where it comes to protect your privacy). You will be asked to take the sample as per the information provided and ship it back (the courier charges are already pre-paid by the company itself) to the mentioned address. Sit back and relax, you shall receive your report in an email in within 1 – 5 working days.
Providers Locations
Eye Chlamydia test can be done in any of the following states either at the provider's location or home. To know the chlamydia testing cost in the following locations, check the first part of this article.
Alabama

Arizona

Arkansas

California

Colorado

Connecticut

Delaware

Florida

Hawaii

Georgia

Idaho

Illinois

Indiana

Iowa

Kansas

Kentucky

Louisiana

Maine

Michigan

Minnesota

Mississippi

Missouri

Montana

Nebraska

Nevada

New Hampshire

New Mexico

North Carolina

North Dakota

Oklahoma

Oregon

Pennsylvania

Puerto Rico

South Carolina

South Dakota

Tennessee

Texas

Utah

Vermont

Virginia

Washington

West Virginia

Wisconsin

Wyoming
Frequently Asked Questions
Will insurance cover my STD testing cost?
No. Generally providers do not accept the insurance in order to ensure your privacy. However, they will provide you a receipt for insurance reimbursement purposes.
How should I book my appointment for STD testing?
You can choose the most suitable provider from above and make an appointment by following the instructions mentioned by them.
Can I cancel my lab test order?
Yes, you can cancel your lab test order anytime before your testing. A refund will be initiated after deducting the cancellation fee. However, cancellation is at the discretion of the provider.
Do the providers offer result interpretations?
Yes, few providers may provide doctor consultation who will take you through the results and provide clarification if needed.
How do I receive my report?
In order to ensure your privacy, the test report will be mailed to you by the provider.
Other topics you may be interested in –
Summary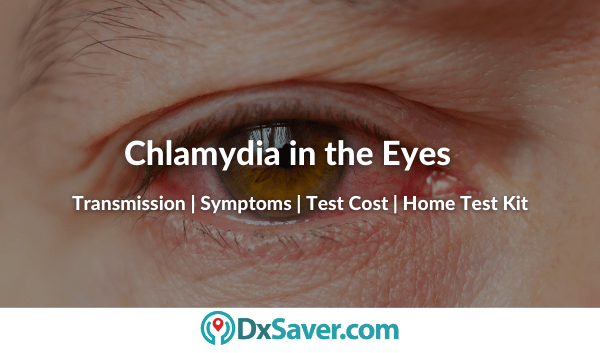 Author Rating





Brand Name
Product Name
STD Testing and Home Test Kit
Price
Product Availability