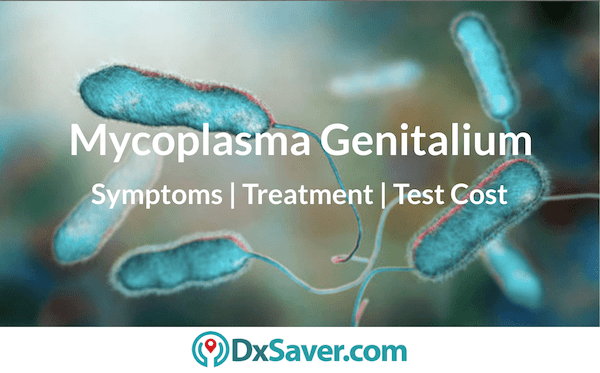 Mycoplasma Genitalium(MG) is a sexually transmitted bacterium disease present on the skin cells of the urinary or genital tracts in women and men.
It is easily transmitted by having sex with someone who has Mycoplasma Genitalium. MG is not only transmitted through vaginal sex, but it can also spread through sexual touching and rubbing. Scientists have researched these bacteria since the 1980s, but a recent study showed that more than 1 in 100 adults might be infected with MG. According to recent medical reports, Mycoplasma Genitalium is becoming increasingly common in the United States.
The article below covers all the relevant topics of Mycoplasma Genitalium disease-like symptoms of MG is MG an STD, complications, prevention, and how to get tested for MG sitting at home or by visiting labs.
Is Mycoplasma Genitalium an STD?

What are the Mycoplasma Genitalium symptoms?

How is Mycoplasma Genitalium transmitted?

Treatment for Mycoplasma Genitalium

What happens if MG is left untreated?

Complications of Mycoplasma Genitalium

How to get tested for Mycoplasma Genitalium?

Providers location
Is Mycoplasma Genitalium an STD?
According to the Centers for Disease Control and Prevention, MG is a more common sexually transmitted disease than gonorrhea in the United States. 
The study found that the bacteria MG, a sexually transmitted disease, infects more than 1 percent of individuals from the age of 16 to 44 in the United States that is about 250,000 individuals. 
What are the Mycoplasma Genitalium symptoms?
There are chances that you may have Mycoplasma Genitalium but you will not know as it does not show any symptoms.  
The symptoms of MG in men are:
Watery discharge from the penis

Burning, stinging, or pain when you pee
The symptoms of MG in women are:
Discharge from your vagina

Pain during sex

Bleeding after sex

Bleeding after periods

Pain in your pelvic area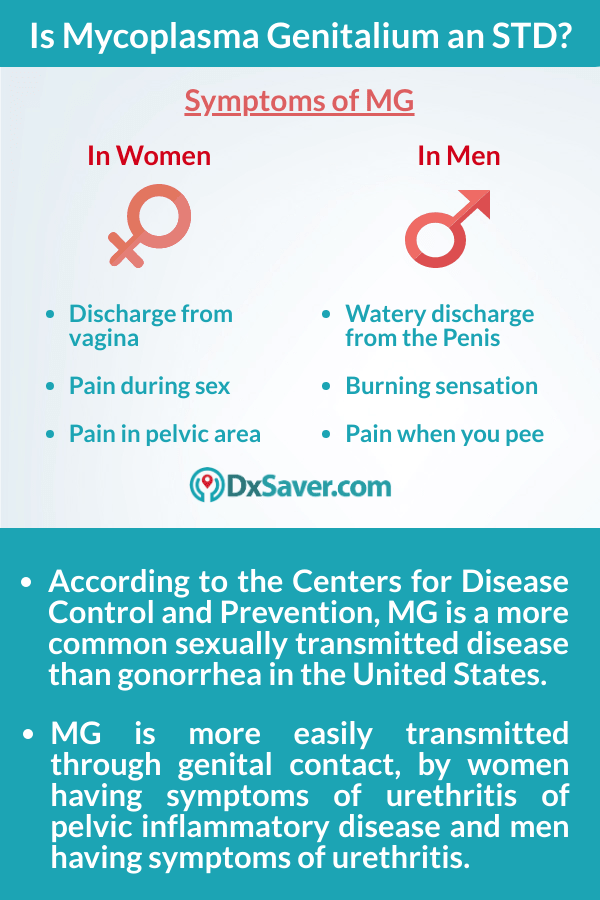 How is Mycoplasma Genitalium transmitted?
MG is transmitted through genital contact including vaginal, anal, and oral-to-genital contact. MG is more easily transmitted through genital contact, by women having symptoms of urethritis of pelvic inflammatory disease and men having symptoms of urethritis.
Treatment for Mycoplasma Genitalium
MG is treated with antibiotics. Individuals will be given doxycycline initially, as this is standard for uncomplicated infection. A course of doxycycline is unnecessary in case MG is confirmed. In that case, azithromycin should be given immediately after the final doxycycline dose. Genitalium infection is generally treated with azithromycin, followed by other tests. If there is clinical treatment failure, then patients should receive moxifloxacin therapy immediately. 
What happens if MG is left untreated?
If Mycoplasma Genitalium is left untreated, there can be serious complications for both men and women that include weakening the immune system to such an extent that the infected individual becomes susceptible to other infections. MG may elect infection with Chlamydia, which will cause ectopic pregnancies. There is a high risk of infertility during active infections. Lastly, there is a chance that other internal organs will get infected.
Complications of Mycoplasma Genitalium
MG may cause serious complications such as:
Urethritis, is a problem that causes urethra irritation, swollen, and itchy. It may occur both in men and women.

Pelvic inflammatory disease (PID), an infection of a woman's reproductive organs which can make it difficult to get pregnant.

Cervicitis, an inflamed cervix.
But the researchers say, they aren't sure if an MG infection can make it difficult for men to get a woman pregnant.
How to get tested for Mycoplasma Genitalium?
MG can be detected by using a swab either from the cervix for women or from the urethra for men which shall be taken by a clinician or by self-collected vaginal swabs, or voided urine. The urine sample Mycoplasma Genitalium has to consist of first-void urine that is the first part of the urine stream as it contains more DNA particles than the other part, making the diagnosis of MG more sensitive.
One of our test providers has a home collection option for the MG test which can reduce the feelings of embarrassment connected to Gonorrhea testing and urine collection in the labs. 
Get your at-home Mycoplasma Genitalium test kit:
How to get tested for other STDs?
There are various options available for the STD home test kit and lab visit test near you, but we have identified the best and the affordable test providers for our readers. One of our STD testing providers who are CLIA – Certified is located across the U.S., and offers an at-home STD test kit at an affordable price.
The following table shows the both STD home test kit and STD testing cost at 3 of our partner laboratories (CLIA – Certified) network located across the U.S.
Name of our Partner Labs

Book Online

(Home Test Kit Provider)

Reports – 1 to 5 days

The entire U.S. 

Home collection kit to be sent to your house

Starting Price

$89

Reports – 72 hours

The entire U.S. 

Required to visit the lab

Starting Price

$198
Providers location
STD testing can be done in any of the following locations across the U.S. either by visiting the lab or by shopping for the STD home test kit.
Arizona

Arkansas

California

Colorado

Connecticut

Delaware

Florida

Hawaii

Georgia

Idaho

Illinois

Indiana

Iowa

Kansas

Kentucky

Louisiana

Maine

Michigan

Minnesota

Mississippi

Missouri

Montana

Nebraska

Nevada

New Hampshire

New Mexico

North Carolina

North Dakota

Oklahoma

Oregon

Pennsylvania

Puerto Rico

South Carolina

South Dakota

Tennessee

Texas

Utah

Vermont

Virginia

Washington

West Virginia

Wisconsin

Wyoming
Frequently Asked Questions
Will insurance cover my testing cost?
No, insurance will not be covered in the billing. However, they will provide you a receipt for insurance reimbursement purposes.
How should I book my appointment?
You can choose the most suitable provider from above and make an appointment by following the instructions mentioned by them.
Can I cancel my lab test order?
Yes, you can cancel your lab test order anytime before your testing. A refund will be initiated after deducting the cancellation fee. However, cancellation is at the discretion of the provider.
Do the providers offer result interpretations?
Yes, a few providers may provide doctor consultation who will take you through the results and provide clarification if needed.
How do I receive my report?
To ensure your privacy, the test report will be mailed to you by the provider.
Other topics you may be interested in:-
Summary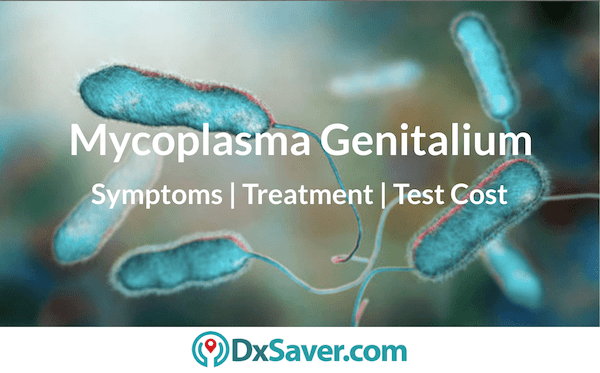 Author Rating





Brand Name
Product Name
Price
Product Availability