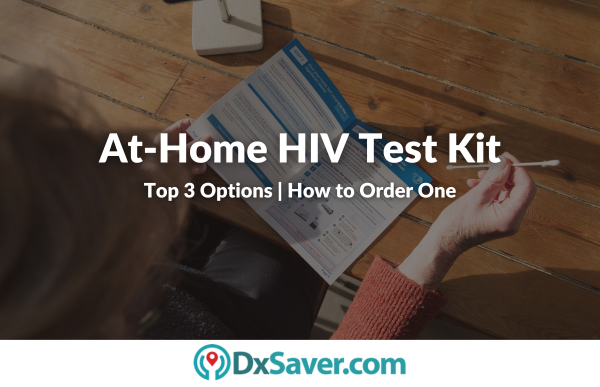 According to UNAIDS, HIV is a highly contagious sexually transmitted disease. Statistics in the year 2018, show 37.9 million people globally were living with HIV and 770,000 people have died from AIDS-related illnesses. HIV/AIDS is one of the leading causes of death across the world. There is no cure for AIDS unless and until the virus is identified and treated at its initial stage.
The CDC recommends that screening for HIV should be performed periodically for all individuals aged 13-64. Especially people who are sexually active are required to take the test at least once a year. You can get tested sitting at-home by taking an at-home HIV test kit.
The article below covers the at-home HIV test kit by OraQuick, LetsGetChecked, and other various testing providers, accuracy, the advantages of home testing, and how to get for HIV sitting at home.
At-home HIV rapid test kit

At-home HIV test cost

At-home HIV Test Oraquick

At-home HIV Test CVS

HIV home test kit Walgreens

Does the in-home HIV test work?

Oraquick HIV home test accuracy

At-home HIV Test EverlyWell

LetsGetChecked at-home HIV Test Kit

How to buy an at-home HIV test kit?

Advantages of LetsGetChecked HIV home-test kit

Why should you choose our partner over others?
At-home HIV rapid test kit
HIV is a contagious and severe viral infection that is transmitted via sexual contact with the infected person. If HIV is left untreated in its early stage, it can lead to AIDS (Acquired Immuno Deficiency Syndrome) and can also be deadly in some cases. If you suspect any of the HIV symptoms, we highly recommend getting tested for HIV immediately.
When it comes to taking an HIV test, most of the time people don't want to visit the lab, instead search for labs that provide their services to their doorstep, this is where home test kits come into play. At-home HIV test kit is favored by people who do not have time to spend waiting for an appointment at the laboratory and transiting multiple times to the lab to get the test results. And, who doesn't want to expose that they have been infected with HIV and find it awkward to answer the questions to their medical physician about their sexual history?
An at-home HIV test kit contains required instruments, specimen containers, instructions, and an envelope for posting back the sample. One can easily self-take the samples and get tested for HIV hassle-free. 
There are many options available for at-home HIV test kit in the U.S. In this article we talk about the major testing providers and in-depth detail about each and every provider, their facilities, and the cost of the HIV home test kit.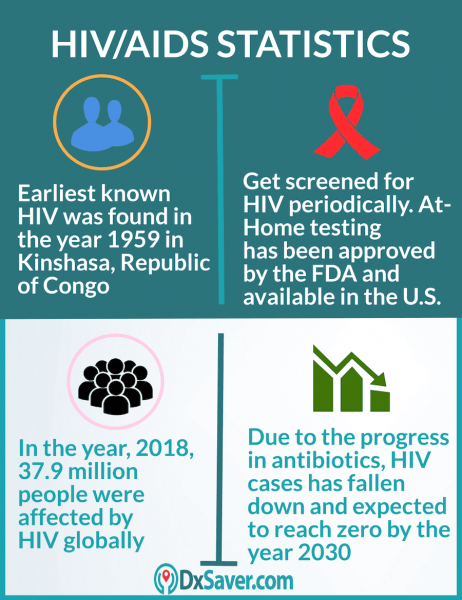 At-home HIV test cost
To talk about the at-home HIV test cost we need to talk about what type of HIV test is exactly required and which testing center is preferable for you to reach. There are two types of HIV viruses, HIV-1 is the most commonly reported HIV infection in the U.S. HIV-2 is common in western Africa and is becoming more common in India, and a few European countries. However, most of the HIV test providers offer both HIV-1 and HIV-2 testing and provide results using the same samples in their HIV home test kit. The major at-home testing providers for HIV are Oraquick, CVS Pharmacies, Walgreens, LetsGetChecked, and EverlyWell. At-home HIV test cost ranges from $45.99 to $79 depending on the quality and accuracy of the testing.
At-home HIV test OraQuick
OraQuick offers in-home HIV testing which gives rapid results in under 20 minutes. OraQuick uses an oral swab test that takes samples from the saliva in the teeth gums and the kit shows results in 20-40 minutes. Using swabs it doesn't require a blood or urine sample. But they also have a disclaimer conveying the accuracy of the test. In the event of positive test results with Oraquick, it does not mean that you have been infected with HIV and as for negative test results it is not 100% accurate that you are not affected by the infection, they always require an additional medical test to get accurate results. In the case of negative results, it is not advisable to neglect and resume sexual activities as the results are only 90% accurate and it may lead to the severity of HIV disease and you may get affected with AIDS. The OraQuick HIV home test costs about $39.99
OraQuick home test kit can be one of the ways to get tested discreetly and rapidly, but the importance of accuracy matters for a better health condition. 
At-home HIV test CVS
CVS pharmacies are one of the leading drug store chains having branches all over the U.S. CVS pharmacies cater to HIV home testing where the test kit can be purchased either online or over the counter. They feature the same OraQuick kit which uses oral swab testing. CVS At-home HIV test costs around $45.99
At-home HIV test Walgreens
Walgreens clinics have in-store testing centers and located across the U.S. Walgreens provide at-home HIV testing where the test kit is available both online or at a local shop. Walgreens features the same OraQuick kit which uses oral swab for testing. Walgreens At-home HIV test costs around $45.99
Does the in-home HIV test work?
The HIV home test kit was first introduced into the market on July 3, 2012, after the approval of the Food and Drug Administration (FDA) for the OraQuick at-home HIV test, a rapid home-use HIV test kit which does not require sending any blood specimen to a laboratory for analysis. The kit generates test results in 20-40 minutes, and anyone can take this in their home. After the approval, many people have considered taking home test kits.
This test checks for the presence of HIV antibodies. You need to swab your upper and lower gums to take an oral fluid sample with the test device. That device is then kept in a tube containing a developing solution. After 20 to 40 minutes, if the test is negative, one line will appear and in the case of positive results, two lines will indicate showing that the HIV antibodies were detected and you may be HIV positive. Follow-up confirmatory testing is then needed.
Although the OraQuick HIV home-test kits from CVS and Walgreens are only 90% accurate as they analyze saliva samples, our partner testing provider LetsGetChecked uses their own testing method which is FDA-approved and CLIA – Certified. They analyze the self-collected finger-pricked blood sample that has been sent in the mail and provides 99.9% true results.
OraQuick HIV home-test accuracy
As we mentioned before the at-home test kit by CVS and Walgreens is not a cent percent accurate as it uses the oral fluid in the gums to detect the antibodies for HIV. Even if the test results are resembling the symptoms, an additional medical test at a laboratory is required to rule out the correct position of the infection. A blood test is needed to clarify the results.
HIV home testing kit from EverlyWell
Unlike CVS, Walgreens, and OraQuick providers, EverlyWell uses a self-collected finger stick blood specimen and mail them to a qualified lab. Cost of EverlyWell at-home HIV test is $49
LetsGetChecked at-home HIV Test
Being our partner, LetsGetChecked is one of the most valued and well known STD medical testing providers in the U.S. They offer home test kit for various STDs and also for HIV testing. The LetsGetChecked testing kit will be sent to your home with the required tools and walk-through instructions. After self-collecting the sample in the provided container, the specimen can be posted back in the pre-paid envelope sent along with the kit. You will get the results in 2-5 business days. 
HIV home testing kit by LetsGetChecked is more than 99% accurate than the antibody-based rapid test. Rapid HIV tests can give results in just 20–40 minutes. But the drawback to rapid testing methods: they're less accurate than other types of tests, which has a high possibility to generate false positives or negatives.
How to buy an HIV Home test kit?
People who reside in the rural locality don't have access to laboratories, and their chances for HIV testing are slim. Walgreens and CVS test kit can also be bought over the counter but it tends to expose the personal identity to get tested for it.
We highly recommend taking the LetsGetChecked at-home HIV test kit which can be ordered online where the test kit will be delivered to your home confidentially and the package doesn't reveal where it comes from and what it contains. You can self-collect your sample as mentioned in the instructions and post it back to the mentioned address.
You can order your at-home HIV testing kit here.
Advantages of LetsGetChecked HIV home test kit
The over-the-counter HIV testing kit is very good. The downside is these rapid test results can go inaccurate and you're missing out on valid health information. Our partner provider has FDA-approved techniques and CLIA – Certified results that show precise results in just 2-4 days.
Our provider, LetsGetChecked also provides multiple home-testing options and screening for other STDs such as chlamydia, gonorrhea, trichomoniasis, syphilis, herpes, mycoplasma genitalium, and more.
Why should you choose our partner over the others?
If you were planning to check out a Walgreens clinic or CVS Pharmacies, now you would know that the rapid testing kit available over the counter is not sensitive enough and can provide false results. Being a pharmaceutical drugs stores, they can answer any health query still, they are not professional doctors to interpret the exact medications and antibiotics. Plus, there's a chance you could go through a hefty co-pay due to multiple visits for various tests at these counters.
Our at-home HIV testing provider has many benefits and generates true results for the first-time and saves the cost of taking additional tests. They show lab-certified results without leaving the comfort of your home, and if the test results are positive you'll be assigned to get a physician consultation for further treatment at no extra cost. This provides a reasonable option for those who want to save time and money and also people who are not covered with any insurance.
Four big advantages of getting tested with our partner laboratory:
Accurate and reliable

Confidential and discreet

Convenience (At-home testing)
You don't want to end up spending more on taking multiple tests. Sexual health is a matter of great importance for everyone in a community. Our HIV testing provider offers valuable service means of reliable results at an affordable cost and a nationwide home testing kit.
Get your HIV home test kit
FAQ on HIV test booking through our partner labs
Can I cancel my lab test order?

–

Yes, you can cancel your lab test order anytime before your testing. The refund will be initiated after deducting the cancellation fee. However, cancellation is at the discretion of the provider.
Provider Locations
HIV home testing can be done in any of the following states either at the home or at the provider's location. To know the at-home HIV test cost in these locations, click here.
Alabama

Arizona

Arkansas

California

Colorado

Connecticut

Delaware

Florida

Hawaii

Georgia

Idaho

Illinois

Indiana

Iowa

Kansas

Kentucky

Louisiana

Maine

Michigan

Minnesota

Mississippi

Missouri

Montana

Nebraska

Nevada

New Hampshire

New Mexico

North Carolina

North Dakota

Oklahoma

Oregon

Pennsylvania

Puerto Rico

South Carolina

South Dakota

Tennessee

Texas

Utah

Vermont

Virginia

Washington

West Virginia

Wisconsin

Wyoming
Other topics you may be interested in:-
Summary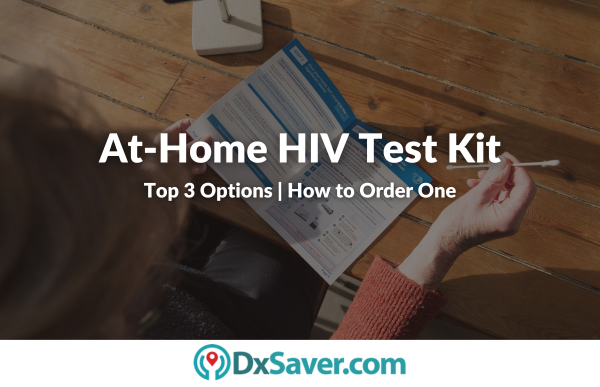 Author Rating





Brand Name
Product Name
Price
Product Availability