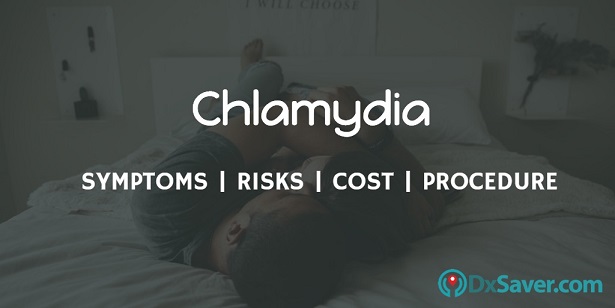 A survey conducted by the Centers for Disease Control and Prevention (CDC) in 2018 says that nearly 3 million people are diagnosed with Chlamydia in the United States every year. Nearly half of the people diagnosed with Chlamydia are women who fall under the 15 to 24 year age group.
As the symptoms of Chlamydia are not shown at the initial stage of infection, we highly recommend every sexually active young woman to get tested for Chlamydia at least once a year. We also recommend young men getting tested for Chlamydia as well.
The article below covers the chlamydia test cost, symptoms of chlamydia in men and symptoms of chlamydia in women, diagnosis, prevention, treatment, and how to get tested for chlamydia sitting at home.
How much does a Chlamydia test cost?
Chlamydia test cost ranges between $49 and $99 in different labs and facilities across the US. We have listed below the best Chlamydia test providers from across the US. You can get tested sitting at home. The details of the providers are given below.
Please feel free to click on the link and book at your preferred provider.
Name of our Partner Labs

Book Online

Reports – 48 hours

The entire U.S.

Required to visit the lab

Exclusive $10 discount auto-applied on checkout by shopping through DxSaver.com

Starting from

$59

$49

(Home Test Kit)

Reports – 2 to 5 days

The entire U.S.

Home-test kit provider

Use code "DX25" to avail exclusive 25% discount on checkout by shopping through DxSaver.com

Starting from

$99

$74.25

Reports – 72 hours

The entire U.S.

Required to visit the lab

Starting from

$59
Chlamydia test cost without insurance
Insurance companies in the US do not cover for the screening tests of sexually transmitted diseases (STDs) including Chlamydia unless you show symptoms. Like other sexually transmitted diseases, Chlamydia also does not show symptoms at an earlier stage of infection. Chlamydia testing involves two stages.
Chlamydia screening test: Chlamydia screening test is a simple test done to check the presence of Chlamydia bacterium in the body. The results of the screening test may be positive or negative.
Chlamydia advanced test: If the test results are positive, further tests will be done to know the exact stage of infection.
So many insurance companies might cover the cost of these additional tests.
Our STD testing providers offer only the screening test for Chlamydia and do not accept any health insurance. But, on request, they may provide the itemized receipt which contains all the required details like name and code of the test, and CPT code necessary for insurance reimbursement purposes.
FAQ on Chlamydia booking through our partner labs
What is Chlamydia?
Sexually transmitted diseases are infections passing from one person to another through sexual contact. These infections are caused by microorganisms like bacteria, parasites, yeast, and viruses. There are more than 20 types of STDs.
Chlamydia is one of the most common STDs found in the United States. Chlamydia is caused by a bacterium called Chlamydia trachomatis which infects both men and women. Lymphogranuloma venereum is the other type of STD caused by this bacterium.
Chlamydia transmission
Chlamydia is transmitted through vaginal, anal, or oral sex. Sexually active young people get infected by Chlamydia easily when having unprotected sex or when having sex with multiple partners. A woman having Chlamydia can pass it to her child at birth. Chlamydia cannot be transmitted through casual contact like sharing food or drinks, kissing, hugging, holding hands, coughing, sneezing, or sitting on the toilet seat.
If you had Chlamydia treated in the past, there are greater chances for reinfection while having unprotected sex with the person affected by Chlamydia.
Types of Chlamydia
Oral Chlamydia
When Chlamydia gets transmitted through oral sex, it is called Oral Chlamydia. Oral sex is very common in the United States and widespread. It carries a higher degree of risk as a small wound or cut in the genital tract increases the chance of bacteria transmission. Oral sex also includes nippling and oro-anal sex.
Eye Chlamydia
Eye Chlamydia is transmitted through the hand to the eye from the spread of infection in the genital secretions. It is also called Chlamydial Conjunctivitis. The main cause of eye chlamydia is touching your eyes without washing your hands after having vaginal sex or oral sex with the Chlamydia infected person.

What are the symptoms of Chlamydia?
A chlamydia-infected person does not show any symptoms for several weeks even after the infection or until it spreads to other body parts.
Chlamydia Symptoms in Women
Abnormal vaginal discharge

Swelling in the vagina

Painful sex

Vaginal bleeding during sexual intercourse

Abdominal pain or back pain
Chlamydia Symptoms in Men
Pain in the urethra

Milky, watery discharge from the penis

Pain or swelling in the testicles

Pain while urinating
Common Symptoms
Pain or bleeding while urinating

Urge to urinate

Itching, bleeding or mucus discharge in the rectum

Redness or itching in the eye

Sore throat, cough, or fever
How is the Chlamydia infection diagnosed?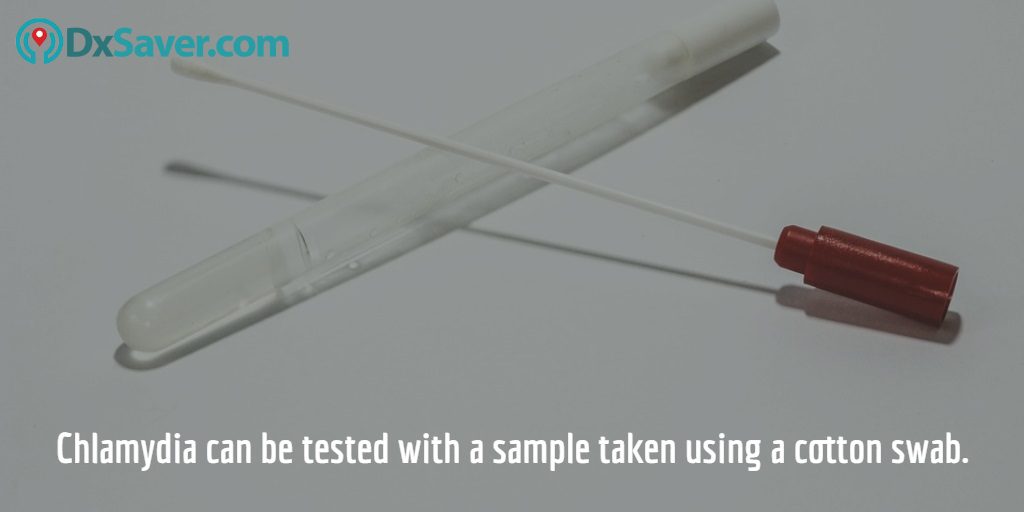 Your physician may suggest you take a few tests to diagnose the Chlamydia infection. The most effective one is to use a cotton swab to take the sample from the infected areas like the cervix, urethra, and eye. Generally, women get Chlamydia infection in their cervix, throat, or rectum whereas men get the infection in their urethra, throat, or rectum.
The specimen is sent to the lab for analysis. A urine sample can also be tested to check the presence of Chlamydia trachomatis. The specimen can also be self-collected at home where the special home kits are offered by some labs in all the cities of the United States.
The right time to test for Chlamydia
If you suspect the possibility of Chlamydia infection, then the right time to take the Chlamydia test is at least within 1 to 5 days of exposure.  To ensure that you have got rid of the Chlamydia bacterium, get the test done again after 1 month of antibiotic treatment.
Younger people who are sexually active and older women having multiple sex partners are advised to take the Chlamydia test at least once in a year.
Testing for Chlamydia and Gonorrhea
Chlamydia and Gonorrhea are the most common sexually transmitted diseases. The pattern of transmission, symptoms, tests, treatment, and complications are almost the same. When you don't experience any symptoms, it's better to do both tests as they both require only a urine sample. If diagnosed at an early stage, Chlamydia and Gonorrhea can be easily treated and cured.
Is there any preparation required before the test?
For the urine sample, you should abstain from urinating for at least one hour before the test. The sample to be tested must consist of first-catch urine. First-catch urine is about 20-30 ml of the initial urine stream. The sample shouldn't consist of anything more than first-catch urine, as this might dilute the sample.
Women are encouraged to avoid cleansing the labial area (outer part of the vagina) before providing a sample. Otherwise, there is no special preparation required for the test.
What is the treatment for Chlamydia?
Antibiotic therapy is used to cure Chlamydia infection. Single-dose or several doses of antibiotics like azithromycin or doxycycline may be prescribed by your physician if you are diagnosed with Chlamydia. Sometimes the physician might also recommend your sex partner to get treated for the prevention of the further spread of disease. It is very important to tell your sexual partner regarding your Chlamydia test as he/she also has a higher chance of getting the infection.
After the antibiotic treatment, women are advised not to have sexual intercourse for a minimum period of seven days.
What happens if Chlamydia is left untreated?
Chlamydia, if left untreated may lead to some severe diseases in both men and women.
In Men
 Non-Gonococcal Urethritis (infection in the urethra)

 Epididymitis (rarely makes infertile)

 Proctitis (inflammation in the rectum)
In Women
Pelvic Inflammatory disease (a condition that results in the damage of fallopian tubes).

Infertility

Cervicitis (inflammation of the cervix)

Salpingitis ( inflammation of the fallopian tubes)

Ectopic pregnancy (fertilized egg develops outside the uterus)

Premature births
Sometimes the severity of Chlamydia infection requires hospitalization and it also increases the risk of getting HIV.
How to prevent Chlamydia?
To prevent Chlamydia infection is by not have sex with strangers or people other than your husband/wife. If you suspect being infected with Chlamydia, get tested and treated completely.
Provider Locations
Chlamydia tests can be done in the following states either at the provider's location or at home. To know the Chlamydia test cost, please refer to the first section of this article.
Alabama

Alaska

Arizona

Arkansas

California

Colorado

Connecticut

Delaware

Florida

Hawaii

Georgia

Idaho

Illinois

Indiana

Iowa

Kansas

Kentucky

Louisiana

Maine

Michigan

Minnesota

Mississippi

Missouri

Montana

Nebraska

Nevada

New Hampshire

New Mexico

North Carolina

North Dakota

Oklahoma

Oregon

Pennsylvania

Puerto Rico

South Carolina

South Dakota

Tennessee

Texas

Utah

Vermont

Virginia

Washington

West Virginia

Wisconsin

Wyoming
Other topics you may be interested in:-
Summary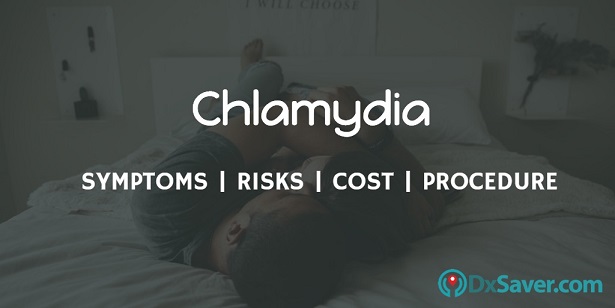 Author Rating





Brand Name
Product Name
Price
Product Availability