Planned Parenthood is a non-profit organization that has the mission to provide reproductive and related health care services while ensuring the privacy and rights of each individual. Many of our readers are interested in using the STD Testing Services at Planned Parenthood. For those wanting to avail of this service, the first question that comes to mind is "What is the Planned Parenthood STD Testing Cost?"
We will make all efforts to answer that question and will also try to cover the point that while Planned Parenthood STD testing may be a great option for some, it may not be suitable for others. 
Planned Parenthood STD Test Cost
Planned Parenthood STD testing offers a low-cost option for low-income individuals. However, for other people, it may be difficult to get the most economical STD testing cost at Planned Parenthood. 
On average, STD testing at Planned Parenthood costs about $180 to test for the top four STD infections. These STDs are Chlamydia, Gonorrhea, HIV, & Trichomoniasis.
The cost usually depends on the location of the center and the subsidies are based on the income level of the person getting tested. The STD testing at a Planned Parenthood center tends to have hidden costs like an exam fee and various lab fees that can abruptly increase your testing cost. It may involve some hassle and in the end, you may end up paying a significant sum for testing. 
4 STD Panel Cost at Planned Parenthood
Generally, the STD tests provided at Planned Parenthood are to be done individually rather than in an STD test panel or comprehensive bundle. This means that you are required to test for each infection, or set of infections, separately. Since STD symptoms look similar, and many infections are asymptomatic having no symptoms at all, you may need to take multiple tests in order to know your STD positive or negative status. The cost of each test piles up and may come to a really hefty-bill!
Don't let costs keep you from getting tested and diagnosed for STDs. We have selected and compared the top, CLIA certified, STD testing providers in the US. You may read on know the pros and cons of the different STD testing companies. Moreover, you can also book the tests online. 
Average STD Testing Cost in the US
STD Testing in the US starts from just $24. We have identified some affordable options for even those who do not have any insurance. These STD testing providers can offer almost the same or even lower cost than Planned Parenthood with a much higher level of convenience. There is no hidden fee either. 
Some providers even offer at-home STD testing kits like LetsGetChecked and most providers offer a panel of STD tests together that makes overall STD testing much more economical and comprehensive. 
Three major benefits of getting tested with these private STD testing providers are:
Privacy

Convenience (at-home testing and online booking) and

Open cost with no hidden fee
Privacy could mean a lot to those who reside in smaller towns or villages or small communities. Also, testing can be done at any time without having to wait long hours to get an appointment. The results are available faster which is of course preferred by many people to save the anxiety of waiting for results or avoid spending too much time on STD testing impacting their busy day-to-day schedule.
One of our partners provides at-home STD testing where the test kit will be sent to your home and no one can identify what the package is about and where it comes from.
Our Partner Providers Offering Affordable STD testing in the U.S.
Here are our top three partner laboratories (CLIA – Certified) networks that offer at-home STD test kits or testing at 4000s of labs across the U.S.
Name of our Partner Labs

Book Online

Reports – 48 hours

The entire U.S.

Required to visit the lab

Exclusive $10 discount auto-applied on checkout by shopping through DxSaver.com

Starting from

$24
$14

(Home Test Kit)

Reports – 2 to 5 days

The entire U.S.

Home-test kit provider

Use code "DX25" to avail exclusive 25% discount on checkout by shopping through DxSaver.com

Starting from

$99
$74.25

Reports – 72 hours

The entire U.S.

Required to visit the lab

Starting from

$24
The following infographic shows how to order an STD test from various health providers in the U.S.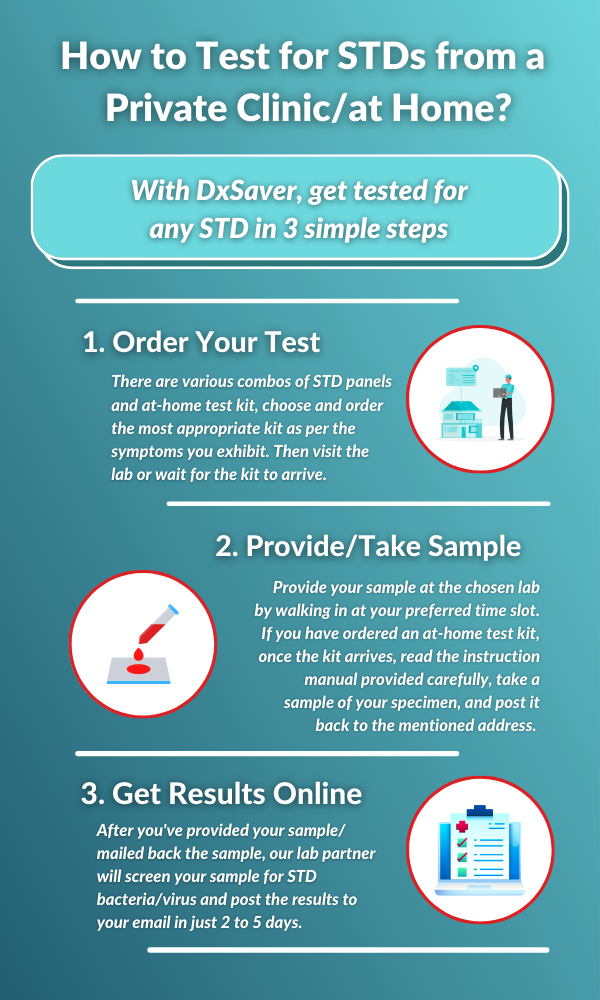 Advantages of the Home-test kit
Sometimes, you may not even have a Planned Parenthood branch in proximity to your home. Even though Planned Parenthood has hundreds of affiliate locations across the country, even a network of this size can't include every square mile. Many people in the rural locality don't have access, and their possibility for STD testing is limited. Plus, there's a chance you could go through a hefty co-pay due to multiple visits for various tests, despite having insurance coverage.
Luckily, our STD testing providers have other options that are easily accessible to anyone in the country, which will get you rapid lab-certified results without leaving the comfort of your home. LetsGetChecked home STD test kits cost about the same as Planned Parenthood service. This provides a reasonable option for those who want to save time and money in transit to the lab, also people who are not covered by any insurance.
Taking multiple STD tests individually might be more expensive, rather go with a comprehensive test package which is considerably low cost compared to all the individual tests summed up.
We have identified the most selling STD in the U.S. at-home products of LetsGetChecked and listed them below with some details.
2 Panel STD at Home Test ($99) – Get tested for the 2 most common STDs sitting at home – Chlamydia, and Gonorrhea – Order Now
5 Panel STD at Home Test ($149) – Get 5 tests sitting at home. HIV, Syphilis, Chlamydia, Gonorrhea, & Trichomoniasis –  Order Now
8 Panel STD at Home Test ($249) – Get the most comprehensive home STD test kit covering Chlamydia, Gonorrhea, HIV (I & II), Mycoplasma, Ureaplasma, Syphilis, Trichomoniasis, Mycoplasma Genitalium, and Gardnerella – Order Now
Where can I get an STD test without consulting my doctor? 
Discussing your own sex life and personal issues with your provider can feel awkward or downright embarrassing, especially if it's about a sexually transmitted disease (STD).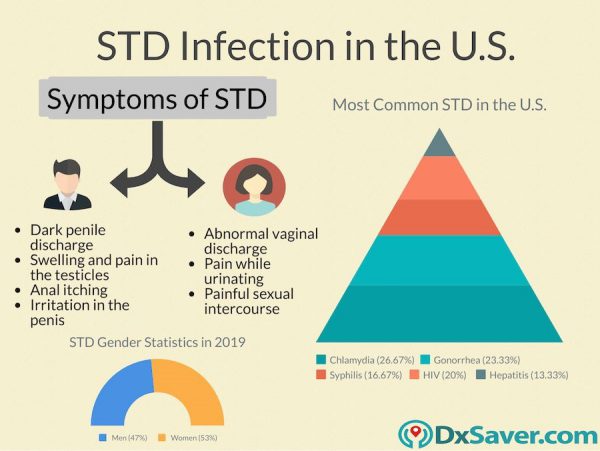 If you feel you have an STD, you must get screened or tested as soon as you can,  instead of waiting for symptoms to show, as many STDs don't show any signs until a month since you have contracted the disease. One of our partner labs provides a free doctor consultation after the test results have been reported.
If you're really trying to eliminate the embarrassment of consulting with your physician, an at-home STD test kit might be the best fit for you.
Why should you choose one of our Partners over Planned Parenthood?
Planned Parenthood is not a free STD testing center. However, Planned Parenthood clinics do provide STD testing at a low cost. Fees are usually scaled according to the patient's income and location.
If you're framing on going to Planned Parenthood for STD testing, you are required to follow time-consuming procedures like calling first to make an appointment. Then, on the phone call, you are asked to provide personal documents for income verification. If you're looking for sliding scale services, you are required to be prepared when you arrive for your appointment, you will still need to spend based on your income, insurance, and location
You don't want to end up spending more than you can afford. Sexual health is a top priority for everyone in a community. Our STD testing partners provide valuable service means of low-cost, and nationwide home testing kits.
Providers Locations
STD tests can be done in any of the following states either at the provider's location or home. To know the STD test cost in these locations, refer to the first section of this article.
Alabama

Arizona

Arkansas

California

Colorado

Connecticut

Delaware

Florida

Hawaii

Georgia

Idaho

Illinois

Indiana

Iowa

Kansas

Kentucky

Louisiana

Maine

Michigan

Minnesota

Mississippi

Missouri

Montana

Nebraska

Nevada

New Hampshire

New Mexico

North Carolina

North Dakota

Oklahoma

Oregon

Pennsylvania

Puerto Rico

South Carolina

South Dakota

Tennessee

Texas

Utah

Vermont

Virginia

Washington

West Virginia

Wisconsin

Wyoming
Frequently Asked Questions
Will insurance cover my testing cost?
No, insurance will not be billed directly. However, the testing provider will provide you a receipt for insurance reimbursement purposes.
How should I book my appointment?
You can choose the most suitable provider from above and make an appointment by following the instructions mentioned on their website. The website can be accessed easily by the Order Now buttons on this page.
Can I cancel my lab test order?
Yes, you can cancel your lab test order anytime before your testing. A refund will be initiated after deducting the cancellation fee. However, cancellation is at the discretion of the provider.
Do the providers offer result interpretations?
Yes, a few providers may provide doctor consultation who will take you through the results and provide clarification if needed.
How do I receive my report?
To ensure your privacy, the test report will be mailed to you by the provider.
Conclusion
STD Testing at Planned Parenthood is a great option for many people but not everybody. The average cost of STD Testing at Planned Parenthood comes out to about $180 for a panel of 4 STDs. At a similar cost, you may get testing sitting at home or by visiting a lab near you. The options for at-home STD testing and visit to a nearby lab are provided. 
STD Prevalence in the United States
According to the Centers for Disease Control and Prevention (CDC) data in 2019 the number of Americans with chlamydia, gonorrhea, and HIV are at their highest numbers in 2020 since the records began. More than 20 million people are infected with sexually transmitted diseases (STDs) every year. 
Besides practicing protected or safe sex, getting regular STD testing is vital to ensure you are safe and can get prompt treatment if you are exposed to an STD.
The main reason most people hesitate to get tested for STD is the high-cost procedure. Planned Parenthood is one of the first choices when it comes to economical STD Testing. However, it may not be suitable for everyone. 
Other topics you may be interested in:-