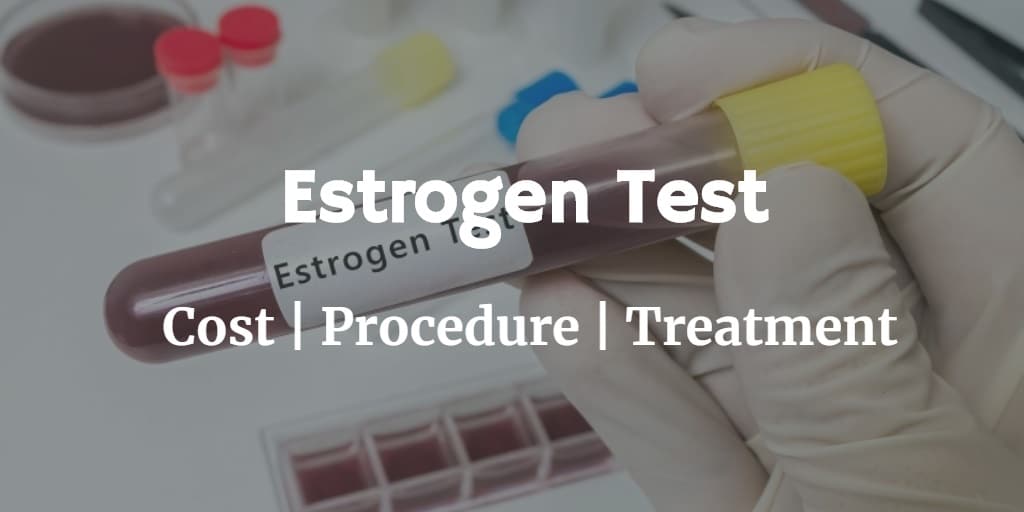 An estrogen test is a simple blood test ordered by your physician to measure the levels of estrogen hormones in the blood. Estrogen is the main sex hormone in women, though it is produced in both men and women. It plays a very important role in puberty, fertility, and menopause. High and low levels of estrogen can lead to severe health problems if left untreated. So we highly recommend everyone to get tested for estrogen levels if you experience the symptoms that are caused by high and low estrogen levels.
The article below covers all the relevant topics of estrogen test like estrogen test cost, who should get tested for an estrogen test, normal levels, preparation, procedure, risks, and how to get tested for estrogen levels.
For our readers who are more interested in knowing the estrogen test cost beforehand, we would like to begin with that section.
How much does the estrogen test cost?
Estrogen test cost ranges between $79 and $119 in different labs and facilities across the U.S. To view and compare the cost of estrogen test in different labs offered by different providers, click the button below.
Estrogen test cost with insurance
Most of the health insurance policies in the U.S. cover the cost of hormone tests that include the estrogen test. However, the coverage offered by private health insurance companies and national health insurance programs like Medicare and Medicaid varies widely. So we recommend you to check the coverage of your health insurance plan with the insurance company before getting tested for estrogen levels.
Our estrogen testing providers do not accept any kind of health insurance plan. But, they can provide you with an itemized receipt containing all the details like the test name and code, and CPT code which is necessary for insurance reimbursement purposes.
What is an estrogen test?
An estrogen test is a simple blood test done to measure the three forms of estrogen hormones.
What is estrogen?
Estrogen is the main female sex hormone but it is also produced in males in very little quantities. This hormone is responsible for the formation of secondary sex characteristics and the growth of breasts and uterus in women and bone metabolism in men. It also plays an important role in puberty and fertility. It works along with the progesterone hormone to regulate the menstrual cycles and to maintain a healthy pregnancy.
Forms of estrogen
There are three forms of estrogen hormone. They are
1. Estrone (E1):
E1 is the primary estrogen found in men and post-menopausal women.
2. Estradiol (E2):
E2 is
the most potent estrogen produced in the ovaries in women and testicles in men.
It is
present in non-pregnant, pre-menopausal women.
The levels of E2 are a good marker of ovarian function and they vary depending on age and reproductive status in women.
3. Estriol (E3):
E3 is the form of estrogen hormone produced by the placenta that increases during pregnancy. It is a part of the second-trimester maternal serum screen that is done to evaluate the chromosomal abnormalities of the fetus, as the increasing levels of E3 are a good marker of the health of the pregnancy and the developing baby.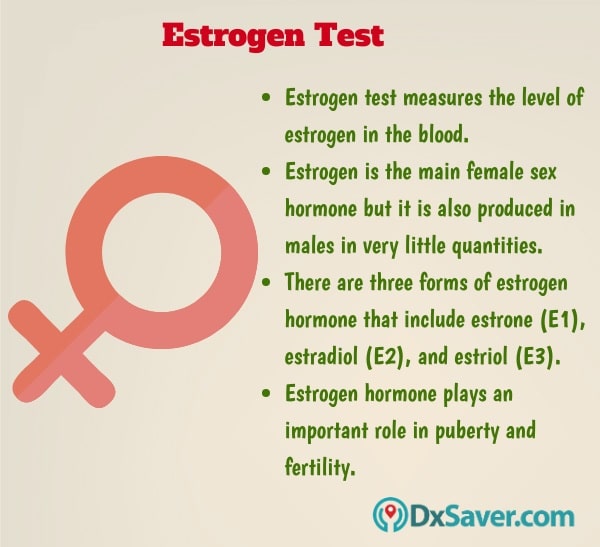 Why is an estrogen test done?
The estrogen test is done to measure the levels of estrogen in the blood. It helps to monitor the treatments for infertility and menopause. This test also helps to find out the reason for early or late puberty, menstrual problems, and infertility.
In pregnant women, this test is ordered to diagnose birth defects in the baby and to monitor high-risk pregnancy.
When is an estrogen test ordered?
Your physician will order an estrogen test if you experience the symptoms caused by high or low estrogen that include
In women:
Abnormal vaginal bleeding after menopause

Bloating

Swelling in the breasts

Lumps in the breasts

Reduced sex drive

Irregular periods

Increased symptoms of PMS (premenstrual syndrome)

Mood swings

Headaches

Panic attacks

Trouble sleeping

Fatigue

Loss of hair

Weight gain

Cold hands and feet

Memory problems
Infertility

Gynecomastia (growth of breast tissues)

Erectile dysfunction
Normal levels of estrogen
The estrogen test measures the level of three forms of estrogen i.e. estrone, estradiol, and estriol in the blood. The level of estriol hormone increases in pregnant women. The normal levels of estrone and estradiol in men and women are given below.
In women:
Levels of estrone
Children and adolescents – Up to 200 pg/ml (picograms per milliliter)

Adults – 17 to 200 pg/ml

Postmenopausal adults – 7 to 40 pg/ml
Levels of estradiol
Children and adolescents – Up to 350 pg/ml

Adults – 15 to 350 pg/ml

Postmenopausal adults – <10 pg/ml
Levels of estrone
Children and adolescents – Up to 60 pg/ml

Adults – 10 to 60 pg/ml
Levels of estradiol
Children and adolescents – Up to 40 pg/ml

Adults – 10 to 40 pg/ml
How is the estrogen test performed?
An estrogen test is a simple blood test done using the blood sample.
During this test, a lab technician or a phlebotomist will cleanse the area to be injected with a disinfectant liquid and wrap an elastic band around the upper arm to make the vein visible and swell with blood. He/she then injects a needle to draw a sample of blood and collects the blood sample in a vial (a small glass container) or a test tube. After the blood is drawn, he/she covers the injected area with a band-aid or a cotton ball to stop bleeding. The collected blood sample is then sent to the lab for further analysis.
It takes less than 5 to 10 minutes to perform this test.
Is there any preparation required before the test?
There is no special preparation required for the estrogen test. But the woman's sample will be collected considering her menstrual cycle. Also, it is very important to inform your physician if you are on any medications or supplements as they might interfere with the results and result in an inaccurate diagnosis.
Are there any risks in the test?
There are no possible risks or complications in the estrogen blood test. But sometimes, after the blood sample is drawn, you might feel slight pain, dizziness, redness or bruise in the injected area for a very little period. If there is any abnormal bleeding in the injected area, inform your physician immediately.
What does the test result mean?
Estrogen levels that are considered healthy depend on your age and gender. If the levels of estrone and estradiol are higher than the normal, then it indicates the possibility of the following conditions.
Early puberty (in girls)

Tumors in the ovaries and breasts

Delayed puberty (in boys)

Tumors in the testicles

Hyperthyroidism

Cirrhosis (scarring of liver tissue)

Tumors in the adrenal glands

Stroke
Higher levels of estriol indicate that labor will occur soon.
If the levels of estrogen are lower than the normal, it could mean any of the following conditions.
Low levels of pituitary hormones

Poorly functioning ovaries

Failing pregnancy (when the levels of estriol drop)

Eating disorders

Turner syndrome (a chromosomal condition that affects the growth and development in females)

PCOS (polycystic ovary syndrome)
How to treat abnormal estrogen levels?
Higher levels of estrogen can be treated by eating certain foods like broccoli, cauliflower, mushrooms, flax seeds, and whole grains. Physical exercise and eating a balanced diet can also help in lowering the levels of estrogen.
Your physician might also prescribe hormone replacement therapy and some medications to lower estrogen levels.
If appropriate and necessary, your physician might order follow-up or additional tests to rule out and confirm the diagnosis.
Provider Locations
Estrogen test can be done in any of the following locations across the U.S. by visiting the nearest lab. To know the estrogen test cost, refer to the first section of the article.
Alabama Alaska Arizona Arkansas California Colorado Connecticut Delaware Florida Hawaii Georgia Idaho Illinois Indiana Iowa Kansas Kentucky Louisiana Maine Maryland Massachusetts Michigan Minnesota Mississippi Missouri Montana Nebraska Nevada New Hampshire New Jersey New Mexico New York North Carolina North Dakota Oklahoma Oregon Pennsylvania Puerto Rico Rhode Island South Carolina South Dakota Tennessee Texas Utah Vermont Virginia Washington West Virginia Wisconsin Wyoming
Summary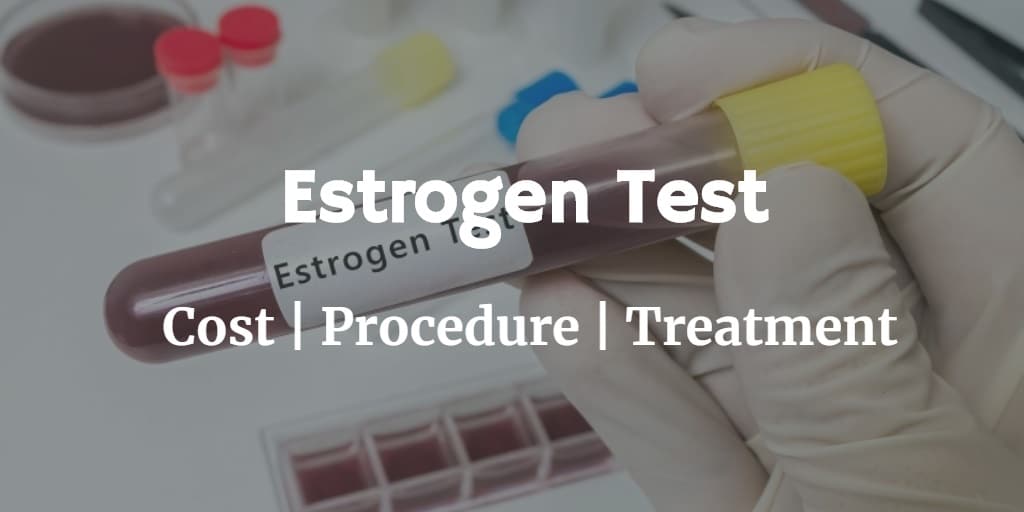 Author Rating





Brand Name
Product Name
Price
Product Availability