According to the World Health Organisation (WHO), more than 1 million STIs are acquired every day around the globe. STDs are transmitted through unprotected sexual contact with the infected person which includes anal, vaginal, or oral sex.
Many people have a misconception about the possibility of STD contraction when they use a toilet that is used by an STD infected person. In fact, there has been no record of STD cases from a toilet seat unless and until if you have used the toiled with an exposed wound or want to hide that you have contracted one from your sex partner.
The article below covers all the significant topics that are related to STDs, like what are STDs, their symptoms, how are they transmitted, Oral STDs, can you get STD from a toilet seat, how are STDs treated, how and where to get tested for STD and cost of STD test.
What are STDs and their symptoms?

How are STDs transmitted?

What are the types of STDs you can catch from a toilet seat?     

Can you get a chlamydia STD from a toilet seat? 

Can you get a gonorrhea STD from a toilet seat? 

How to get tested for STDs?

Is there an STD home test kit available?

How much does an STD test cost?

How are STDs treated?

STD prevention
What are STDs?
Sexually Transmitted Disease is the full form of STDs, it is otherwise known as Sexually Transmitted Infection (STIs). There are almost 20 different types of STDs infecting both men and women that are caused due to microorganisms such as bacteria, yeast, virus, fungi, and parasites. The most commonly reported STDs in the U.S. are Chlamydia, Gonorrhea (Clap STD), Syphilis, Trichomoniasis, Hepatitis A, Hepatitis B & Hepatitis C, Herpes, and HIV. 
What are STDs symptoms?
Generally, you won't experience any symptoms or only mild symptoms at an early stage of the infection. Sometimes there will be no sign of STD symptoms until two weeks since the contraction with the disease. Some of the common STD symptoms seen in both sexes are unexplained weight loss, fever, joint pain, diarrhea, unusual sweat during the night, fatigue, and soreness in the throat. However, there are specific symptoms that are exhibited in women and men as STD symptoms, they are
STD symptoms in men
As per CDC reports the rates among men increased by almost 40% during 2013–2017. Apart from fatigue, fever, unexplained weight loss, and other common symptoms, STD symptoms in man are
Dark penile discharge

Burning sensation while urinating

Swelling and pain in the testicles

Anal itching

Penile irritation

Painful and irregular bowel movements
STD symptoms in women
The rates of reported cases among men are generally lower than rates among women, reflecting the larger number of women getting screened for STD infection. If you are sexually active women we highly recommend you to get screened for STDs periodically. If you suspect any of the following female STD symptoms, reach out to a healthcare provider immediately.
Abnormal vaginal discharge

Pain during urination

Painful sexual intercourse

Pain in the back or lower abdomen or pelvis

Heavy menstrual bleeding
Sexually Transmitted Infections such as chlamydia and gonorrhea are major causes of pelvic inflammatory disease (PID) and infertility in women.

STD transmission
STDs are contracted by sexual contact with the infected person. STDs are transmitted through vaginal, anal, or oral sex with the infected person and sometimes through blood or skin contact. Hardly, there are chances of getting an STI (Sexually Transmitted Infection) when you come into close contact with the wet object like towels, wet clothing, and sharing unwashed sex toys of the affected person. A pregnant woman can pass the disease easily to her child at birth. STDs like Human papillomavirus (HPV) is a viral infection transmitted through skin contact. It also spreads via direct sexual contact. 
Oral STD
Stimulating the genitals using the mouth or tongue is called oral sex. The microorganisms that cause STDs can also invade the body through the mouth opening. Thus, oral sex can lead to oral STI. The most common oral STDs found in the U.S. are Gonorrhea, Syphilis, and Oral Herpes. Oral STD infections generally affect the throat and mouth in both men and women. The common symptoms of oral STDs are fever blisters, sore, and painful throat.
What are the types of STDs you can catch from a toilet seat?
In short as the name itself says Sexually Transmitted Disease (STD), which means the disease can be spread from an infected person to another only through sexual contact.
But still, there are chances of acquiring certain infections as pathogens and some bacteria can adapt to the external environment and can live on toilet seats, like antibiotic-resistant staphylococcus (one of the flesh-eating bacteria), norovirus (cruise ship bug), E. coli, shigella, streptococcus, hepatitis A virus, the common cold virus, and various sexually transmitted organisms. But if your immune system is healthy, and if you practice hygienic measures like periodic handwashing, you are unlikely to get infected.
Although you have a chance of contracting any of these infections from a toilet seat for the same reasons, yet you won't contract an STI from one: STD-causing microorganisms need a way through your body, and skin like an open cut or exposed wound.
Many people think of toilets as germ exploited zone and as a playground for organisms responsible for STDs like chlamydia or gonorrhea. But, the toilet seat is not a mode for spreading infections to humans. As the disease-causing organisms cannot sustain to the physical environment, they can only live for a short period of time on the toilet seating, and the germs to cause an infection, they have to travel from the toilet seat to your genital tract or urethra or into any cut/wound on thighs, which is a very rare case.
The President of the American Society for Microbiology (ASM), Abigail Salyers, Ph.D., says "To my knowledge, no one has ever acquired an STD on the toilet seat — unless they were having sex on the toilet seat!" 
As STIs are still stigmatized, to tell others that you are being diagnosed with an STD might be awkward that and, they may prefer blaming it on a toilet seat to hide they contracted an STI from sexual activity. Our culture complicates sex, factual disclosure about STIs harder to have, which means myths like STD from a toilet seat will continue to prevail.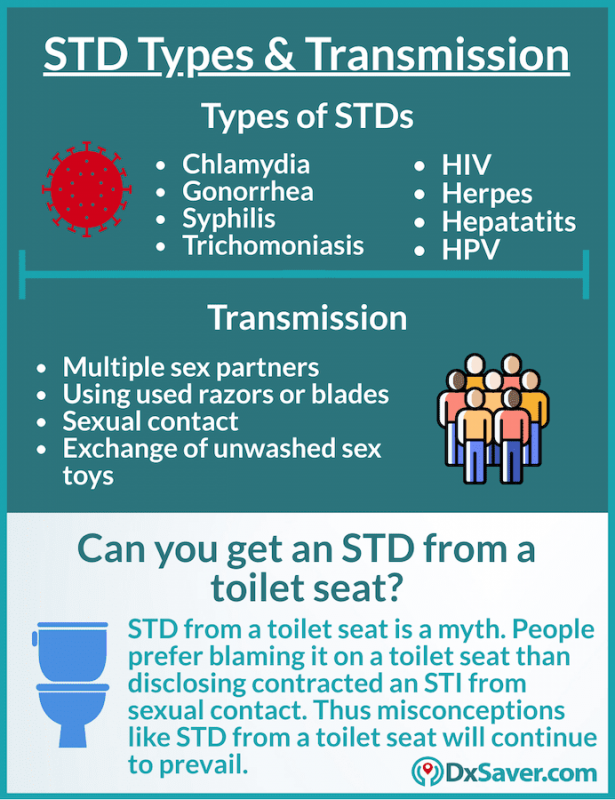 Can you get Chlamydia STD from a toilet seat?
Chlamydia is one of the most common sexually transmitted diseases reported in the U.S. The numbers reported in the year 2017 are more than 1.7 million chlamydia cases, though many more cases go unreported and undiagnosed. Chlamydia STD is caused by a bacterium called Chlamydia Trachomatis. These bacteria that live inside the infected person tend to die once they fall off the body. It can be only transmitted via sexual contact and not by any other means
Can you get Gonorrhea STD from a toilet seat?
Gonorrhea, also know as Clap STD is the second most common sexually transmitted disease in the US. It is caused by a bacterium called Neisseria Gonorrhoeae or gonococcus. This bacterium infects the warm and moist areas of the body like the urethra, rectum, eyes, vagina, and throat in both men and women. 
As this bacterium cannot live outside the human body for a few seconds, Gonorrhea cannot be spread through casual contact like touching clothes or sitting on the toilet seat.
How to get tested for STDs?
There are various tests available to test different kinds of STDs. Your doctor may ask you to take a particular test depending on your sexual history and the STD symptoms you experience. You may be asked to take a blood sample or a urine sample or a sample using a cotton swab in the infected area such as mouth, throat, vagina, penis, or anus to check for STDs.
In the table given below, we have shortlisted the top 3 STD Testing providers in the US and their prices for our readers.
How much does an STD test cost near you?
The following table shows the cost of the STD test and STD home test kit at 3 of our partner laboratories (CLIA – Certified) network located across the U.S. 
No prior appointment is required. Compare the price, order your test online and visit the nearest lab during lab business hours or shop the STD home testing kit. Complete the procedure and get the results in your email in 2 to 3 business days.
Name of our Partner Labs

Book Online

Reports – 48 hours

The entire U.S.

Required to visit the lab

Exclusive $10 discount auto-applied on checkout by shopping through DxSaver.com

Starting from

$24
$14

(Home Test Kit)

Reports – 2 to 5 days

The entire U.S.

Home-test kit provider

Use code "DX25" to avail exclusive 25% discount on checkout by shopping through DxSaver.com

Starting from

$99

$74.25

Reports – 72 hours

The entire U.S.

Required to visit the lab

Starting from

$24
Is there an STD home test kit available?
One of our STD testing providers offers the STD home test kit and you can get tested from the comfort of your home. STD home test kits are mostly preferred by people who are not convenient in a commonplace or who do not have time to visit the lab.  You can order the test kit online and take the sample of your blood/urine reading the instructions carefully mentioned in the kit and then post it back. The results will be personally emailed to you within 2 to 5 days depending upon the receipt of the sample by the lab.
STD test without insurance
Many health insurance companies in the US do not cover the cost of STD screening tests. But they might cover the cost of the additional diagnostic tests performed. However, the coverage offered by private insurance companies and national health insurance programs like Medicare and Medicaid varies widely. So we recommend you check the coverage of your health insurance plan before getting tested for STDs.
Our above-mentioned STD testing providers do not accept any health insurance policy but, on request, they can provide the itemized receipt which is necessary for insurance reimbursement purposes.
How are STDs treated?
STDs can be treated using antibiotics if reported at the earlier stage of infection. However, not all STDs are curable. Bacteria causing Chlamydia, Gonorrhea, and Syphilis can be cured when diagnosed at an earlier stage. Viral infections like HIV, Herpes, and Hepatitis cannot be cured but they can be controlled. These types of viral infections will stay with you for your lifetime. There are some anti-retroviral drugs to regulate the symptoms of STDs that cannot be cured.
It is vital to complete all the antibiotic drugs prescribed for any STD even if you feel the symptoms are gone. If you do not complete all the medication, you might get reinfected and the bacteria can fight back the antibiotics that you have been taking
Preventive measures for STD
STD can be prevented by practicing the following methods
Regular vaccinations and routine STD checks

Monogamy – avoid having sex with strangers and people other than your husband/wife

Not sharing any towels and underclothing
To prevent reinfection, we recommend you do a follow-up check after 1 month of your past treatment and not have sex until you get completely cured.
Providers location
STD tests can be done in any of the following states either at the provider's location or home. To know the STD test cost in these locations, click here.
Alabama

Arizona

Arkansas

California

Colorado

Connecticut

Delaware

Florida

Hawaii

Georgia

Idaho

Illinois

Indiana

Iowa

Kansas

Kentucky

Louisiana

Maine

Michigan

Minnesota

Mississippi

Missouri

Montana

Nebraska

Nevada

New Hampshire

New Mexico

North Carolina

North Dakota

Oklahoma

Oregon

Pennsylvania

Puerto Rico

South Carolina

South Dakota

Tennessee

Texas

Utah

Vermont

Virginia

Washington

West Virginia

Wisconsin

Wyoming
Frequently Asked Questions
Will insurance cover my STD testing cost?
No. Generally providers do not accept the insurance in order to ensure your privacy. However, they will provide you a receipt for insurance reimbursement purposes.
How should I book my appointment for STD testing?
You can choose the most suitable provider from above and make an appointment by following the instructions mentioned by them.
Can I cancel my lab test order?
Yes, you can cancel your lab test order anytime before your testing. A refund will be initiated after deducting the cancellation fee. However, cancellation is at the discretion of the provider.
Do the providers offer result interpretations?
Yes, few providers may provide doctor consultation who will take you through the results and provide clarification if needed.
How do I receive my report?
In order to ensure your privacy, the test report will be mailed to you by the provider.
Other topics you may be interested in –
Summary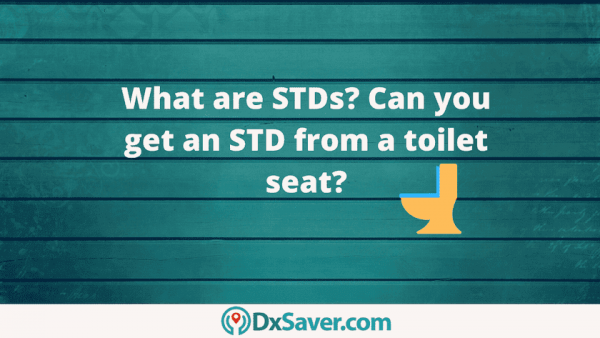 Author Rating





Brand Name
Product Name
STD Testing and Home-test kit
Price
Product Availability