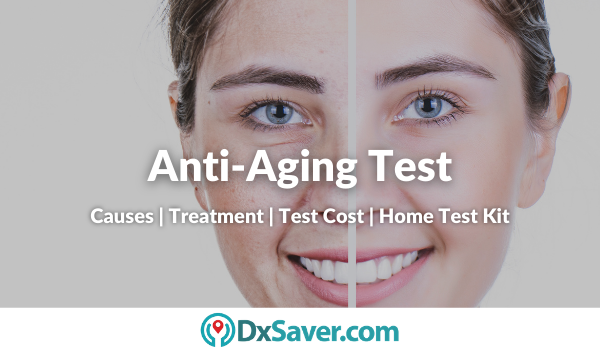 To have a beautiful look is a wish for every single person. Nobody wants to have wrinkles on their face or look 10 years elderly. All we want is to glow during the day and in the night. Maintaining a healthy diet and lifestyle help in anti-aging. In this article, we explain in-depth on skin aging, anti-aging foods and vitamins, and at-home anti-aging test cost.
What is Premature Skin Aging?

Symptoms of Premature Skin Aging

Changes in Skin with Age

Skin Age Reversal

Vitamins for Anti-aging

Anti-aging Foods

Is there a Skin Age Test?

Anti-aging Test Cost

Are there any Preparations Required Before taking the Anti-Aging test?

Anti-aging test Results

How to Prevent Skin Aging?

Providers Locations
What is Premature Skin Aging?
The human anatomy is programmed to wither out and slow down the growth and recovery process as we age. Growing elderly means our body's internal process including the skin cell recovery slows down and takes a longer duration to complete. This in turn results in aging signs such as wrinkles, skin spots, and feeling fatigued.
However, if the process is natural you'll likely experience symptoms of aging after the age of 40. Surprisingly, some people exhibit these signs during their 30's and make them look way more elderly than their actual age. This is termed "premature" aging of the skin. It is because of genes that is almost impossible to change, but there are ways to address other catalysts like lifestyle habits which are driving your handsome face to look older than your age.
Symptoms of Premature Skin Aging
Aging is not the same for everyone. Some may have wrinkles, and some may have hair loss and other signs and symptoms as discussed below.
Following are some symptoms of aging that are considered "premature" if you notice them before you turn 35.
1. Sunspots
Sunspots also called "age spots" that look like grey-ish color flat rounded spots on your skin. Sunspots primarily appear due to years of sun exposure these hyper-pigmented spots may develop on your face, the back of your hands, or your forearms and they can appear at or after age 40. Some people may see the sunspots on their skin if they fairer skin types, like Fitzpatrick type 1 and 2.
2. Gaunt Hands
Gaunt hands appear more veiny, thin, and prone to wrinkles as a result, which is commonly seen in aged people. As we age, typically after 30 or 40 years, the layers of the skin become thinner and contains fewer proteins that in turn give the hands a gaunt shape.
3.

Wrinkles or Sagging
As you enter your 30s, your skin slows down its production of collagen, a type of protein that is primarily responsible for your skin's shape and look. Collagen is what helps your skin recover from skin damages like pollution and UV rays and keeps the skin glowing.
If there is less collagen in the skin, it's easier for the wrinkles and sagging to become visible. Wrinkles and sagging are more in areas around frequently used muscles, like the elbow joints, or where you're more exposed to the sun.
Sometimes, wrinkles do not directly result as a consequence of aging but they may also be a sign of dehydration.
4. Hair Loss
This is the most frustrating part of aging. Skin wrinkles can be managed with the help of dermatics and moisturizers, but hair loss if occurs at a massive pace becomes irreversible without a major treatment like hair transplant or surgery.
According to a study from NCBH, nearly 40 percent of women over age 70 experience hair loss, and men experience it earlier, with 50 percent seeing hair loss after age 50. Hair loss happens due to dying follicles that don't trigger the stem cells for new hair growth.
Hair loss is also influenced by hormonal changes, environmental factors, genetics, and diet.
5. Dry or Itchy Skin
Skin becoming drier or itchy skin may happen more frequently over time, according to research. As the skin becomes thin due to aging, it is more prone to dehydration.
Some may also experience discoloration of the skin on their chest.
Changes in Skin with Age
Genes
Unfortunately, there are some rare genetic disorders that cause very early skin aging. Very early means in childhood and early puberty where you are just 13 years old or less.
Hutchinson-Gilford syndrome is an even rarer condition, affecting 1 in 8 million babies with "premature" skin aging. According to the Dermnetnz Organization, Werner syndrome affects 1 in 1 million youngsters who fall between the age group of 13 and 30 years old causing wrinkled skin, graying hair, and balding.
Now, in terms of overall growth, these syndromes don't catalyze that body growth as quickly as it does for skin aging. However, a few may experience thin limbs and baldness. Sometimes, it can also be fatal as the average life expectancy for children living with Hutchinson-Gilford syndrome is 13 years.
Other Causes of Skin Aging
Other than genetic disorders, there are a couple of different lifestyle factors that have a direct influence on how quickly "premature" skin aging signs appear on your body.
Smoking
Smoking tobacco has an adverse reaction on your skin and your overall health. The toxins in cigarette smoke expose your skin to oxidative stress which results in dryness, wrinkles, and other signs of premature aging.
Excess Sun Exposure and Tanning
Getting tanned on a beach is okay if it is before 10 AM or after 4 PM. Exposing your skin to the sunlight during mid-day can lead to damages in the skin cells due to the severe UV rays which can penetrate your skin. This overexposure to sunlight causes wrinkles in the long run.
Difference Between Skin Cancer and Age Spots
Age spots are nothing but flat brown, grayish or black spots on the skin that appears due to sun exposure and particularly in the over-exposed areas like the face, hands, and legs. Most people often confuse age spots with skin cancer as they may look like cancerous growths. But, there is nothing to worry about as age spots because they can be cured or treated with cosmetic creams or with minor surgery. Read more on how skin cancer symptoms are different from age spots here.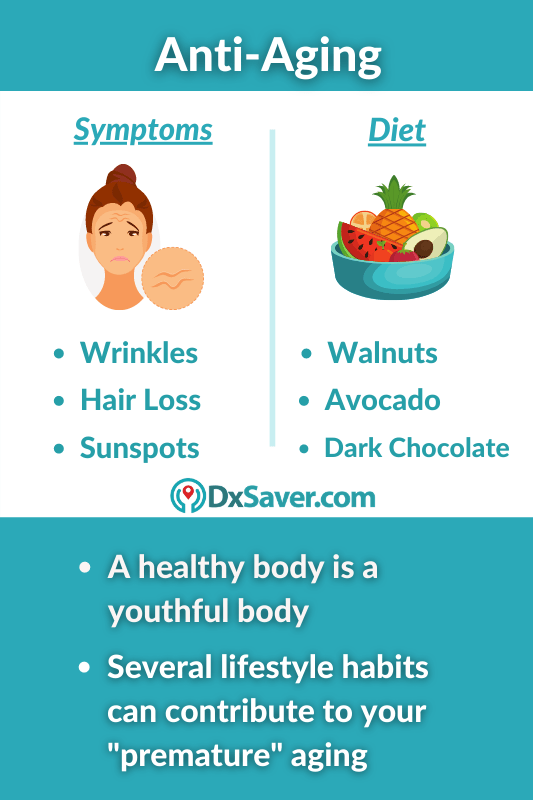 Skin Age Reversal
When it comes to skincare, there are a plethora of options available. However, the most effective and side-effect less are the ones that come naturally, i.e. vitamins and nutrients. Our skin is nourished by various vitamins including Vitamin D, C, E, and K and other nutrients like Copper, and Zinc. Skin aging can be reversed with the following diet and supplements that come with plenty of vitamins and nutrients.
Vitamins for Anti-aging
Getting the right vitamins can help your skin and overall body to go on a long healthy path. Taking care of your skin is as important as caring for your car's shiny appearance. Nobody finds a look of a Rolls Royce or Bentley appealing if it is dirt-drenched or having a scratched body.
The first thing your physician will instruct is to keep your skin away from over-exposure to the sun. However, the sun isn't completely bad for your health. Just 10 – 15 minutes should do for producing vitamin D, after all, the sun is a good source of Vitamin D.
Taking care of your skin should be an essential part of your health regimen. It is, after all, your body's largest organ.
Following vitamins help in anti-aging significantly –
Vitamin D

Vitamin C

Vitamin E, and

Vitamin K
Anti-aging Foods
Coming to the actionable part, anti-aging foods help in repairing the damaged skin cells and fixing the nutrient deficiencies which you may be experiencing. Following are the best 5 foods that you can include in your diet to slow down the aging of your skin.
Avocado
Avocados are high in rich in fats that are essential to help keep skin flexible and moisturized. One study involving over 700 women found that a high intake of healthy fats — specifically the ones found in avocados — was associated with more supple, springy skin.
Some evidence also shows that avocados contain compounds that can protect your skin from UV damage. Avocados are also a good source of vitamin E, and interestingly, vitamin E seems to be more effective when combined with vitamin C.
Broccoli
Broccoli is full of many vitamins and minerals that nourish your health, including zinc, vitamin A, and vitamin C. Broccoli also packs a special compound called sulforaphane, which boasts some impressive potential benefits like anti-cancer effects, including some types of skin cancer.
Tomatoes
Tomatoes are a great source of vitamin C and contain all of the major carotenoids, including lycopene which protect your skin against damage from the sun and wrinkling.
Walnuts
Walnuts are richer than most other nuts in both omega-3 and omega-6 fatty acids that make them an excellent food for healthy skin.
Dark Chocolate
For chocolate lovers, if you need one more reason to eat chocolate, here it is: The effects of cocoa on your skin are pretty phenomenal. Consuming 6–12 weeks of a cocoa powder high in antioxidants each day, participants in a study experienced thicker, more hydrated skin.
Howevr, make sure to choose dark chocolate with at least 70% cocoa to maximize the benefits and added sugar to a minimum.
Is there a Skin Age Test?
Absolutely. There are certain hormones like the Thyroid and Testosterone that can malfunction due to "premature" skin aging. Abnormal levels can lead to serious health conditions. An anti-aging test panel evaluates the multiple biomarkers that contribute to the rate your body ages and are important to address the effects of aging.
Thus, anti-aging test allows for better clinical outcomes and enables you to make healthy changes in your lifestyle to help reverse age-related diseases in time.
Anti-aging Test Cost
Anti-aging Test Costs around $199. No prior appointment is required. Order your test online and take the specimen with the provided kit and post it back to the mentioned address and get the results in your email in 2 to 3 business days. Doctor consultation is also available for further treatment or any kind of medical advice. 
The following table shows the anti-aging home test kit and STD testing cost at one of our partner laboratories (CLIA – Certified) network located across the U.S.
Name of our Partner Lab

Book Online

(Home Test Kit)

Reports – 2 to 5 days

The entire U.S. except for New York

Home-test kit provider

Offer Price

$199
Are there any Preparations Required Before taking the Anti-Aging test?
There is no special preparation is required before taking the anti-aging test. You can continue with your regular diet and activates before taking the test. Also, discontinuing medications won't be necessary, if you are taking any.
Anti-aging test Results
After you post back the sample to our testing provider, you shall receive your reports in the email within 2 – 5 business days. Your anti-aging test results will provide you with a comprehensive view of your current estradiol, testosterone, progesterone, triiodothyronine, thyroxine, thyroid-stimulating hormone, triglycerides, and cholesterol levels that can assist in a better understanding of your skin health and make any necessary diet or lifestyle changes.
How to Prevent Skin Aging?
A healthy body is a youthful body and several lifestyle habits can contribute to your "premature" aging factor. Following are some habits that you can keep in control for anti-aging.
1. Sleep habits
We sleep every day to give our body an opportunity to regenerate cells. Research has found that poor sleep quality is connected to increased signs of aging and a diminished skin barrier function. Deep sleep for at least 8 hours during the night is vital to skin health and keeps you young.
2. Use sunscreen
Wearing sunscreen with at least SPF 30 each day may be the biggest thing you can do to prevent signs of "premature" aging and try to wear it at least 30 minutes before the actual sun exposure for excellent protection from harmful UV rays.
3. Diet
Some research suggests that eating a diet high in sugar and refined carbohydrates can cause your skin to look aged. Avoid high sugar-containing foods and take a fiber-rich diet.
4. Consumption of Alcohol and Caffeine
Alcohol dehydrates your body. Over time, this dehydration can cause your skin to sag, wrinkly, and lose its shape. Caffeine may have a similar effect, but only if consumed daily may cause wrinkles.
Smoking tobacco also causes wrinkles to appear faster and makes you look elderly. Stopping alcohol, caffeine, and tobacco helps in anti-aging.
5. Environment and Pollution
Since our skin is the largest organ in the body, it can easily come in direct contact with the air around us and prone to toxins and pollutants exposure. If you already have pigment spots and wrinkles these environmental pollutants can worsen your skin health. Thus, covering your skin fully with clothing can help slow down skin aging.
6. Stress
Last, but not least stress can hurt your sleep habits and trigger an inflammatory response in your body, which can age your body faster.
Providers Locations
Anti-aging testing can be done in any of the following states either by visiting the nearest provider or by ordering the Anti-aging home test kit.
Alabama

Alaska

Arizona

Arkansas

California

Colorado

Connecticut

Delaware

Florida

Hawaii

Georgia

Idaho

Illinois

Indiana

Iowa

Kansas

Kentucky

Louisiana

Maine

Michigan

Minnesota

Mississippi

Missouri

Montana

Nebraska

Nevada

New Hampshire

New Mexico

North Carolina

North Dakota

Oklahoma

Oregon

Pennsylvania

Puerto Rico

South Carolina

South Dakota

Tennessee

Texas

Utah

Vermont

Virginia

Washington

West Virginia

Wisconsin

Wyoming

New York
Frequently Asked Question
Will insurance cover my testing cost?
No. Generally providers do not accept the insurance in order to ensure your privacy. However, they will provide you a receipt for insurance reimbursement purposes.
How should I book my appointment for testing?
You can choose the most suitable provider from above and make an appointment by following the instructions mentioned by them.
Can I cancel my lab test order?
Yes, you can cancel your lab test order anytime before your testing. A refund will be initiated after deducting the cancellation fee. However, cancellation is at the discretion of the provider.
Do the providers offer result interpretations?
Yes, few providers may provide doctor consultation who will take you through the results and provide clarification if needed.
How do I receive my report?
In order to ensure your privacy, the test report will be mailed to you by the provider.
Other topics you may be interested in:-
Summary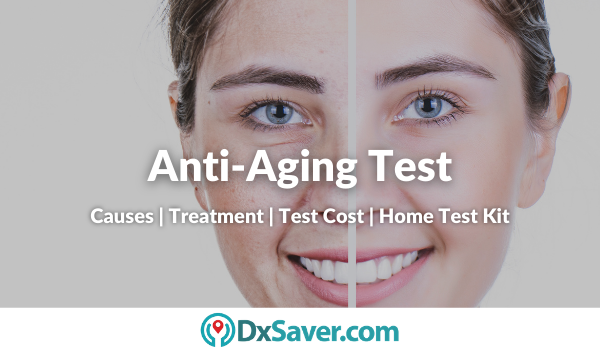 Author Rating





Brand Name
Product Name
Price
Product Availability