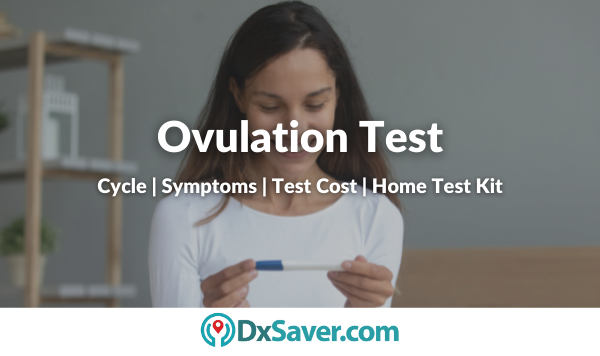 Women who are menstruating will have a time frame between their cycle that is called the "fertile window" which is a six-day time period where the women have the highest chance of getting conceived compared to other days. According to MedlinePlus, nearly a third of women are not being able to conceive a baby due to various factors, and one-third of the time it is a problem with the man. In this article, we explain in detail what ovulation is, symptoms of ovulation, cycle, and ovulation testing cost.
Ovulation Test Cost

What is Ovulation?

Ovulation Window

Symptoms of Ovulation

Why is an Ovulation test done?

Who is Recommended for an Ovulation test?

Ovulation and Irregular Periods

How is the Ovulation test done?

Ovulation home test kit

Is there any preparation required before the test?

What does the test result mean?

Providers Location
For our readers, who are more interested in knowing the Ovulation test cost beforehand, we begin with that section.
Ovulation Test Cost
The cost of the Ovulation test ranges between $32 and $59 in different labs and facilities across the U.S. No prior appointment is required. Compare the price, order your test online and visit the nearest lab during lab business hours. Complete the procedure and get the results in your email in 2 to 3 business days.
The following table shows the cost of the Ovulation test at 3 of our partner laboratories (CLIA – Certified) networks located across the U.S.
Name of our Partner Labs

Book Online

Reports – 1 to 3 days

The entire U.S.

Required to visit the lab

Offer Price

$45

(Home Test Kit)

Results in just 5 minutes

The entire U.S. except for New York.

Home-test kit provider

Offer Price

$32

Reports – 2 to 5 days

The entire U.S. except for New York, New Jersey & Rhode Island

Required to visit the lab

Offer Price

$59
Ovulation Test Cost With Insurance
Many health insurance policies in the U.S. cover the cost of all fertility-related tests including the Ovulation test. But the coverage offered by different private health insurance policies and national health insurance programs like Medicare and Medicaid varies widely. So we recommend you to check with your insurance company regarding the coverage before getting tested.
Our Ovulation testing providers do not accept any kind of health insurance policy. But, if the insurance company accepts to reimburse your Ovulation test cost, they can provide you with an itemized receipt containing all the details like the name and code of the test, and CPT code which is necessary for insurance reimbursement purposes.
What is Ovulation?
Ovulation is a part of a fertile woman's menstrual cycle. Ovulation occurs when an egg is released from your ovary. If you are able to track how and when ovulation happens then it can help you achieve or even prevent pregnancy. Testing for ovulation also helps in assessing certain medical conditions like Poly Cystic Ovarian Syndrome (PCOS).
Typically every time a menstrual cycle happens, it involves either of the two scenarios. When the egg is released during the peak of the cycle, also known as during ovulation, it may or may not be fertilized by sperm. If fertilized, the egg may travel to the uterus and implant to develop into pregnancy and thus a fetus is grown. If the eggs are left unfertilized, they disintegrate and shed as blood as your menstrual.
Ovulation Window/Cycle
Ovulation typically happens around day 14 of a 28-day menstrual cycle, but, since everyone doesn't have a textbook 28-day cycle, so the exact timing can vary. The cycle may also be anywhere between days 6 and 14 of your menstrual cycle as the process of ovulation begins with your body's release of follicle-stimulating hormone (FSH). FSH is a fertility hormone that helps the egg inside your ovary to mature in preparation to release the egg later.
When the eggs mature, your body secretes a lot of luteinizing hormones (LH), that helps to trigger the egg's release. Ovulation may happen in the 28 to 36 hours after the LH has started secreting in huge quantities.
How to track ovulation?
In some women, ovulation can occur more than once in a single menstrual cycle. One study from 2003 suggested that some may even have the potential to ovulate more than one time, like two or three times in a given menstrual cycle. Also, it is worth noting that, 10 percent of the study participants actually produced two eggs in one month.
However, as a common measure ovulation occurs in the four days before or four days after your cycle's midpoint.
Symptoms of Ovulation
If you are unable to keep track of the menstrual cycle, there are some symptoms that a fertile woman will exhibit during her peak ovulation window. When you go through the ovulation cycle, it causes increased vaginal discharge — often clear and stretchy — it may even resemble raw egg whites. After your days go past the ovulation, your discharge may decrease in volume and appear thicker or cloudier.
Ovulation may also be identified by the following symptoms:
Breast tenderness

Light bleeding or spotting

Increased sexual drive (also referred to as ovulation mood)

Mittelschmerz – ovary pain characterized by discomfort or pain on one side of the abdomen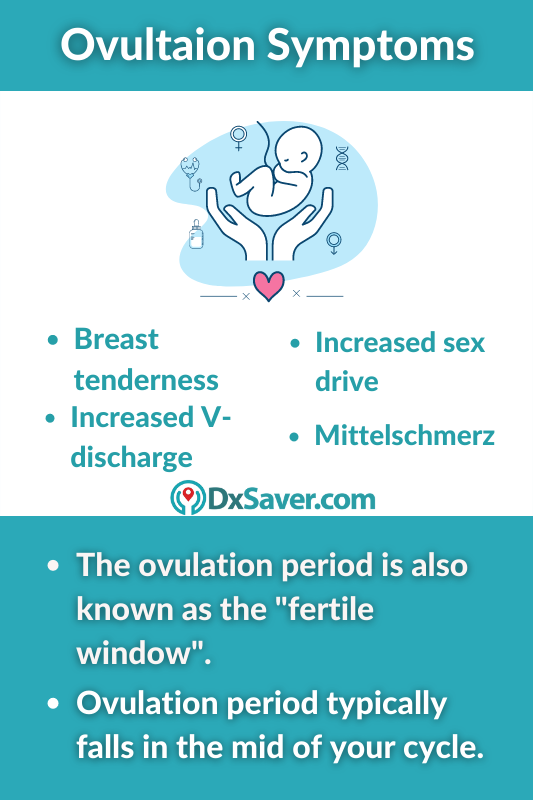 However, not everyone experiences symptoms with ovulation, so tracking your fertility or the ovulation cycle is a better way of tracking your window.
Ovulation Vs. Mensuration
A typical menstrual cycle resets every 28 days, that is the day when you start to bleed. This is followed by the follicular phase, where the egg matures and is later released during ovulation, around day 14.
After ovulation comes the luteal phase. If pregnancy occurs during this phase, hormones will keep the lining from shedding with a menstrual period. Otherwise, a flow will start around day 28 of the cycle, beginning the next cycle.
In simple terms: Ovulation typically occurs in the middle of the menstrual cycle.
Why is an Ovulation test done?
If you're trying to have a baby, you want to know when you need to have sex and this is where an ovulation test comes in handy. This test can help predict when you're most likely to be fertile, and you should take an ovulation test a few days prior to when you anticipate ovulation. As ovulation occurs in the middle of your menstrual cycle, which begins on the first day of your period. As you reach the mid-phase, ovulate, your ovaries release an egg, it lives for about 12 to 24 hours. This window increases the chances of getting conceived significantly.
Who is recommended for an Ovulation test?
If you are a person who doesn't have a good diet plan or is being stressed then it may impact the ovulation cycle or even you may not ovulate at all. There are other reasons like hormonal imbalance, infertility, and medical conditions like polycystic ovary syndrome (PCOS) or amenorrhea that may lead to difficultly in the prediction of ovulation. If you fall in this category and trying to get pregnant, then an ovulation test is highly recomended. 
Ovulation and Irregular Periods
If you have irregular periods then there is quite a chance that an ovulation test kit wouldn't be able to capture the right cycle that you are currently in. Ovulation test kits are more accurate when you have a regular menstruation cycle because it is easier to assess the midpoint of your cycle. If you have irregular periods, then you'll have to test more often than otherwise.
Even with an irregular cycle, some people can see the symptoms of ovulation indicating that it's time to start using a test kit. You'll need to pay attention to bodily changes like vaginal discharge.
If you have irregular periods but when you experience the following symptoms, start using an ovulation test kit:
Increase in your basal body temperature

Increased sex drive

Light spotting

Mild pelvic pain

Increased cervical mucus
How is the Ovulation test done?
If you are opting for the at-home ovulation test kit, it measures PdG – urine metabolite of progesterone – levels in first-morning urine that can assess your ovulation cycle. Progesterone PdG test kit is FDA approved that is easy to use and readable. You will be mailed with all the required non-invasive easy-to-use tools by our testing provider. All you need to do is follow the instructions and take the sample and see the results.
Ovulation test generally tests for the progesterone levels. You can test for progesterone here.
Ovulation home test kit
Ovulation home test kits are mostly preferred by women who are not convenient in a commonplace or who do not have time to visit the lab. One of our testing providers offers the Ovulation home test kit. You can order the test kit online and take the sample of your blood reading the instructions carefully mentioned in the kit and then get the results in just 5 minutes.
Is there any preparation required before the test?
There is no preparation general preparation required for the ovulation test. However, if you are taking any medications or contraception pills, then you might need to inform your physician beforehand so that the test results are not influenced by any of these medicines.
Provider Locations
The Ovulation test can be done in any of the following locations across the U.S. either by visiting the nearest lab or getting tested at home using the test kit. To know the cost of the Ovulation test, refer to the first section of the article.
Alabama

Arizona

Arkansas

California

Colorado

Connecticut

Delaware

Florida

Hawaii

Georgia

Idaho

Illinois

Indiana

Iowa

Kansas

Kentucky

Louisiana

Maine

Michigan

Minnesota

Mississippi

Missouri

Montana

Nebraska

Nevada

New Hampshire

New Mexico

North Carolina

North Dakota

Oklahoma

Oregon

Pennsylvania

Puerto Rico

South Carolina

South Dakota

Tennessee

Texas

Utah

Vermont

Virginia

Washington

West Virginia

Wisconsin

Wyoming
Frequently Asked Questions
Will insurance cover my testing cost?
No, insurance will not be covered in the billing. However, they will provide you a receipt for insurance reimbursement purposes.
How should I book my appointment?
You can choose the most suitable provider from above and make an appointment by following the instructions mentioned by them.
Can I cancel my lab test order?
Yes, you can cancel your lab test order anytime before your testing. A refund will be initiated after deducting the cancellation fee. However, cancellation is at the discretion of the provider.
Do the providers offer result interpretations?
Yes, a few providers may provide doctor consultation who will take you through the results and provide clarification if needed.
How do I receive my report?
To ensure your privacy, the test report will be mailed to you by the provider.
Other topics you may be interested in:-
Summary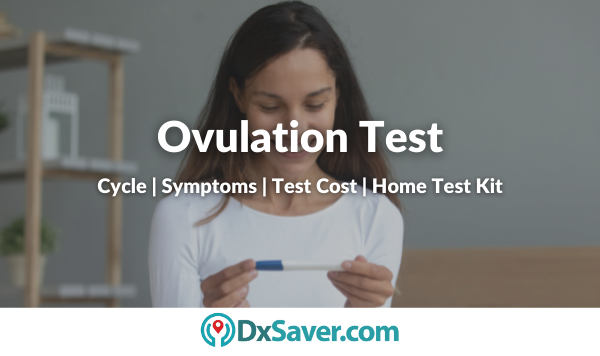 Author Rating





Brand Name
Product Name
Price
Product Availability