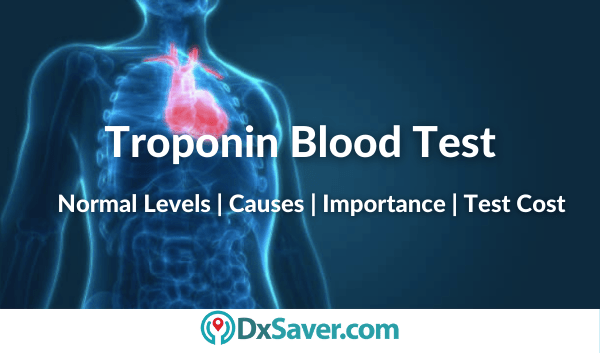 Troponin is a group of proteins that is usually found in minute quantities in a healthy person. This protein helps in contractions of the heart and muscles surrounding them. Your heart is a fragile muscle that pumps blood throughout your body. Pumping the blood requires regular beating of the heart for the blood to flow without any congestion. However, the heart is a muscle that weakens overtime causing heart problems such as heart attacks.
The troponin test measures troponin levels in your blood. Your troponin levels will be elevated if you had a recent heart attack and/or also prescribed when you had abnormal chest pain. 
Troponin Blood Test Cost

What is the Troponin in the Blood Test?

What is Troponin & Why is it Important?

How is the Troponin test performed?

Is there any Preparation Required before the Test?

Are there any risks in the Troponin test?

What does the Troponin Test Result Mean?

Troponin Blood test high

Troponin Blood test low

How to reduce high Troponin levels in blood?

Providers Locations
For our readers, who are very much interested in knowing the Troponin Blood test cost beforehand, we would like to begin with that section.
Troponin Blood Test Cost
The cost of the Troponin test ranges around $149 in different labs and facilities across the U.S. No prior appointment is required. Compare the price, order your test online and visit the nearest lab during lab business hours. Complete the procedure and get the results in your email in 2 to 3 business days. Doctor consultation is also available for further treatment or for any kind of medical advice.
The following table shows the Troponin blood test cost at one of our partner laboratories (CLIA – Certified) network located across the U.S.
Name of our Partner Labs

Book Online

Reports – 1 to 3 days

The entire U.S.

Required to visit the lab

Measures – Troponin I

Offer Price

$149
Cost of Troponin test cost with insurance
Many health insurance policies in the U.S. cover the cost of the Troponin test when it is done once or twice a year. Also, the coverage offered by private health insurance policies and national health insurance programs varies widely. So we recommend you to check with your insurance company.
Our Troponin testing providers do not accept any health insurance. But, on request, they can provide you with a receipt containing all the details like the name and code of the test, and CPT code which is necessary for insurance reimbursement purposes.
What is a Troponin Blood Test?
A Troponin blood test is done to evaluate your troponin levels in the blood. Troponin is a protein that is broken into 3 subunits –
Troponin C (TnC)

Troponin T (TnT)

Troponin I (TnI)
Generally, this blood test measures the levels of troponin T or troponin I proteins. When you have heart muscle damage or heart attack, the muscles rupture, and these proteins are released into the bloodstream. The severity of the heart damage will be reflected in higher levels of troponin T and I in your blood.
With the help of Troponin levels in the blood, your physician can diagnose heart attacks or other heart related medical conditions more accurately and provide you appropriate treatment. However, sometimes other medical histories of the patient and more tests like ECG (Electrocardiogram) will be needed to have a clear picture of the heart condition.
What is Troponin & Why is it Important?
When you have a heart attack, the levels of troponin I and troponin T will rise abruptly in your blood within 3 or 4 hours after injury and may remain elevated for 10 to 14 days. This test is also known as a cardiac test, as it is done to know whether you have suffered a heart attack. In acute coronary syndromes (ACS), troponin levels become detectable in the blood after 4-8 hours following the onset of chest pain and remain elevated for 5-9 days.
In a healthy person where there is no heart issues or any historic heart health complications, the troponin levels are present in tiny amounts that are undetectable in the blood. In the event of a heart attack, the damages in heart muscles will release high levels of troponin into the blood.
Troponin I is one of the 3 components of troponin levels in the blood. This protein has a primary function of regulating the contraction of striated muscle, including the muscle that makes up the heart. Thus when there is severe damage in your heart, the troponin levels are heightened.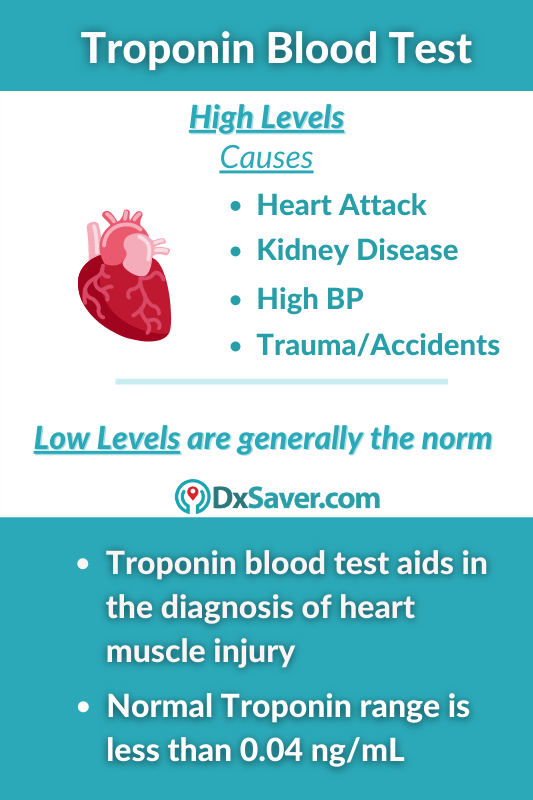 How is the Troponin Blood test performed?
As the name suggests, the Troponin Blood test is a simple blood test. During this test, a lab technician or a phlebotomist will cleanse the skin with an antiseptic and place an elastic band around the upper arm so that the vein becomes visible and swells with blood. He/she then injects a needle and draws a sample of blood in a test tube. After the blood is drawn, he covers the injected area with a band-aid to stop bleeding. The typical blood specimen is then sent to the lab for analysis.
It takes less than 10 minutes to perform this test.
Is there any preparation required before the test?
There is no special preparation required for the Troponin Blood test, you can continue with your regular activities and other diets.
Are there any risks in the Troponin Blood test?
There is no possible risk or complication in taking the Troponin blood test. You might have slight pain or bruise in the injected area for a very little period.
What does the Troponin Test Result Mean?
Generally, the cardiac troponin levels in your blood cannot be detected with most blood tests, as they are present in undetectable quantities. When there is a slight increase in troponin levels it may be a consequence of heart damage. Extremely high levels of cardiac troponin levels indicate that a heart attack has occurred.
Normal troponin I levels should be less than 0.04 ng/ml. Troponin levels may remain high for more than 10 to 14 days after a heart attack.
Troponin Blood test high
If your troponin I levels show more than 0.40 ng/ml, then you have likely encountered a heart attack.
Causes of high troponin levels are –
Abnormally fast heartbeat

Blockage of a lung artery due to a blood clot, or tumor cells (pulmonary embolus)

Congestive heart failure

Coronary artery spasm

High blood pressure in lung arteries

Inflammation of the heart muscle usually due to a virus (myocarditis)

Long-term kidney disease

Prolonged exercise (marathons or triathlons)

Trauma that injures the heart, such as a car accident

A weakening of the heart muscle
Following are some of the medical conditions causing high troponin levels –
Cardiac angioplasty

Open heart surgery

Heart defibrillation or electrical cardioversion

Radiofrequency ablation of the heart
High troponin levels are a symptom that indicates recent heart damage/attack, this high levels are not a direct diagnosis, your physician will recommend a follow-up test or ECG to find and address the underlying cause.
How to reduce high Troponin levels in blood?
Extremely high levels of troponin indicate that a person has recently had a heart attack. Reducing the troponin levels depends on what reason you had a high rise in the troponin levels. Your physician will prescribe your medications and if your lifestyle habits need a change then you'll be informed accordingly.
Following are some of the common treatments of a heart attack include:
Clot-dissolving medications

Coronary angioplasty, which is a procedure that involves threading a small balloon into the coronary artery to open up the blockage

The insertion of a stent — to prop open a blocked blood vessel during an angioplasty

Bypass surgery,

Ablation, which is a treatment that destroys certain heart cells using radio waves
In order to prevent further heart attacks, your doctor will recommend lifestyle changes if you are overweight or a smoker – quitting the smoking habit and increasing a fiber-rich diet, and exercising regularly will help in avoiding heart attacks in the future. 
Troponin Blood test low
In healthy people, troponin levels are low enough to be undetectable in any blood test. If you've experienced chest pain, but troponin levels are still low 12 hours after the chest pain started, then the chances of a heart attack in unlikely.
Providers Locations
The Troponin test can be done in any of the following locations across the U.S. by visiting the nearest lab. To know the Troponin test cost, refer to the first section of the article.
Alabama

Arizona

Arkansas

California

Colorado

Connecticut

Delaware

Florida

Hawaii

Georgia

Idaho

Illinois

Indiana

Iowa

Kansas

Kentucky

Louisiana

Maine

Michigan

Minnesota

Mississippi

Missouri

Montana

Nebraska

Nevada

New Hampshire

New Mexico

North Carolina

North Dakota

Oklahoma

Oregon

Pennsylvania

Puerto Rico

South Carolina

South Dakota

Tennessee

Texas

Utah

Vermont

Virginia

Washington

West Virginia

Wisconsin

Wyoming
Frequently Asked Questions
Will insurance cover my testing cost?
No, insurance will not be covered in the billing. However, they will provide you a receipt for insurance reimbursement purposes.
How should I book my appointment?
You can choose the most suitable provider from above and make an appointment by following the instructions mentioned by them.
Can I cancel my lab test order?
Yes, you can cancel your lab test order anytime before your testing. A refund will be initiated after deducting the cancellation fee. However, cancellation is at the discretion of the provider.
Do the providers offer result interpretations?
Yes, a few providers may provide doctor consultation who will take you through the results and provide clarification if needed.
How do I receive my report?
To ensure your privacy, the test report will be mailed to you by the provider.
Other topics you may be interested in:-
Summary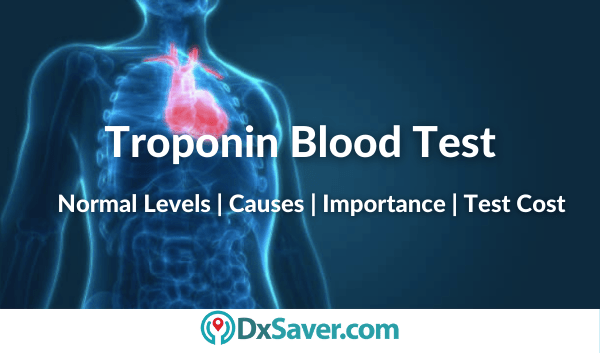 Author Rating





Brand Name
Product Name
Price
Product Availability