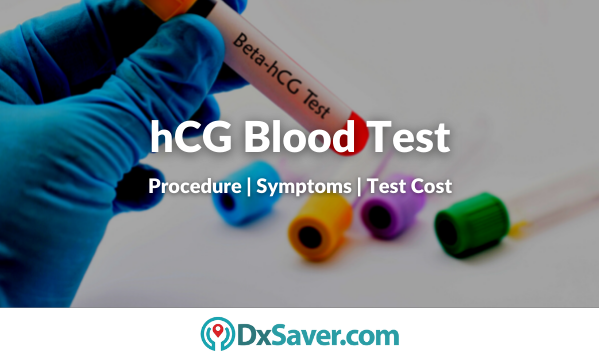 The human chorionic gonadotropin (hCG) is a hormone that is made by the placenta during pregnancy. The qualitative blood test detects levels of beta-hCG to confirm pregnancy. Occasionally an hCG blood test is used to screen for pregnancy before undergoing certain medical treatments that could harm a developing baby. A pregnancy blood test is more sensitive than a urine test because it can detect a pregnancy earlier and can measure hCG levels. It can sometimes detect pregnancy even before you have missed a period. And hCG tests can also be used as part of a screening test for birth defects.
This article covers all the significant topics related to hCG blood tests such as hCG blood test cost, symptoms, and how to get tested for an hCG blood test.
What is human chorionic gonadotropin (hCG)?

hCG blood test

Symptoms of early pregnancy

What happens during an hCG blood test?

Is there any preparation required before the test?

Risks of this test

What do the test results mean?

When should you get tested?

What is an hCG urine test?

Provider locations
For our readers who are interested to know the hCG blood test cost beforehand, we begin with that section.
How much does the hCG blood test cost?
hCG blood tests cost around $49 in different labs and facilities across the U.S. No prior appointment is required. You can compare the price and order tests online, or visit the nearest lab during lab business hours. You will get the results in your email in 2-3 business days after completing the procedure. Doctor consultation is available for any kind of medical advice or further treatment.
The following table shows the hCG blood test provider and its price. You can know more and book the test now by clicking on the "Book Now" button. All the labs are certified and offer a network across the US.
Name of our Partner Labs

Book Online at Offer Price

Reports – 1 to 3 days

The entire U.S.

Required to visit the lab

$49
hCG blood test cost with insurance
Many insurance companies in the U.S. cover all the vital blood tests like an hCG blood test. However, the coverage provided by private health insurance companies and national health insurance programs like Medicare varies widely. Most of the health insurance policies cover hCG blood test costs only once or twice a year and when your physician orders more than twice in a year, you should pay the test cost out of pocket. So, we recommend you check if your health insurance policy covers the hCG blood test cost.
Our hCG blood testing providers do not accept any kind of health insurance policy. Still, they can provide you an itemized receipt containing all the details viz the name of the test, code of the test, and CPT code which is necessary for insurance reimbursement purposes.
What is human chorionic gonadotropin (hCG)?
Human chorionic gonadotropin is a hormone that is found in women's blood and urine throughout their pregnancy. Human chorionic gonadotropin becomes detectable in the blood shortly after implantation of the embryo in the uterus. When the level of human chorionic gonadotropin or hCG is increased it may indicate that you are pregnant, putting the womb to work creating a safe home for the baby to grow in. Cells in the developing placenta make hCG, during pregnancy. The sac which nourishes the egg after it is fertilized and attaches to the uterine wall is the placenta. About 11 days after conception, hCG can be detected in a blood sample. And the levels of hCG double every 48-72 hours. Reaches its peak in 8 to 11 weeks after conception.
When an embryo forms, it starts making hCG. And this facilitates the production of other important pregnancy hormones like estrogen and progesterone. Which causes the lining of the uterus to thicken and increase its blood supply. In this way, it can receive the embryo and feed it after implantation. The key to a healthy pregnancy and the development of your baby is the correct balance of these essential hormones.
Symptoms of early pregnancy
Missed period

Breast changes

Nausea

Fatigue

Frequent urination, particularly at night

Cravings for some foods

Spotting

Cramping

Headache
However, the above symptoms can be caused by other factors too. It does not certainly mean that you are pregnant. Take a home pregnancy test and see your GP, when you suspect you are pregnant.
Other symptoms of pregnancy
Backache (more than one in three women)

Leg cramps

Breathlessness

Constipation

Heartburn and indigestion

Itchy skin

Tingling and numbness in your hands

Vaginal discharge

Vaginitis

Mood changes (unexplained crying)

hCG blood test
The hCG blood test measures the level of hCG hormone present in a sample of the blood. Two types of blood tests may include:
A qualitative hCG blood test checks for human chorionic gonadotropin in the blood.

A quantitative hCG blood test measures a certain level of HCG in the blood.
In some cases, the hCG blood test is also used to evaluate and manage certain types of cancer. Because beta hCG is believed to be a tumor marker, which means it is a substance that is excreted by some kinds of tumors. 
What happens during an hCG blood test?
During the hCG blood test, the healthcare provider draws blood from a vein, usually from the inside of the elbow or the back of the hand. The skin will be cleaned with an antiseptic wipe and then the healthcare provider places an elastic band around the upper arm to help the vein swell with blood. A needle will be inserted a needle to collect a blood sample in one or more vials. The provider covers the area with a bandage to stop any bleeding after drawing blood.
Is there any preparation required before the test?
Usually, you do not need to fast or do any special preparations before an hCG blood test.
Risks of this test
There is no possible risk of taking this test. You may feel a brief stinging or pinching sensation when the needle is being inserted or you may not feel anything at all. And when the needle is in the vein, you may feel minor discomfort. Later, you may experience some mild throbbing at the puncture site.
What do the test results mean?
The normal value may slightly vary among different labs. In nonpregnant women, the normal hCG levels are less than 10.0 mIU/mL. When the levels are lower than normal it could mean a miscalculation of pregnancy dating, possible miscarriage, blighted ovum, or an ectopic pregnancy. And when it is higher than normal could mean a miscalculation of pregnancy dating, molar pregnancy, or multiple pregnancies, such as twins or triplets. Cancers that can cause higher-than-normal hCG levels may include lung cancer, breast cancer, ovarian cancer, cancer of the uterus, or choriocarcinoma. Noncancerous conditions like ulcers, cirrhosis, and inflammatory bowel disease, can also result in hCG levels being elevated.
Doctors may order this test as part of a series of lab tests to identify the cause of certain symptoms.
When should you get tested?
Testing can be done as a routine test before some medical treatments, like chemotherapy or surgeries that could potentially harm a fetus. The hCG blood test can be performed to:
Confirm pregnancy

Diagnose a potential miscarriage

Determine the approximate age of the fetus

Screen for Down syndrome
The test may also be done when there are symptoms of an ectopic pregnancy or a pregnancy that is failing.
Symptoms of ectopic pregnancy may include:
Vaginal bleeding

Pain in the lower abdomen or back, and pelvis

Light vaginal bleeding

Upset stomach

Vomiting

Sharp abdominal cramps

Pain on one side of your body

Pain in the shoulder, neck, or rectum

Dizziness

Weakness
When an ectopic pregnancy is not identified and treated, additional and more severe symptoms may develop. So, females of childbearing age need to talk with a doctor if they notice these symptoms. Pregnancy testing can be done as a routine test before some medical treatments.
What is an hCG urine test?
An hCG urine test is a pregnancy test. When you are pregnant, this test can detect the hCG hormone in urine about a day after your first missed period. The hCG urine test is a qualitative test and will tell you whether or not it detects the hCG hormone in the urine. And do not reveal specific levels of the hormone. The presence of human chorionic gonadotropin (hCG) in the urine is considered a positive sign of pregnancy. And the test is negative if you are not pregnant. There are no risks in this test, except for false-negative or false-positive results. Positive results are more likely to be precise than negative results. When the test is negative but if pregnancy is still suspected, then the test should be repeated in 1 week.
Provider Locations
hCG blood test can be done in any of the following locations by visiting the lab near you. Refer to the first section of this article to know the hCG blood test cost.
Alabama

Alaska

Arizona

Arkansas

California

Colorado

Connecticut

Delaware

Florida

Hawaii

Georgia

Idaho

Illinois

Indiana

Iowa

Kansas

Kentucky

Louisiana

Maine

Michigan

Minnesota

Mississippi

Missouri

Montana

Nebraska

Nevada

New Hampshire

New Mexico

North Carolina

North Dakota

Oklahoma

Oregon

Pennsylvania

Puerto Rico

South Carolina

South Dakota

Tennessee

Texas

Utah

Vermont

Virginia

Washington

West Virginia

Wisconsin

Wyoming
Frequently Asked Questions
Will insurance cover my testing cost?
No, insurance will not be covered in the billing. However, they will provide you with a receipt for insurance reimbursement purposes.
How should I book my appointment?
You can choose the most suitable provider from above and make an appointment by following the instructions mentioned by them.
Can I cancel my lab test order?
Yes, you can cancel your lab test order any time before your testing. A refund will be initiated after deducting the cancellation fee. However, cancellation is at the discretion of the provider.
Do the providers offer result interpretations?
Yes, a few providers may provide doctor consultation who will take you through the results and provide clarification if needed.
How do I receive my report?
To ensure your privacy, the test report will be mailed to you by the provider.
Other topics you may also be interested in:-
Summary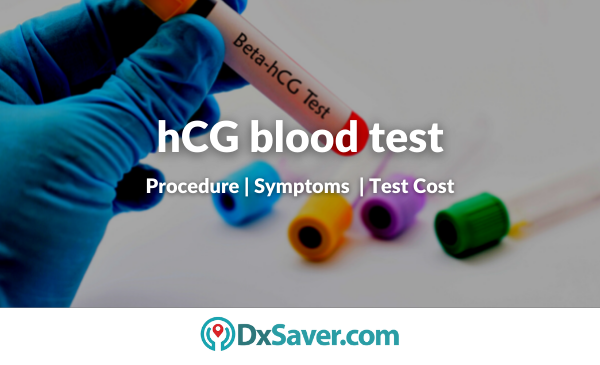 Author Rating





Brand Name
Product Name
Pregnancy Blood Test hCG Qualitative
Price
Product Availability