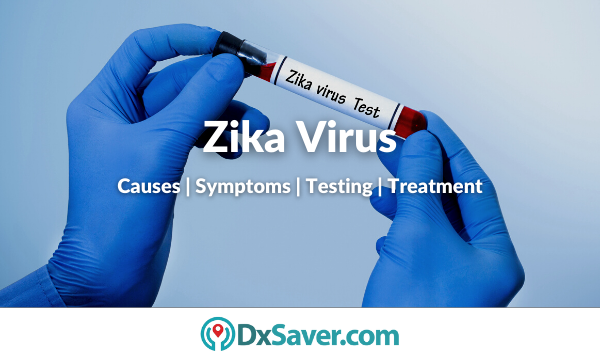 Zika virus – a disease that spreads through the bites of infected mosquitoes. Many people with infection won't have symptoms or will only have mild symptoms. Only one in five people do get symptoms. Outbreaks of this infection happen around the world, predominantly in places with warm, tropical climates where mosquitoes thrive. Currently, there is no local transmission of the Zika virus in the continental United States. According to CDC, there have been no confirmed Zika virus cases reported from U.S. territories in 2021.
This article covers all the significant topics related to the Zika virus such as the test cost, causes, symptoms, risk factors, and how to get tested for Zika virus.
What is the Zika virus?

Causes

Risk factors

Symptoms of Zika virus

Complications

Diagnosis of Zika virus

Treatment for Zika virus

Prevention

Provider locations
For our readers who are interested in knowing the Zika virus test cost beforehand, we begin with that section.
How much does the Zika virus test cost?
Zika virus test costs range from $715 to $1,240 in different labs and facilities across the US. Prior appointment isn't required. You can order tests online by comparing the price or visiting the nearest lab during lab business hours. You will get the results in your email in 2 to 3 business days after completing the procedure. Apart from this, doctor consultation is available for any kind of further treatment or medical advice.
The table below shows the Zika virus test provider and their prices. You can know more and book the test by clicking on the "Book Now" button.
Name of our Partner Labs

Book Online at Offer Price

Reports – 1 to 3 days

The entire U.S.

Required to visit the lab

$715

Reports – 2 to 5 days

The entire U.S. except for New York, New Jersey & Rhode Island

Required to visit the lab

$1240
Zika virus test cost with insurance
Many insurance companies in the U.S. cover all the vital tests like a Zika virus test. However, the coverage provided by private health insurance companies and national health insurance programs like Medicare varies widely. Most of the health insurance policies cover Zika virus test costs only once or twice a year and when your physician orders more than twice in a year, you should pay the test cost out of pocket. So, you are recommended to check if your health insurance policy covers the Zika virus test cost.
Our Zika virus testing providers do not accept any kind of health insurance policy. However, they can provide you with an itemized receipt containing all the details viz the name of the test, code of the test, and CPT code which is necessary for insurance reimbursement purposes.
What is the Zika virus?
Zika virus disease is spread primarily by Aedes mosquitoes, the same species that transmits the dengue and chikungunya viruses. Typically, Zika virus infections occur in tropical climates. And in the US infections are linked to travel to and from tropical regions. The symptoms of the Zika virus infection are generally mild. But when a woman who is pregnant catches the virus, it can have a severe impact on the pregnancy and the unborn child. Presently, there is no vaccine or treatment for this virus. Once a person has been infected with the Zika virus infection, it's very likely they'll be protected from future infections. And there is no proof that past infection poses an increased risk of birth defects in future pregnancies.
Causes
The virus is mainly transmitted by the bite of an infected mosquito from the Aedes genus. When a mosquito bites a person with the Zika virus, the virus infects the mosquito. And when that infected mosquito bites another person, the virus enters that person's bloodstream and causes an infection. Normally these Aedes mosquitoes bite during the day, peaking in the early morning and late afternoon or evening. This is the same mosquito that causes chikungunya, dengue, and yellow fever.
Zika virus can also spread from a mother to the fetus, during pregnancy. It can spread from a recently infected partner through oral, vaginal, or anal sex whether there are symptoms or not and sharing of sex toys may also pose a risk. In some cases, people contract the virus through transfusion of blood and blood products and organ transplantation.
The virus does not spread from hugging, kissing, sharing utensils, touching objects, toilet seats. The saliva or respiratory droplet cannot pass the virus.
Risk factors
The main risk factor for the virus is living or traveling in countries where there have been outbreaks. The risk of exposure to Zika is high in tropical and subtropical regions. Especially, a pregnant woman should be careful to avoid mosquito bites if she is living in or traveling to a country where a virus infection is present. In the US many cases have been linked to travel and only a few have resulted from mosquito-borne transmission. Additionally, even unprotected sex can increase the risk of this virus infection for up to three months after travel.
Symptoms of Zika virus
Generally, people infected with the Zika virus won't have symptoms or the symptoms can be vague and mild lasting for several days to a week. Only one in five people with the infection will have symptoms. Symptoms can show up anywhere from 3 to 14 days after a bite from an infected mosquito. Many people may not realize they have been infected as they don't get sick enough to go to the hospital. Symptoms of the Zika virus can be similar to like dengue and chikungunya, other viruses spread through mosquito bites. The most common symptoms may include:
Fever

Headache

Conjunctivitis (red eyes)

Rash

Joint pain

Muscle pain

Pain behind the eye

Vomiting

Fatigue

Abdominal pain
Complications
Zika virus infection can cause nervous system or brain complications. It is also a trigger of Guillain-Barré syndrome, myelitis, and neuropathy, especially in adults and older children. Zika infection in pregnancy also results in pregnancy complications such as miscarriage, preterm birth, and stillbirth. This infection also increases the risk of serious birth defects in infants including:
Reduced brain tissue and brain damage

A much smaller brain & head size – microcephaly, with a partly collapsed skull

Reduced body movement (because of too much muscle tone after birth)

Joint problems and limited motion

Eye damage

Diagnosis of Zika virus
The infection can be suspected based on signs/symptoms of persons visiting areas or living in with Zika virus transmission and by Aedes mosquito vectors. Make sure to describe any international trips you and your sexual partner have visited and whether you may have had contact with mosquitoes.
This disease can be diagnosed by laboratory tests of blood or other body fluids like urine or semen. When you have symptoms, testing should take place as soon as possible.
In the case of women who are pregnant and at risk of this infection, doctors may recommend an ultrasound to look for fetal brain problems or amniocentesis, which involves inserting a hollow needle into the uterus to remove a sample of amniotic fluid for testing.
Treatment for Zika virus
Presently there is no treatment or vaccine for the Zika virus. One can take these steps to ease symptoms:
Drink plenty of fluids to prevent dehydration

Get plenty of rest

Take over-the-counter pain medicines, acetaminophen (for pain and fever)
According to CDC, the infected person should avoid taking nonsteroidal anti-inflammatory drugs (NSAIDs) or aspirin unless tests confirm that they don't have dengue fever. Because these medicines can increase bleeding risk in people with dengue. And pregnant women who are diagnosed with this infection should be considered for the monitoring of fetal growth and anatomy program every 3 to 4 weeks.
Consult a healthcare provider before taking additional medication when you are taking medicine for another medical condition.
Prevention
The key measure to prevent the Zika virus is protection against mosquito bites during the day and early evening. Certain steps to reduce the risk of mosquito bites may include:
Wear protective clothing like long-sleeved garments, long pants, socks, and shoes

Use door and window and screens

Avoid areas with standing water, by choosing to camp away from ponds or lakes

Stay in air-conditioned or well-screened housing

Use insect repellent
Apart from this, pregnant women should avoid traveling to areas where there is an outbreak of the virus. The CDC recommends abstaining from sex during pregnancy and using a condom during all sexual activity when your partner lives in or has traveled to an area where there is an outbreak of this virus infection. As the mosquito can pass the virus to others, a person with Zika should do everything possible to avoid being bitten by a mosquito for 3 weeks after symptoms appear. It also includes people who have returned from a trip with the disease.
Provider locations
Zika virus tests can be done in any of the following locations by visiting the lab near you. To know the Zika virus test cost, refer to the first section of the article.
Alabama

Alaska

Arizona

Arkansas

California

Colorado

Connecticut

Delaware

Florida

Hawaii

Georgia

Idaho

Illinois

Indiana

Iowa

Kansas

Kentucky

Louisiana

Maine

Michigan

Minnesota

Mississippi

Missouri

Montana

Nebraska

Nevada

New Hampshire

New Mexico

North Carolina

North Dakota

Oklahoma

Oregon

Pennsylvania

Puerto Rico

South Carolina

South Dakota

Tennessee

Texas

Utah

Vermont

Virginia

Washington

West Virginia

Wisconsin

Wyoming
Frequently Asked Questions
Will insurance cover my testing cost?
No, insurance will not be covered in the billing. However, they will provide you with a receipt for insurance reimbursement purposes.
How should I book my appointment?
You can choose the most suitable provider from above and make an appointment by following the instructions mentioned by them.
Can I cancel my lab test order?
Yes, you can cancel your lab test order any time before your testing. A refund will be initiated after deducting the cancellation fee. However, cancellation is at the discretion of the provider.
Do the providers offer result interpretations?
Yes, a few providers may provide doctor consultation who will take you through the results and provide clarification if needed.
How do I receive my report?
To ensure your privacy, the test report will be mailed to you by the provider.
Other topics you may also be interested in:-
Summary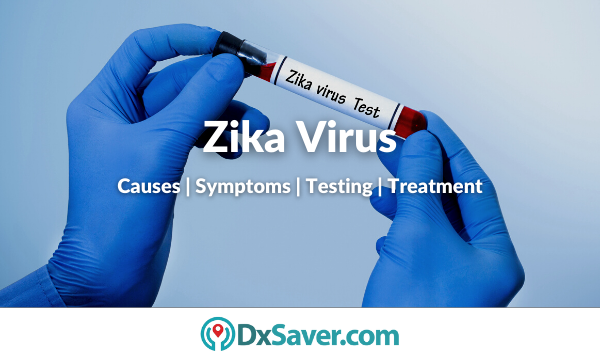 Author Rating





Brand Name
Product Name
Price
Product Availability