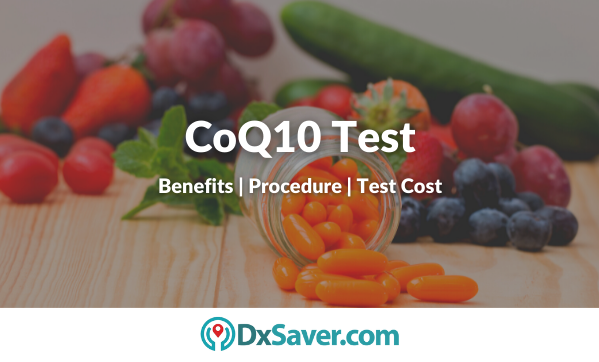 Coenzyme Q10 or CoQ10 is a compound that occurs naturally in the body and helps generate energy in your cells. This compound acts as an antioxidant, which protects cells from damage & plays an important part in the metabolism. Research suggests that CoQ10 may prevent or treat some diseases including diabetes, migraines, and Alzheimer's disease. CoQ10 test is a blood test that can provide an accurate measurement of plasma coenzyme Q10 concentrations. Although natural levels of CoQ10 decrease over time, it can be taken as a supplement. Deficiency of this can have adverse effects. Certain health conditions like diabetes, cancer, heart disease, and brain disorders have been linked to low levels of Coenzyme Q10. People can gain coenzyme Q10 by eating certain meats and grain proteins, however, the quantity present in these foods is too small to increase CoQ10 levels in the body. Coenzyme Q10 supplements are also available to take either by intravenous (IV) injection or as capsules or tablets. 
This article covers all the significant topics related to the CoQ10 test such as the test cost, preparation for tests, risk factor, and how to get tested for a CoQ10 test.
What is coenzyme Q10?

Benefits of CoQ10

Sources of CoQ10

Side effects of CoQ10

What is the CoQ10 test?

How should you prepare for the CoQ10 test?

What happens during the CoQ10 test?

Risk of CoQ10 test

Causes of low levels

Provider locations
For our readers who are interested in knowing the CoQ10 test cost beforehand, we begin with that section.
How much does the CoQ10 test cost?
CoQ10 test costs range from $118 to $207 in different labs and facilities across the US. Prior appointment isn't required. You can order tests online by comparing the price or visiting the nearest lab during lab business hours. You will get the results in your email in 2 to 3 business days after completing the procedure. Apart from this, doctor consultation is available for any kind of further treatment or medical advice.
The table below shows the CoQ10 test provider and their prices. You can know more and book the test by clicking on the "Book Now" button.
Name of our Partner Labs

Book Online at Offer Price

Reports – 1 to 3 days

The entire U.S.

Required to visit the lab

$118

Reports – 2 to 5 days

The entire U.S. except for New York, New Jersey & Rhode Island

Required to visit the lab

$207
CoQ10 test cost with insurance
Many insurance companies in the U.S. cover all the vital tests like the CoQ10 test. However, the coverage provided by private health insurance companies and national health insurance programs like Medicare varies widely. Most of the health insurance policies cover CoQ10 test costs only once or twice a year and when your physician orders more than twice in a year, you should pay the test cost out of pocket. So, you are recommended to check if your health insurance policy covers the CoQ10 test cost.
Our CoQ10 testing providers do not accept any kind of health insurance policy. However, they can provide you with an itemized receipt containing all the details viz the name of the test, code of the test, and CPT code which is necessary for insurance reimbursement purposes.
What is coenzyme Q10?
Coenzyme Q10 or CoQ10 is a fat-soluble, vitamin-like compound made by the body and stored in the mitochondria of your cells. The mitochondria are responsible for producing energy. And they protect cells from oxidative damage and disease-causing viruses or bacteria. Coenzyme Q10 is present in every cell of the body and the highest concentrations are found in the heart, kidneys, lungs, and liver. It has been shown to help improve blood sugar regulation and heart health, assist in the prevention and treatment of cancer and reduce the frequency of migraines. And it can also reduce the oxidative damage that leads to muscle fatigue, skin damage, brain and lung diseases. The production of coenzyme Q10 decreases as you age. So, older people are deficient in this compound.
Benefits of CoQ10
Heart health – CoQ10 can help treat certain heart conditions like congestive heart failure and high blood pressure. It can reduce oxidative stress and may also promote the widening of the blood vessels (a key factor in blood pressure control). Additionally, CoQ10 is also beneficial to cardiac cells because these cells have high energy requirements and are very sensitive to CoQ10 deficiency.
Diabetes – Coenzyme Q10 may improve diabetic neuropathy, nerve damage caused by high blood sugar. It can also reduce insulin resistance in people with diabetes.
Migraines – According to the American Headache Society and the American Academy of Neurology, coenzyme Q10 can be effective in preventing migraines. As coenzyme Q10 lives in the mitochondria of the cells, it has been shown to improve mitochondrial function and help decrease the inflammation that may occur during migraines. And, CoQ10 deficiency has been observed in people who are suffering from migraines.
Statin Side Effects – Some research suggests that CoQ10 may ease the muscle weakness and pain associated with taking statins, drugs that help lower cholesterol. Although it helps to reduce the side effect, the evidence is inconclusive.
Sources of CoQ10
While you can consume coenzyme Q10 as a supplement, but it is also be found in some foods. Foods that contain CoQ10 include:
Spinach

Cauliflower

Broccoli

Oranges

Strawberries

Soybeans

Lentils

Peanuts

Sesame seeds

Pistachios

Whole grains

Soybean & canola oil

Organ meats like heart, liver, and kidney

Muscle meats of pork, beef, and chicken

Fatty fish like mackerel, herring, trout, and sardine
Coenzyme Q10 supplements are available to take either by intravenous (IV) injection or as capsules or tablets. However, people should talk to the doctor before starting any new supplements or medications.

Side effects of CoQ10
Although no serious side effects of coenzyme Q10 have been reported, mild side effects may include:
Digestive problems

Headaches

Rash

Fatigue

Light sensitivity

Irritability

Insomnia or trouble sleeping

Dizziness

Heartburn
Apart from this, people with chronic diseases like heart failure, kidney or liver problems, or diabetes should be careful in using this supplement. Because CoQ10 may lower blood sugar levels and blood pressure. People who are taking blood thinners, thyroid medications, and even chemotherapy should consult their doctors before using CoQ10 supplements. Additionally, it may also not be compatible with some cancer medications.
What is the CoQ10 test?
CoQ10 test is a blood test that can provide an accurate measurement of plasma coenzyme Q10 concentrations. Coenzyme Q10 is an antioxidant that helps protect cells from damage caused by free radicals. You may consider ordering a CoQ10 test:
If you are suffering from chronic health conditions (heart disease, kidney disease, or cancer)

Trying to improve cardiovascular performance

If you are interested in anti-aging medicine

When you experience low energy levels

Concerned about the cholesterol levels
How should you prepare for the CoQ10 test?
Generally, you do not need to take any special measures to prepare for the CoQ10 test. You can continue with your regular activities.
What happens during the CoQ10 test?
CoQ10 testing requires a blood sample. A lab tech or healthcare professional will take a sample from a vein in your arm. In order to make the vein fill with blood & swell up, they will tie a band around the upper part of the arm. The lab tech will clean the area with an antiseptic and place a needle into the vein. You may feel a stinging sensation or slight prick when the needle goes in. They will collect the blood sample in a test tube. After taking the blood, a lab tech will remove the needle and band. And they will put a bandage or gauze over the area where the blood was drawn.
Risk of CoQ10 test
There is little risk in having a CoQ10 test. It is common to have slight pain or bruising in the area where the needle was inserted. But these symptoms go away quickly.
Causes of low levels
Low or high levels do not certainly indicate a problem if there are no symptoms or if your doctor tells you not to worry about it.
Cancer – Cancer reduces the body's ability to make coenzyme Q10. Low levels of CoQ10 are also found in myeloma, colon, skin, and kidney cancers.
HIV or AIDS – People with HIV and AIDS often have low CoQ10 and the risk of deficiency increases with disease severity.
Hyperthyroidism – Hyperthyroidism results in very low coenzyme Q10 levels. Because hyperthyroidism increases the rate of energy production and causes the body to use more CoQ10 than normal.
Chronic Fatigue Syndrome – In people with chronic fatigue syndrome (CFS), the CoQ10 levels are much lower than healthy people.
Acromegaly – As people with acromegaly have an increased rate of energy production, it causes low CoQ10 levels.
Obesity – As obesity involves increased levels of inflammation, it may lower CoQ10 levels.
Vitamin Deficiencies – Certain vitamins like Vitamins B2 (riboflavin), B3 (niacin), B5 (pantothenic acid), B6 (pyridoxine), folic acid, and B12 (cobalamin), and vitamin C are all needed to make CoQ10. Deficiency in these vitamins may lead to low CoQ10 levels.
Smoking – As the toxic compounds in cigarette smoke increase free radicals, the body uses CoQ10 to neutralize them.
Depression – In a study of 57 depressed & healthy people, only those with depression had lower CoQ10 levels.
Medications – Certain medications may lower CoQ10 levels, it may include statins, beta-blockers, fibric acid derivatives, and tricyclic antidepressant medications.
Provider locations
A CoQ10 test can be done in any of the following locations by visiting the lab near you. To know the CoQ10 test cost, refer to the first section of the article.
Alabama

Alaska

Arizona

Arkansas

California

Colorado

Connecticut

Delaware

Florida

Hawaii

Georgia

Idaho

Illinois

Indiana

Iowa

Kansas

Kentucky

Louisiana

Maine

Michigan

Minnesota

Mississippi

Missouri

Montana

Nebraska

Nevada

New Hampshire

New Mexico

North Carolina

North Dakota

Oklahoma

Oregon

Pennsylvania

Puerto Rico

South Carolina

South Dakota

Tennessee

Texas

Utah

Vermont

Virginia

Washington

West Virginia

Wisconsin

Wyoming
Frequently Asked Questions
Will insurance cover my testing cost?
No, insurance will not be covered in the billing. However, they will provide you with a receipt for insurance reimbursement purposes.
How should I book my appointment?
You can choose the most suitable provider from above and make an appointment by following the instructions mentioned by them.
Can I cancel my lab test order?
Yes, you can cancel your lab test order any time before your testing. A refund will be initiated after deducting the cancellation fee. However, cancellation is at the discretion of the provider.
Do the providers offer result interpretations?
Yes, a few providers may provide doctor consultation who will take you through the results and provide clarification if needed.
How do I receive my report?
To ensure your privacy, the test report will be mailed to you by the provider.
Other topics you may also be interested in:-
Summary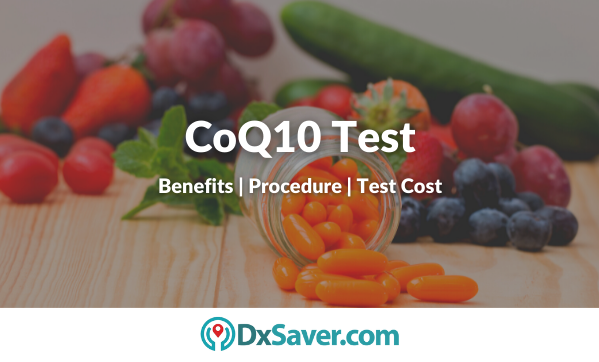 Author Rating





Brand Name
Product Name
Price
Product Availability