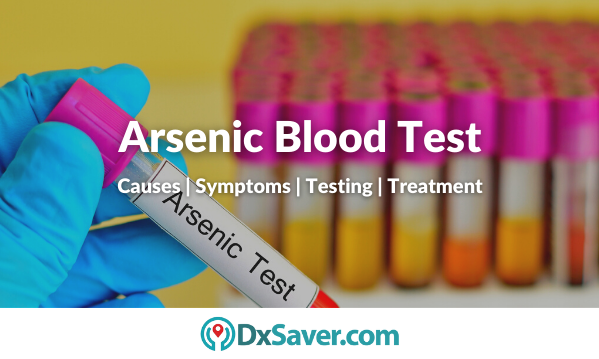 Arsenic is a natural component of the earth's crust and is present at high levels in the groundwater of many countries. Exposure to it can lead to many health problems. Whereas long-term exposure to arsenic from food and drinking water can cause cancer and skin lesions. And it has also been linked to cardiovascular disease and diabetes. Most often arsenic poisoning tends to occur in areas of industrialization. Countries that have high levels of arsenic-containing groundwater may include the United States, India, China, and Mexico.
This article covers all the significant topics related to the arsenic blood test such as the test cost, causes, symptoms, complications, risk factors, and how to get tested for an arsenic blood test.
What is arsenic?

Causes

Arsenic poisoning symptoms

Complications of arsenic poisoning

Diagnosis

How should you prepare for an arsenic blood test?

What happens during an arsenic blood test?

Risk of arsenic blood test

Treatment for arsenic poisoning

Prevention

Provider locations
For our readers who are interested in knowing the arsenic blood test cost beforehand, we begin with that section.
How much does the arsenic blood test cost?
Arsenic blood test costs range from $78 to $83 in different labs and facilities across the US. Prior appointment isn't required. You can order tests online by comparing the price or visiting the nearest lab during lab business hours. You will get the results in your email in 2 to 3 business days after completing the procedure. Apart from this, doctor consultation is available for any kind of further treatment or medical advice.
The table below shows the arsenic blood test provider and their prices. You can know more and book the test by clicking on the "Book Now" button.
Name of our Partner Labs

Book Online at Offer Price

Reports – 1 to 3 days

The entire U.S.

Required to visit the lab

$78

Reports – 2 to 5 days

The entire U.S. except for New York, New Jersey & Rhode Island

Required to visit the lab

$83
Arsenic blood test cost with insurance
Many insurance companies in the U.S. cover all the vital tests like the arsenic blood test. However, the coverage provided by private health insurance companies and national health insurance programs like Medicare varies widely. Most of the health insurance policies cover arsenic blood test costs only once or twice a year and when your physician orders more than twice in a year, you should pay the test cost out of pocket. So, you are recommended to check if your health insurance policy covers the arsenic blood test cost.
Our arsenic blood testing providers do not accept any kind of health insurance policy. However, they can provide you with an itemized receipt containing all the details viz the name of the test, code of the test, and CPT code which is necessary for insurance reimbursement purposes.
What is arsenic?
Arsenic is a natural element found in minerals and soil. It is used to preserve wood as a pesticide and in some industries. And it can also get into the air, water, and the ground from wind-blown dust and may get into water from runoff. Though arsenic is naturally occurring, it also comes in inorganic formulas. These are used in manufacturing, agriculture, and mining. Arsenic poisoning, or arsenicosis, happens when a person ingests or inhales high levels of arsenic. Arsenic is exceedingly poisonous to humans and it doesn't have a taste or odor. Hence you can be exposed to it without knowing it.
Arsenic in the environment is not immediately dangerous, and it is rare to find a toxic level of arsenic in nature. Areas with dangerous levels are usually well-known and provisions exist to prevent and handle the risk of poisoning.
Causes
According to the WHO, more than 200 million people worldwide are exposed to water that contains potentially unsafe levels of arsenic. The major cause of arsenic poisoning is the consumption of a toxic amount of arsenic. When arsenic is consumed in large amounts, it can also lead to death. And when it is consumed in smaller amounts for a long period it can lead to serious illness or a prolonged death. Contaminated groundwater is said to be the common cause of arsenic poisoning. Arsenic is already present in the earth, so it can seep into groundwater. Additionally, groundwater can also contain runoff from industrial plants. Drinking contaminated water over a long period can lead to poisoning.
Other causes may include:
Eating foods that contain high arsenic levels, includes rice, rice cereals, mushrooms, seafood, and poultry

Breathing air that contains arsenic

Smoking tobacco products

Breathing contaminated air from the mines or plants which use arsenic

Breathing smoke, dust from wood, or waste that was previously treated with arsenic

Working in a place where arsenic is used or made

Living near industrialized areas

Exposed to landfill or waste sites
Arsenic poisoning symptoms
Symptoms of arsenic poisoning can be acute, severe and immediate, or chronic. When a person swallows arsenic he or she may show signs within 30 minutes. It may include drowsiness, headaches, confusion, and severe diarrhea. And when arsenic has been inhaled, or a less concentrated amount has been ingested, symptoms may take longer to develop.
Generally, arsenic poisoning affects the skin, liver, lungs, and kidneys. And in the final phase, symptoms may include seizures and shock. It could lead to a coma or death.
Symptoms of acute poisoning may include:
Garlic or metal taste in your mouth

Vomiting, sometimes with blood

Headache

Severe diarrhea

Abdominal pain
Symptoms of chronic exposure may include:
Frequent bouts of diarrhea

Skin changes such as thickening or discoloration

Corns on the soles of the feet, palms, or torso

Abnormal heartbeat

Nausea

Hand or feet numbness

Blindness

Seizures

Drowsiness

Complications of arsenic poisoning
Complications related to long-term arsenic consumption may include:
Liver disease

Diabetes

Cancer

Nervous system complications like loss of sensation in the limbs and hearing problems

Digestive difficulties
In the case of pregnant women, arsenic poisoning can lead to birth defects after delivery or fetal complications. Additionally, developmental effects can take place in children who are exposed to arsenic regularly.
Diagnosis
The symptoms of arsenic poisoning are not always the same in everyone. And symptoms of chronic exposure may also be vaguer and more difficult to identify. So, it can be difficult for doctors to diagnose arsenic from medical history or a physical examination alone. Your doctor may order a blood test to diagnose arsenic.
Other tests like urine tests, fingernail analysis, and hair analysis can also help in diagnosing arsenic poisoning.
How should you prepare for an arsenic blood test?
Generally, you don't need to take any special measures to prepare for an arsenic blood test.
What happens during an arsenic blood test?
This test requires a blood sample. Your health professional or nurse uses a needle to take a blood sample, usually from the arm. So, to make the vein fill with blood and swell up, they will tie a band around the upper part of the arm. And your healthcare professional will clean the area with an antiseptic to help prevent infection. After inserting the needle, the blood will be collected into a test tube or vial.
You will feel a quick sting or pinch when the needle goes in or out. Your healthcare professional will remove the needle and band, after taking the blood sample. And they will put a piece of gauze over the spot to stop the bleeding. Generally, this blood test takes only a few minutes.
Risk of arsenic blood test
There is little risk in having an arsenic blood test. It is common to have slight pain/bruising in the area where the needle was inserted. However, the symptoms go away quickly.
Treatment for arsenic poisoning
There is no specific treatment for arsenic poisoning. Eliminating arsenic exposure is the best way to treat this condition. The recovery depends on the severity of your symptoms and how long you've been exposed.
Treatment may include:
Blood transfusions

Heart medication, when the heart starts failing

Mineral supplements can lower the risk of fatal heart rhythm problems

Observing the function of the kidney
Treatment may also include bowel irrigation. A solution will be passed through the gastrointestinal tract, flushing out the contents. This removes traces of arsenic & prevents it from being absorbed into the gut.
Chelation therapy may help in some cases. This involves injecting a chelating agent and it combines with the toxic arsenic and helps expel it from the body. Chelating therapy is not always recommended because they have adverse effects. However, they aren't helpful for chronic arsenic exposure.
Prevention
The most effective to prevent arsenic poisoning is to drink clean, filtered water. And ensure that all foods are prepared in clean water. And when you work in industries that use arsenic, make sure to take extra precautions. In this case, you can bring water from home and wear a mask to reduce accidental arsenic inhalation. Consider drinking bottled water while traveling.
Apart from this, you can limit the exposure to arsenic by asking about the arsenic levels in your local drinking water source. You can also get private water sources regularly tested for arsenic and other contaminants. And try to avoid regularly eating large amounts of foods that contain higher levels of arsenic.
Provider locations
An arsenic blood test can be done in any of the following locations by visiting the lab near you. To know the arsenic blood test cost, refer to the first section of the article.
Alabama

Alaska

Arizona

Arkansas

California

Colorado

Connecticut

Delaware

Florida

Hawaii

Georgia

Idaho

Illinois

Indiana

Iowa

Kansas

Kentucky

Louisiana

Maine

Michigan

Minnesota

Mississippi

Missouri

Montana

Nebraska

Nevada

New Hampshire

New Mexico

North Carolina

North Dakota

Oklahoma

Oregon

Pennsylvania

Puerto Rico

South Carolina

South Dakota

Tennessee

Texas

Utah

Vermont

Virginia

Washington

West Virginia

Wisconsin

Wyoming
Frequently Asked Questions
Will insurance cover my testing cost?
No, insurance will not be covered in the billing. However, they will provide you with a receipt for insurance reimbursement purposes.
How should I book my appointment?
You can choose the most suitable provider from above and make an appointment by following the instructions mentioned by them.
Can I cancel my lab test order?
Yes, you can cancel your lab test order any time before your testing. A refund will be initiated after deducting the cancellation fee. However, cancellation is at the discretion of the provider.
Do the providers offer result interpretations?
Yes, a few providers may provide doctor consultation who will take you through the results and provide clarification if needed.
How do I receive my report?
To ensure your privacy, the test report will be mailed to you by the provider.
Other topics you may also be interested in:-
Summary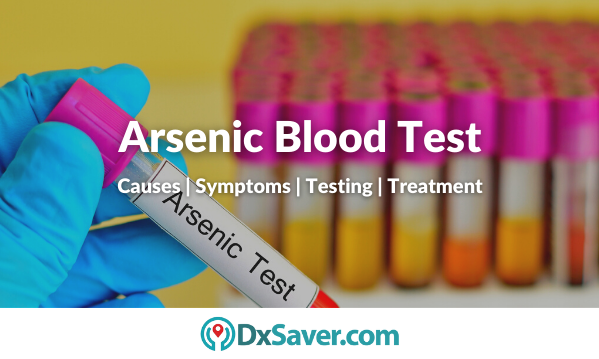 Author Rating





Brand Name
Product Name
Price
Product Availability