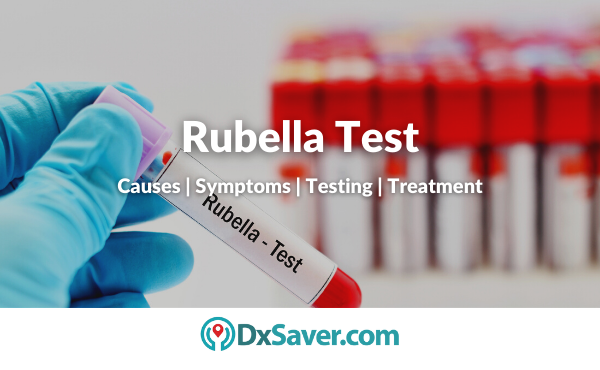 Rubella or German measles is a viral infection that causes a red rash on the body. This viral infection spreads from person to person through contact with droplets from an infected person's sneeze or cough. And you may also get rubella by sharing food or drinks with someone infected. Rubella is extremely rare in the US and the vaccines typically provide lifelong immunity to the rubella virus. Since 2012, all cases had evidence that they were infected when they were living or traveling outside the US. According to CDC, less than 10 people in the United States are reported as having rubella each year.
This article covers all the significant topics related to the rubella test such as the test cost, causes, symptoms, complications, risk factors, and how to get tested for a rubella test.
Rubella

Causes of rubella

Symptoms of rubella

Rubella in pregnancy

Other complications

Rubella test

How should you prepare for a rubella test?

What happens during a rubella test?

Risk of rubella test

Rubella treatment

Rubella prevention

Provider locations
For our readers who are interested in knowing the rubella test cost beforehand, we begin with that section.
How much does the rubella test cost?
Rubella test costs range from $39 to $50 in different labs and facilities across the US. Prior appointment isn't required. You can order tests online by comparing the price or visiting the nearest lab during lab business hours. You will get the results in your email in 2 to 3 business days after completing the procedure. Apart from this, doctor consultation is available for any kind of further treatment or medical advice.
The table below shows the rubella test provider and their prices. You can know more and book the test by clicking on the "Book Now" button.
Name of our Partner Labs

Book Online at Offer Price

Reports – 1 to 3 days

The entire U.S.

Required to visit the lab

$39

Reports – 2 to 5 days

The entire U.S. except for New York, New Jersey & Rhode Island

Required to visit the lab

$50
Rubella test cost with insurance
Many insurance companies in the U.S. cover all the vital tests like the rubella test. However, the coverage provided by private health insurance companies and national health insurance programs like Medicare varies widely. Most of the health insurance policies cover rubella test costs only once or twice a year and when your physician orders more than twice in a year, you should pay the test cost out of pocket. So, you are recommended to check if your health insurance policy covers the rubella test cost.
Our rubella testing providers do not accept any kind of health insurance policy. However, they can provide you with an itemized receipt containing all the details viz the name of the test, code of the test, and CPT code which is necessary for insurance reimbursement purposes.
Rubella
Rubella also called German measles or three-day measles is an acute, contagious viral infection that mostly affects children. It starts quickly and is very contagious. In most people, this infection causes mild symptoms or even no symptoms. And can cause serious problems in unborn babies whose mothers become infected during pregnancy. Though rubella is not the same as measles, the two illnesses share some symptoms, like a red rash. Rubella is caused by a different virus than measles, and it isn't as infectious or severe as measles. The best way to protect you from rubella is to get vaccinated with the measles, mumps, and rubella (MMR) vaccine.
Causes of rubella
Rubella is caused by a virus and can be passed from person to person. The rubella virus spreads when an infected person coughs or sneezes. And you can also get this viral infection by inhaling the droplets of an infected person or by touching an object contaminated with the droplets. Rubella can also be transmitted from a pregnant woman to her developing baby via the bloodstream.
People who catch the rubella virus are contagious for up to a week before and a week after the rash appears. Infected people are contagious from the week before the rash appears until about 2 weeks after the rash goes away. And an infected person can spread the virus before the person realizes that they have it. So, it is essential to tell the people who have been around you, especially pregnant women when you've been diagnosed with rubella.
Symptoms of rubella
In children, rubella is usually mild. And sometimes it does not cause any kind of symptoms. Often a pink or red-spotted rash is the first sign of this infection. It starts on the face & neck and spreads to the rest of the body. This rash lasts about 3 days and that's why rubella is sometimes called the 3-day measles. Rashes occur in almost 50 to 80% of the cases. When a person is infected, the virus spreads throughout the body in about 5 to 7 days. And symptoms appear 2 to 3 weeks after the exposure.
Symptoms may include:
A mild fever (usually under 102°F)

Swollen and pink-colored eyes

Headache

Swollen glands (on the neck and behind the ears)

Stuffy, or runny nose

Cough

Muscle pain

General discomfort

Joint pain (mostly in women)

Loss of appetite

Nausea

Temporary pain in testicles (men)

Rubella in pregnancy
If a woman contracts rubella during pregnancy, the infection can be passed on to her developing baby through her bloodstream. And the consequences for the unborn child can be severe in some cases. Almost 80% of infants born to mothers who had rubella during the first 12 weeks of pregnancy will develop congenital rubella syndrome. Congenital rubella syndrome can cause miscarriages and stillbirths. And can cause one or more problems, including:
Growth delays

Intellectual disabilities

Poorly functioning organs

Cataracts

Deafness

Congenital heart defects

Liver and spleen damage

Thyroid problems

Diabetes
Other complications
Rubella can cause complications in both men and women. Young girls and women who have had rubella can experience arthritis in the fingers, wrists, and knees, it usually lasts for one month. In rare cases, it can cause an ear infection, brain infections, or swelling and bleeding problems.
Rubella test
Your doctor can confirm rubella with the help of laboratory tests. They may order a virus culture or a blood test. It checks for the presence of different types of rubella antibodies in the blood. The rubella test results can indicate whether you have had a recent or past infection or a rubella vaccine.
How should you prepare for a rubella test?
Generally, you don't need to take any special measures to prepare for a rubella test.
What happens during a rubella test?
A nurse or health care professional uses a needle to take a blood sample, usually from the arm. So, to make the vein fill with blood & swell up, they will tie a band around the upper part of the arm. And the health care professional will clean the area with an antiseptic to help prevent infection. After inserting the needle, the blood will be collected into a test tube/vial.
You will feel a quick sting when the needle goes in or out. The health care professional will remove the needle and band, after taking the blood sample. And they will put a piece of gauze or a bandage over the spot to stop the bleeding. Generally, this test takes only a few minutes.
Risk of rubella test
There is little risk in having a rubella test. You may have slight pain or bruising in the area where the needle was inserted. However, the symptoms go away quickly.
Rubella treatment
There is no specific medication for treating rubella. In most cases, symptoms are mild. Doctors may ask you to rest and to take acetaminophen (Tylenol), which can help relieve discomfort from fever and aches. And they may also ask you to stay home from work or school to prevent spreading the virus. In the case of pregnant women, treatment may include antibodies like hyperimmune globulin, which will help reduce symptoms. But still, there is a chance for the baby to develop congenital rubella syndrome.
Rubella prevention
Vaccination is a safe & effective way to prevent rubella. This vaccine is combined with vaccines for measles and mumps as well as varicella. And children need two doses of the MMR vaccine. Usually, vaccines are given to children who are between 12 and 15 months old. And a booster shot will be given when children are between ages 4 and 6. Mild fever and rashes may occur as the vaccines contain small doses of the virus.
It's essential to have your immunity tested when you:
Are a nonpregnant woman of childbearing age

Attend an educational facility

Work in a hospital, medical facility, school, or child care center

Are planning to travel overseas that does not offer immunization against rubella
Generally, the vaccine is not harmful, but the virus in the shot may cause adverse reactions in some people. The vaccine is not recommended for woman who is pregnant or planning to get pregnant within the next four weeks. And is not recommended for people who have had a life-threatening allergic reaction to gelatin, the antibiotic neomycin, or a previous dose of MMR vaccine. Consult your doctor if you have cancer, a blood disorder, or you take medication that affects your immune system, before getting an MMR vaccine.
Provider locations
A rubella test can be done at any of our partner's 4500+ labs located across the US. To know the rubella test cost, refer to the first section of the article.
Frequently Asked Questions
Will insurance cover my testing cost?
No, insurance will not be covered in the billing. However, they will provide you with a receipt for insurance reimbursement purposes.
How should I book my appointment?
You can choose the most suitable provider from above and make an appointment by following the instructions mentioned by them.
Can I cancel my lab test order?
Yes, you can cancel your lab test order any time before your testing. A refund will be initiated after deducting the cancellation fee. However, cancellation is at the discretion of the provider.
Do the providers offer result interpretations?
Yes, a few providers may provide doctor consultation who will take you through the results and provide clarification if needed.
How do I receive my report?
To ensure your privacy, the test report will be mailed to you by the provider.
Other topics you may also be interested in:-
Summary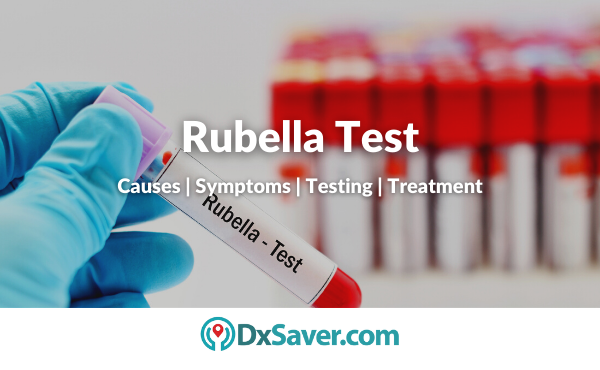 Author Rating





Brand Name
Product Name
Price
Product Availability