Planned Parenthood STD testing offers a low-cost option for low-income individuals. However, for other people, it may be difficult to get the most economical STD testing cost at Planned Parenthood. 
On average, STD testing at Planned Parenthood costs about $180 to test for the top four STD infections. These STDs are Chlamydia, Gonorrhea, HIV, & Trichomoniasis.
The cost usually depends on the location of the center and the subsidies are based on the income level of the person getting tested. The STD testing at a Planned Parenthood center tends to have hidden costs like an exam fee and various lab fees that can abruptly increase your testing cost. 
4 STD Panel Cost at Planned Parenthood
Generally, the STD tests provided at Planned Parenthood are to be done individually rather than an STD test panel or comprehensive bundle. This means that you are required to test for each infection, or set of infections, separately. Since STD symptoms look similar, and many infections are asymptomatic having no symptoms at all, you may need to take multiple tests in order to know your STD positive or negative status. The cost of each test piles up and may come to a really hefty-bill!
Better Alternatives to Planned Parenthood Starting from $24 only
STD Testing in the US starts from just $24. We have identified some affordable options for even those who do not have any insurance. These STD testing providers can offer almost the same or even lower cost than Planned Parenthood with a much higher level of convenience. There is no hidden fee either. 
Some providers even offer at-home STD testing kits like LetsGetChecked and most providers offer a panel of STD tests together that makes comprehensive STD testing much more economical and comprehensive. 
Three major benefits of getting tested with these private STD testing providers are:
Privacy

Convenience (at-home testing and online booking) and

Open cost with no hidden fee
Our Partner Providers Offering Affordable STD testing in the U.S.
Here are our top three partner laboratories (CLIA – Certified) networks that offer at-home STD test kits or testing at 4000s of labs across the U.S.
Name of our Partner Labs

Book Online

Reports – 48 hours

The entire U.S.

Required to visit the lab

Exclusive $10 discount auto-applied on checkout by shopping through DxSaver.com

Starting from

$24
$14

(Home Test Kit)

Reports – 2 to 5 days

The entire U.S.

Home-test kit provider

Use code "DX25" to avail exclusive 25% discount on checkout by shopping through DxSaver.com

Starting from

$99
$74.25

Reports – 72 hours

The entire U.S.

Required to visit the lab

Starting from

$24
Advantages of the Home-test kit
Sometimes, you may not even have a Planned Parenthood branch near your home. Even though Planned Parenthood has hundreds of affiliate locations across the country, even a network of this size can't include every square mile. Many people in the rural locality don't have access, and their possibility for STD testing is limited. Plus, there's a chance you could go through a hefty co-pay due to multiple visits for various tests, despite having insurance coverage.
Luckily, our STD testing providers have other options that are easily accessible to anyone in the country, which will get you rapid lab-certified results without leaving the comfort of your home. LetsGetChecked home STD test kits cost about the same as Planned Parenthood service. This provides a reasonable option for those who want to save time and money in transit to the lab, also people who are not covered by any insurance.
Taking multiple STD tests individually might be more expensive, rather go with a comprehensive test package which is considerably low cost compared to all the individual tests summed up.
We have identified the most selling STD in the U.S. at-home products of LetsGetChecked and listed them below with some details. 
2 Panel STD at Home Test ($99) – Get tested for the 2 most common STDs sitting at home – Chlamydia, and Gonorrhea – Order Now
5 Panel STD at Home Test ($149) – Get 5 tests sitting at home. HIV, Syphilis, Chlamydia, Gonorrhea, & Trichomoniasis –  Order Now
8 Panel STD at Home Test ($249) – Get the most comprehensive home STD test kit covering Chlamydia, Gonorrhea, HIV (I & II), Mycoplasma, Ureaplasma, Syphilis, Trichomoniasis, Mycoplasma Genitalium, and Gardnerella – Order Now
Why should you choose one of our Partners over Planned Parenthood?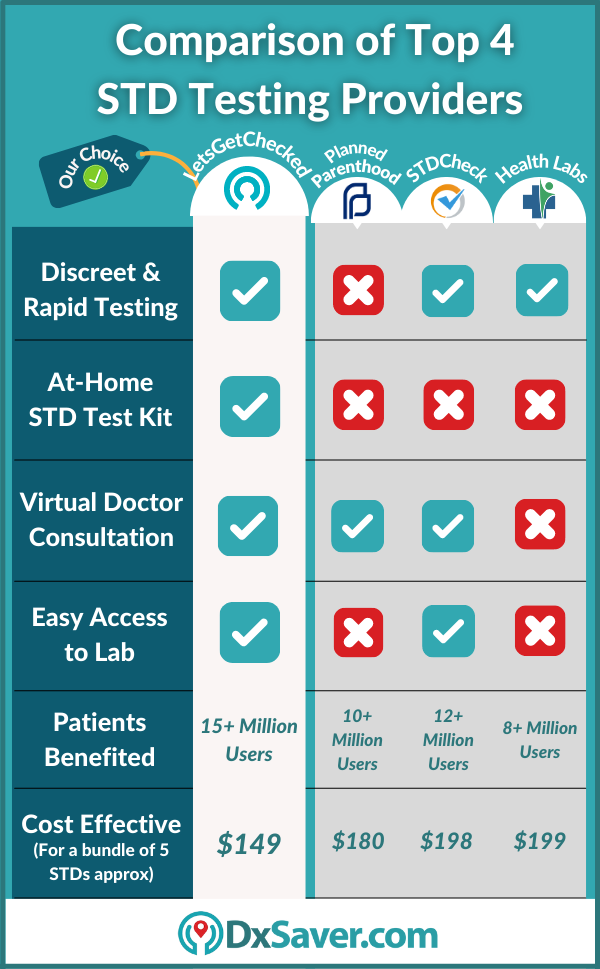 Planned Parenthood is not a free STD testing center. However, Planned Parenthood clinics do provide STD testing at a low cost. Fees are usually scaled according to the patient's income and location.
If you're framing on going to Planned Parenthood for STD testing, you are required to follow time-consuming procedures like call first to make an appointment. Then, on the phone call, you are asked to provide personal documents for income verification. If you're looking for sliding scale services, you are required to be prepared when you arrive for your appointment, you will still need to spend based on your income, insurance, and location
You don't want to end up spending more than you can afford. Sexual health is a top priority for everyone in a community. Our STD testing partners provide valuable service means of low-cost, and nationwide home testing kit.
Conclusion
STD Testing at Planned Parenthood is a great option for many but not everybody. The average cost of STD Testing at Planned Parenthood comes out to about $180 for a panel of 4 STDs. At a similar cost, you may get testing sitting at home or by visiting a lab near you. The options for at-home STD testing and a visit to a nearby lab are provided. 
Other topics that you may be interested in:-
Summary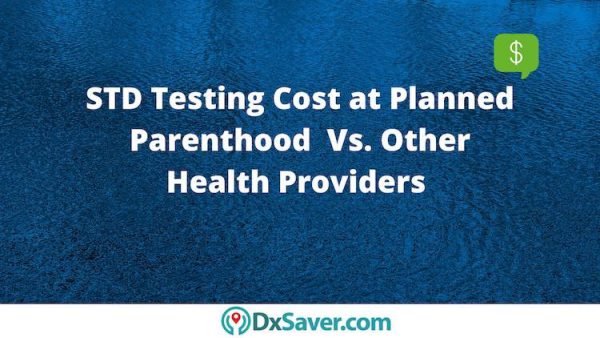 Author Rating





Brand Name
Product Name
Planned Parenthood STD Test
Price
Product Availability