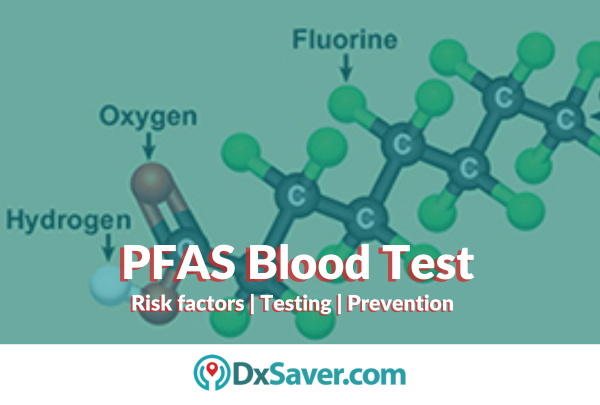 PFAS are a type of chemically produced compounds that are often found in industrial and consumer products. These chemicals have been associated with several adverse health conditions, such as cancer, immune system disorders, and developmental abnormalities. A PFAS blood test calculates a person's blood concentration of Per- and Polyfluoroalkyl compounds (PFAS) and supports you to make health-related decisions that are well-informed. 
This blog helps you understand what PFAS are, how they influence our health, and the benefits of a PFAS blood test. 
What are PFAS chemicals?

How are you exposed to PFAS?

What are the risk factors of PFAS exposure?

How do you test for PFAS in humans?

When to take the PFAS Blood Test?

What do the PFAS Blood test results mean?

How to prevent exposure to PFAS?
For our readers, who are more interested in knowing the PFAS Blood test cost beforehand, we begin with that section.
How much does the PFAS Blood test cost?
The PFAS Blood test costs $299 in the U.S. The cost of this test also depends on your choice of visiting the nearest lab or getting tested at home using the home test kit. Complete the procedure and get the results in your email within 4-5 days. Doctor consultation is also available for further treatment or medical advice.
The following table shows the PFAS Blood test kit cost by one of our partners located in the U.S.
Name of our Partner Lab

Book Online

(Home Test Kit)

Reports – within 4-5 days

Home-test kit provider

Offer Price

$599 Book Now
What are PFAS chemicals?
Per- and Polyfluoroalkyl Substances (PFAS), like PFOS (C8), PFOA (C8), and HFPO-DA (GenX), impede organic deterioration in both our surroundings and our internal organs. PFAS are also known as "forever chemicals". PFAS makes products resistant to heat, stains, grease, and water. These chemicals are present in Aqueous Film Forming Foam (AFFF) items. They make commercial goods such as stain-resistant clothes and rugs, non-sticking containers or cookware, and quality cosmetics. In addition, PFAS may be present in the soil, air, drinking water, and groundwater in the environment around you.
According to NIH, 97% of Americans have PFAS in their blood. As a result of the widespread use of PFAS chemicals in consumer and industrial goods, a large proportion of Americans have detectable levels of PFAS in their systems.  
How are you exposed to PFAS?
Human exposure to PFAS is widespread and varies by location and type of employment. PFAS diffuses into soil, water, and air during manufacture and use. Most PFASs, such as PFOA and PFOS, are not degradable, meaning they remain in the atmosphere. Due to their widespread use, minimal amounts of PFAS are found in the environment, in various foods, and the blood of humans and animals worldwide.
You will be exposed to PFAS by:
Drinking poisoned tap water or water from a private well.

Consuming polluted dirt or dust by accident 

Eating food produced or grown close to PFAS-using or PFAS-making facilities

Consuming food packed in PFAS-containing materials

Using some commercial goods, such as carpet that resists stains and clothes that repels water.
Infants born to people exposed to PFAS are affected through breastfeeding. Despite this, the advantages of breastfeeding typically exceed any possible risks from the transmission of chemicals. You can consult with your doctor if you have any concerns.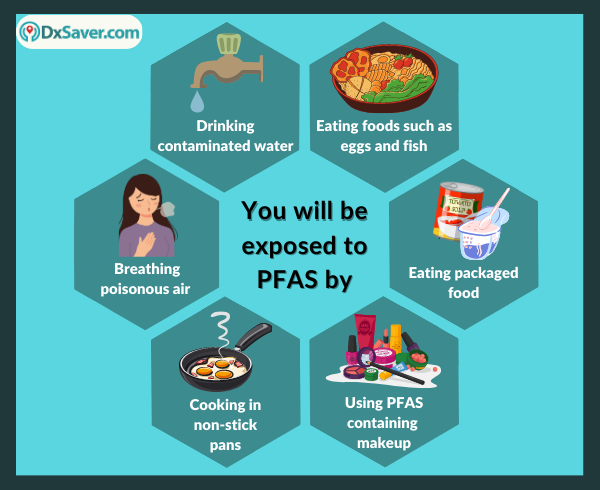 What are the risk factors of PFAS exposure?
Exposure to PFAS increases the risk of getting the following health conditions:
Increased cholesterol 

Alteration of liver enzymes

Weakened immune system

Lowered immunization reaction in young people

Elevated prenatal blood pressure

Thyroid condition

Birth of underweight infants

Defects at birth

Infertility

Obesity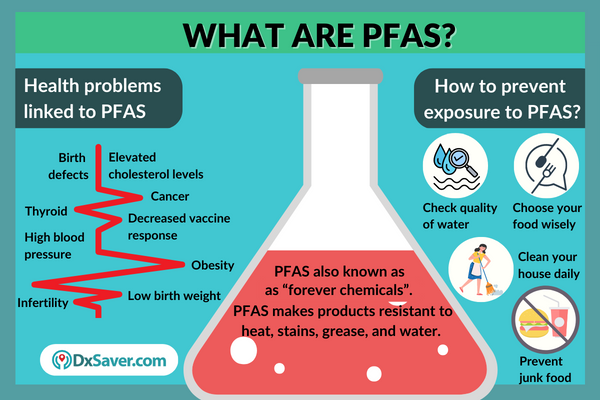 How do you test for PFAS in humans?
An at-home test is a common type of blood test to check for PFAS levels in your blood. The American Pregnancy Association recommends the PFAS Exposure Blood Test as one of the best at-home PFAS Blood test kits.
The test is prescribed for people six months and above. The test measures the amount of PFAS (40 different PFAS compounds) in capillary whole blood in a quantified manner in your bloodstream. After thoroughly cleaning your hands, you can extract capillary blood using a finger or heel stick. 
When to take the PFAS Blood Test?
The test is recommended when:
You or were a firefighter

Have come into contact with the firefighting foam 

You work or have previously worked in a factory that uses fluorinated chemicals

You reside in a neighborhood susceptible to PFAS pollution

You reside close to a military base or used to do so

You reside close to an industrial complex or used to do so

You use or have regularly used commercial goods like nonstick appliances, makeup, or clothing made of water-resistant materials

Have consumed fast food frequently
What do the PFAS Blood test results mean?
A PFAS blood test can indicate the current levels of PFAS in your body, but it cannot determine whether they are safe or unsafe for your body. After the lab gets your sample, you will receive your results safely from an online portal in 4-5 days. You will also receive a test guide reviewed by a physician. The guide offers suggestions for restricting and decreasing exposure to these substances.
PFAS Blood Test results, both positive and negative, are very accurate. The results show 99% confidence for positive detections and 99% confidence for reporting null detections. 
How to prevent exposure to PFAS?
Although you cannot completely prevent these chemicals, you can take steps to reduce how frequently you come into touch with them:
Check the quality of your water.

You can ask your local water company if they have tested the public drinking water for PFAS amounts. 

If you find out your water contains PFAs, you could:

Find out if your water company is taking any steps to reduce the amounts, such as changing the water supply or using filtration.

Ask what appropriate measures are suggested by calling the health department of your jurisdiction.

Purchase and use a water purifier that is approved to screen out PFAS

Choose your seafood wisely

. Check for local fish warnings before eating any local fish or seafood.

Clean your house daily.

Your household dust may contain PFAS. Make sure you vacuum your carpets, mop damp concrete floors, and use wet cloths to clean other solid surfaces.

Consider making clever choices like those that follow:

Consider switching to stainless steel and iron kitchenware if your Teflon pots and pans have chips or cracks.

Eat less junk food and takeaway meals because many of the food's packaging materials have PFAS coatings.

Enjoy eating microwave popcorn as a snack? Get rid of the packaged options. Rather than popping popcorn in the microwave, purchase maize kernels and cook them that way.

Are you doing renovations to your house? Purchase non-stain-resistant carpeting and furniture.
Frequently asked questions (FAQs):
Who is most vulnerable to PFAS?

A: Children are more susceptible to the adverse effects of chemicals like PFAS because they are still growing and developing. Children may also be subjected to PFAS at higher levels than adults because they consume more food, drink lots of water, and breathe more air for each pound of body weight.

Does your food contain PFAS chemicals?
A: Food is polluted with PFAS, particularly when the water or soil is affected. Animals and plants exposed to PFAS over time may also accumulate the chemicals. Foods like honey, eggs, and vegetables have low quantities of PFAS. The amounts will vary based on the kind of food and the particular PFAS toxins involved.
Is fasting necessary for a PFAS Blood test?
No! There is no need to fast before the PFAS Exposure Blood Test.
Does the PFAS blood test have any potential hazards or negative effects?

A: PFAS blood test is a quick, easy, and risk-free technique. However, with every blood draw, there can be a little soreness or bruising where the needle was inserted.
Other topics that you may be interested in: –
Summary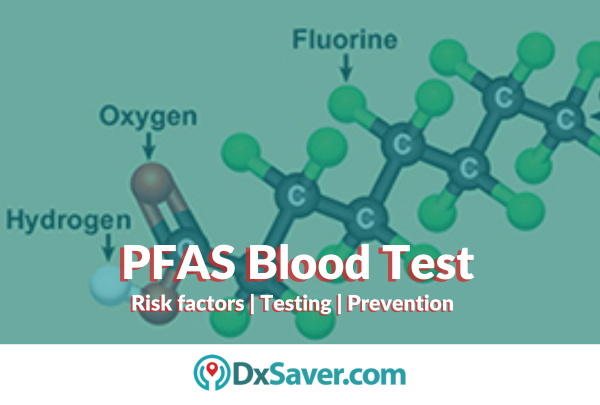 Author Rating





Brand Name
Product Name
Price
Product Availability