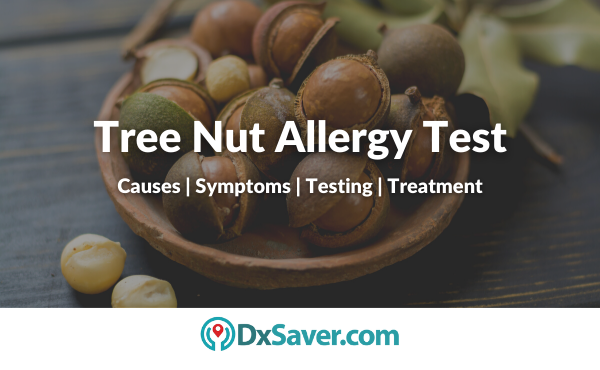 Nut allergy is one of the eight most common food allergies. About 0.5 to 1% of the U.S. population has a nut allergy. Nuts include almonds, cashews, hazelnuts, Brazil nuts, pecans, pistachios, and walnuts. Though peanuts are legumes, being allergic to peanuts can increase your risk for a nut allergy. Like other food allergies, the best way to avoid this nut allergy reaction is to avoid them. However, nut allergies cannot be cured. Since nut allergies can be life-threatening it's essential to get a proper diagnosis.
This article covers all the significant topics related to the nut allergy test such as the test cost, causes, symptoms, treatment, and how to get tested for a nut allergy test.
What is a nut allergy?

Causes of nut allergy

Symptoms of nut allergy

Risk factors

Nut allergy test

Treatments

What foods should I avoid if I have an allergy?

Other sources of nuts

Provider locations
For our readers who are interested in knowing the nut allergy test cost beforehand, we begin with that section.
How much does the nut allergy test cost?
Nut allergy test costs range from $166 to $249 in different labs and facilities across the US. Prior appointment isn't required. You can order tests online by comparing the price or visiting the nearest lab during lab business hours. You will get the results in your email in 2 to 3 business days after completing the procedure. Apart from this, doctor consultation is available for any kind of further treatment or medical advice.
The table below shows the nut allergy test provider and their prices. You can know more and book the test by clicking on the "Book Now" button.
Name of our Partner Labs

Book Online at Offer Price

Reports – 1 to 3 days

The entire U.S.

Required to visit the lab

$249

Reports – 2 to 5 days

The entire U.S. except for New York, New Jersey & Rhode Island

Required to visit the lab

Offer Price

$166
Nut allergy test cost with insurance
Many insurance companies in the U.S. cover all the vital tests like the nut allergy test. However, the coverage provided by private health insurance companies and national health insurance programs like Medicare varies widely. Most of the health insurance policies cover nut allergy test costs only once or twice a year and when your physician orders more than twice in a year, you should pay the test cost out of pocket. So, you are recommended to check if your health insurance policy covers the nut allergy test cost.
Our nut allergy testing providers do not accept any kind of health insurance policy. However, they can provide you with an itemized receipt containing all the details viz the name of the test, code of the test, and CPT code which is necessary for insurance reimbursement purposes.
What is a nut allergy?
A nut allergy is one of the common food allergies. Typically, this allergy lasts a lifetime and fewer than 10% of people with this allergy outgrow it. The allergic reactions range from mild to life-threatening. You may be allergic to one type of nut or multiple types. Usually, doctors recommend that people with one nut allergy also avoid other nuts. Nuts include:
Almonds

Walnuts

Hazelnuts

Pine nuts

Pecans

Pistachios

Macadamia nuts

Cashews

Brazil nuts

Lychee nuts

Acorns
Causes of nut allergy
An allergy is a reaction by your immune system to a foreign substance that's not usually harmful to your body. And substances that cause reactions are called allergens. Like other allergies, nut allergy symptoms occur as a result of the immune system responding to the proteins in nuts. Researchers are not sure why some people's bodies react this way to nut proteins. People with other allergies like hay fever are more likely to develop this nut allergy.
Symptoms of a nut allergy
Generally, nut allergy symptoms develop rapidly after a person eats or has exposure to nuts. And may also take 30 minutes to a few hours before symptoms begin. The symptoms may also vary from person to person. Symptoms of this allergy may include:
Coughing

Stomach pain

Sneezing

Diarrhea

Itching around the face and mouth

Puffy or runny eyes

Swelling lips

Hives

Feeling faint

Nausea or vomiting

Trouble swallowing

Itching of the skin, eyes, hands, throat, or other body regions

Shortness of breath

Wheezing

Runny nose or nasal congestion

Lip swelling

Contact dermatitis

A tightening throat

Conjunctivitis or pink eye

Asthma symptoms that get worse
Anaphylaxis is the most severe form of an allergic response and can be fatal without prompt treatment. When you have a severe nut allergy you should always be prepared to respond to an allergic reaction. And keep an epinephrine auto-injector with you.

Risk factors of nut allergy
Family history – When a parent or sibling has a nut allergy, other children are at an increased risk.
Other nut allergies – When you're allergic to one type of nut, you may also be allergic to other types.
Peanut allergy – Though peanuts are not nuts being allergic to peanuts can increase your risk for nut allergies. About 25 to 40% of people with peanut allergies are allergic to nuts.
Nut allergy test
The allergist will ask about your medical history, any previous allergic reactions, and the family history of allergies. During the skin prick test, your skin will be exposed to a variety of allergens. When you are allergic to one of the allergens, your skin will react and swell or turn red. And doctors may also recommend blood tests depending on other medical conditions and your age.
When tests are inconclusive, your allergist may order an oral food challenge. During this test, you will be exposed to a specific food item in increasing doses over a while, under strict supervision in an allergist's office. An allergist will supervise this test in case there is an allergic reaction.
Treatments
The treatment for nut allergies may include:
Avoid all nuts, peanuts, and even products that contain them and products that have undergone processing in the same facilities

Antihistamines for mild symptoms like itching or swelling

People with severe allergies should carry an auto-injector like an EpiPen to treat anaphylaxis immediately
What foods should I avoid if I have an allergy?
Like other food allergies, the best way to avoid a nut allergy reaction is to avoid them. However, nut allergies cannot be cured. People with an allergy to a specific nut may be able to tolerate other nuts. But allergists typically advise avoiding all nuts. Strict avoidance of nuts and products that contain nuts can protect you against an allergic reaction.
The most widely consumed nuts may include almonds, Brazil nuts, cashews, hazelnuts, macadamia nuts, pecans, pine nuts, pistachios, or walnuts. People with allergies need to be vigilant about reading labels to make sure the food is allergen-free. Because at times the food may come in contact with nuts during the manufacturing process and food packaging also often lists that potential hazard.
Other sources of nuts
Few restaurants may use nuts in their recipes without labeling the food in the dish's description. So, make sure to talk with the server when you're dining in a restaurant.
Nut proteins may also be found in:
Perishable goods like cheeses, marinades, cold cuts, and condiments

Dry goods like cereals, crackers, protein or energy bars, and breakfast bars

Candy, chocolates, ice creams, and frozen yogurts

Flavored coffees

Alcoholic beverages and liqueurs
Apart from this nuts may also be found in lotions, shampoos, perfumes, soaps, and even in pet foods.
Provider locations
A nut allergy test can be done at any of our partner's 4500+ labs located across the US. To know the nut allergy test cost, refer to the first section of the article.
Frequently Asked Questions
Will insurance cover my testing cost?
No, insurance will not be covered in the billing. However, they will provide you with a receipt for insurance reimbursement purposes.
How should I book my appointment?
You can choose the most suitable provider from above and make an appointment by following the instructions mentioned by them.
Can I cancel my lab test order?
Yes, you can cancel your lab test order any time before your testing. A refund will be initiated after deducting the cancellation fee. However, cancellation is at the discretion of the provider.
Do the providers offer result interpretations?
Yes, a few providers may provide doctor consultation who will take you through the results and provide clarification if needed.
How do I receive my report?
To ensure your privacy, the test report will be mailed to you by the provider.
Other topics you may also be interested in:-
Summary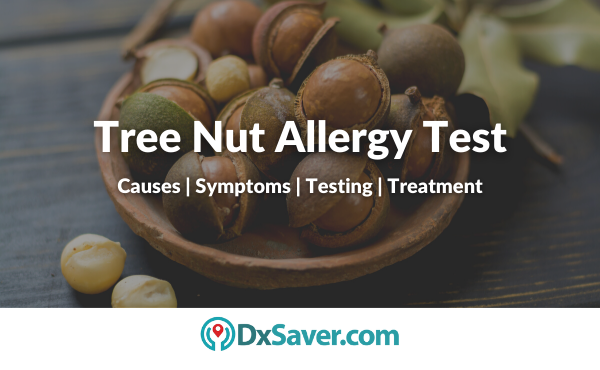 Author Rating





Brand Name
Product Name
Price
Product Availability