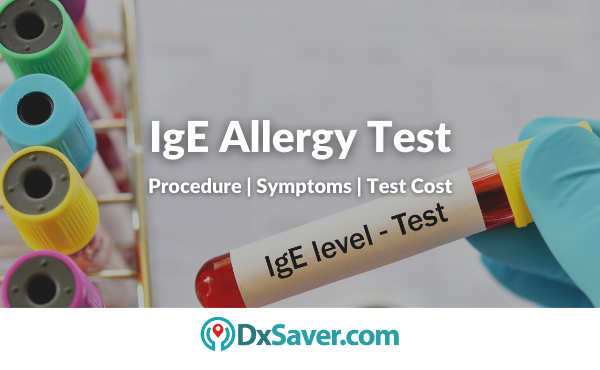 Allergy is a chronic condition that involves the body's immune system. Researchers are not sure why the immune system causes an allergic reaction when a harmless foreign substance enters the body. Millions of Americans have allergies and it is the 6th leading cause of chronic illness in the US. Though allergies can't be cured, symptoms can be controlled by medications. IgE allergy test can help diagnose allergies and it can also be used to monitor the effectiveness of immunotherapy treatment.
This article covers all the significant topics related to the IgE allergy test such as the test cost, symptoms, preparation for tests, risk factor, and how to get tested for an IgE allergy test.
What is an allergy?

Types of allergies

What is an IgE allergy test?

Why do you need an IgE allergy test?

How should you prepare for an IgE allergy test?

What happens during the test?

Risk of IgE allergy test

What does the result mean?

Provider locations
For our readers who are interested in knowing the IgE allergy test cost beforehand, we begin with that section.
How much does the IgE allergy test cost?
IgE allergy test costs range from $49 to $62 in different labs and facilities across the US. Prior appointment isn't required. You can order tests online by comparing the price or visiting the nearest lab during lab business hours. You will get the results in your email in 2 to 3 business days after completing the procedure. Apart from this, doctor consultation is available for any kind of further treatment or medical advice.
The table below shows the IgE allergy test provider and their prices. You can know more and book the test by clicking on the "Book Now" button. All the labs are certified and offer a network across the US.
Name of our Partner Labs

Book Online at Offer Price

Reports – 1 to 3 days

The entire U.S.

Required to visit the lab

$49

Reports – 2 to 5 days

The entire U.S. except for New York, New Jersey & Rhode Island

Required to visit the lab

$62
IgE allergy test cost with insurance
Many insurance companies in the U.S. cover all the vital tests like an IgE allergy test. However, the coverage provided by private health insurance companies and national health insurance programs like Medicare varies widely. Most of the health insurance policies cover IgE allergy test costs only once or twice a year and when your physician orders more than twice in a year, you should pay the test cost out of pocket. So, you are recommended to check if your health insurance policy covers the IgE allergy test cost.
Our IgE allergy testing providers do not accept any kind of health insurance policy. However, they can provide you with an itemized receipt containing all the details viz the name of the test, code of the test, and CPT code which is necessary for insurance reimbursement purposes.
Allergy
An allergy is a reaction by your immune system to a foreign substance that's not typically harmful to your body. And substances that cause reactions are called allergens. Generally, the immune system works to fight off viruses, bacteria, and other infectious agents. However, when you have an allergy, your immune system treats a harmless substance, like pollen, as a threat. So, to fight the threat, the immune system makes antibodies called immunoglobulin E (IgE). These antibodies identify the allergens and remove them, as a result, a chemical called histamine is released and causes symptoms of allergies.
The symptoms of allergy depend on the substance involved and it can affect your skin, airways, sinuses, nasal passages, and digestive system. The allergic reactions range from mild to severe. And in some severe cases, the allergy can trigger a life-threatening reaction called anaphylaxis.
Types of allergies
You can be allergic to a wide variety of substances and common types of allergens may include:
Pollen – Pollens from grass, weeds, trees, and resin from plants like poison ivy and poison oak, are very common allergens. Seasonal allergic rhinitis or hay fever is an allergic response to pollen.
Animal products – It includes pet dander, cockroaches, and dust mite waste.
Insect stings – It includes bees, wasps & mosquitoes.
Mold – These molds are tiny fungi with spores that float in the air like pollen. These airborne spores from mold can trigger a reaction.
Certain foods – In adults, the most common allergies are shellfish, peanuts, and tree nuts. And in children, they include milk, wheat, egg, soy, shellfish, peanuts, and tree nuts.
Latex – Few people develop a latex allergy after repeated contact with latex. Latex is found in latex gloves, condoms, and metals like nickel are also common allergens.
What is an IgE allergy test?
IgE allergy test measures the amount of IgE antibodies in your blood. This blood test is used to find out if you have an allergy. A total IgE test measures the overall number of IgE in the blood. And the other type of allergy blood test called a specific IgE test measures the level of IgE antibodies in response to individual allergens. A small amount of IgE antibodies is normal but a larger amount may mean you have an allergy.
IgE allergy test is also called allergy blood test, Quantitative IgE, Immunoglobulin E, Total IgE, Specific IgE.
Why do you need an IgE allergy test?
Doctors may order allergy testing if you have symptoms of an allergy. It may include:
Stuffy or runny nose

Sneezing

Itchy, watery eyes

Hives (a rash with raised red patches)

Diarrhea

Vomiting

Shortness of breath

Chest tightness

Coughing

Wheezing

Swelling

Asthma

Swollen lips, tongue, eyes, or face

Dry or red skin
This blood test is also recommended if you:
Have unstable heart condition or poorly controlled asthma

Have severe eczema, dermatitis, or other severe skin condition

Cannot tolerate many needle scratches required for a skin test

Might have an extreme reaction during a skin test
Apart from this, your doctor may also order this test to determine how well your allergy treatments (immunotherapy) are working.

How should you prepare for an IgE allergy test?
You don't need to take any special measures to prepare for this blood test.
What happens during the test?
An IgE allergy test requires a blood sample. Before drawing the blood sample, the nurse or healthcare professional will clean the area with an antiseptic to kill germs. And they will tie a band around the upper arm to make your veins swell with blood. Once a vein is found, your health care professional will insert a sterile needle into it and the blood is drawn into a tube attached to the needle. You may feel slight pain when the needle goes in/out. After taking the sample, they will remove the needle and place a bandage over the site. Usually, this test takes only a few minutes.
Risk of IgE allergy test
There is little risk in having an IgE allergy test. You may have bruising or minor bleeding in the area where the needle was inserted. However, the symptoms go away quickly.
What does the result mean?
When the total IgE levels are higher than normal it indicates that the person likely has an allergy. However, it doesn't reveal what you are allergic to. The specific IgE test can identify your particular allergy. And when results indicate an allergy, your doctor may refer you to an allergy specialist or recommend a treatment plan. Your treatment will depend on the type & severity of your allergy.
A negative test result means you probably don't have a true allergy. In other words, your immune system probably does not respond to the allergen tested. But it is also possible to have a normal (negative) test result and still have an allergy. So, allergy blood test results should be interpreted with caution by an allergy specialist. And doctors will also consider your medical history and symptoms when diagnosing a specific allergy.
Provider locations
An IgE allergy test can be done at any of our partner's 4500+ labs located across the US. To know the IgE allergy test cost, refer to the first section of the article.
Frequently Asked Questions
Will insurance cover my testing cost?
No, insurance will not be covered in the billing. However, they will provide you with a receipt for insurance reimbursement purposes.
How should I book my appointment?
You can choose the most suitable provider from above and make an appointment by following the instructions mentioned by them.
Can I cancel my lab test order?
Yes, you can cancel your lab test order any time before your testing. A refund will be initiated after deducting the cancellation fee. However, cancellation is at the discretion of the provider.
Do the providers offer result interpretations?
Yes, a few providers may provide doctor consultation who will take you through the results and provide clarification if needed.
How do I receive my report?
To ensure your privacy, the test report will be mailed to you by the provider.
Other topics you may also be interested in:-
Summary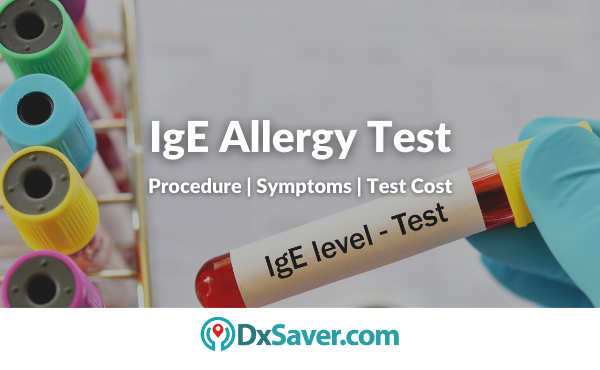 Author Rating





Brand Name
Product Name
Price
Product Availability