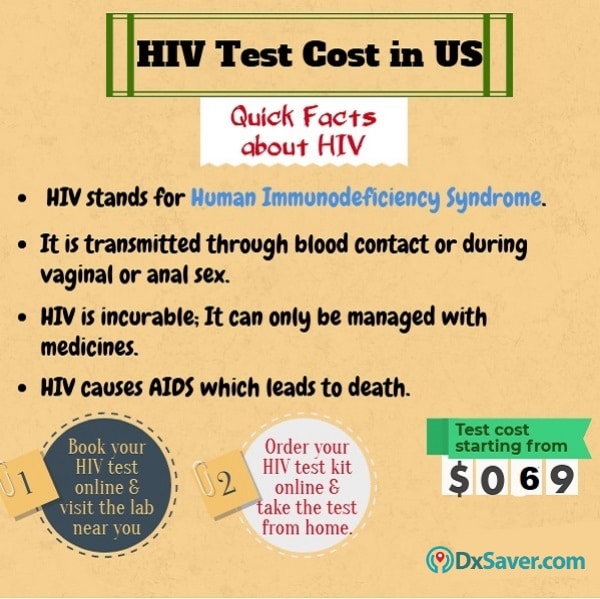 According to the World Health Organization (WHO), nearly 3.5 million people in the U.S. were living with HIV (Human Immunodeficiency Syndrome) in the year 2018 and every 1 in 7 of those people didn't know they have HIV infection. Undiagnosed and untreated HIV can lead to severe complications. As the symptoms of HIV also do not show up at the earlier stage of infection, we highly recommend every sexually active person to get tested for HIV at least once in a year.
The article below covers all the significant topics of HIV tests like HIV test cost, symptoms, different stages of HIV, when to get tested for HIV, rapid HIV test, treatment, prevention and how to get tested for HIV infection sitting at home.
For our readers who would like to know more about the HIV test cost beforehand, we begin with that section.
How much does the HIV test cost?
HIV test cost ranges between $69 and $170 in different labs and facilities across the U.S. The cost of HIV test also depends on the type of HIV test you prefer. To know more about the different HIV tests and to view and compare the prices offered by different providers, click the button below.
HIV testing
Testing for HIV infection is a two-step process.
1. HIV Screening Test: This test is done to find the antibodies fighting against the HIV infection and to confirm the presence of the virus in the body. This test result may show a positive or negative outcome.
2. HIV Advanced Test: If the screening test results are positive, further advanced tests will be ordered to find the exact stage of the HIV infection.
HIV test cost with insurance
Many health insurance policies in the U.S. do not cover the HIV screening test cost. They might only cover the cost of the advanced tests performed. The coverage also depends on your insurance plan as some national insurance programs recommend HIV screening once a year and they cover the cost of HIV screening tests.
Our STD testing providers offer the screening tests for HIV infection and do not accept any health insurance. But, they can provide you with an itemized receipt containing all the details like the name and code of the test, and CPT code which is necessary for insurance reimbursement purposes.
What is HIV and how is it transmitted?
HIV stands for Human Immunodeficiency Virus and it is a sexually transmitted disease. HIV affects the body's immune system especially the CD4 cells (T cells) that help to fight away the infections. Over time, when it is left untreated, it weakens the body's immune system leading to AIDS (Acquired Immunodeficiency Syndrome) which is the advanced and severe stage of HIV infection. This disease is incurable and our human body can't get rid of the virus, so if you get HIV it will stay forever.
Transmission
HIV is transmitted usually during vaginal or anal or oral sex or when sharing used needles. It can also spread through body fluids like blood, semen, vaginal fluids, and breast milk but it cannot spread through air or water or through casual contact. An infected mother can pass HIV to her baby at birth as the baby is exposed to her infected blood.
What are the stages of HIV infection?
HIV infection gets worse overtime advancing in stages if left undiagnosed and untreated at the right time. There are three stages of HIV infection which are clearly explained below.
1) Acute HIV infection
Acute HIV infection is the earliest stage of HIV infection which develops within 2 to 3 weeks after the initial exposure to the virus. In this initial stage, people experience only the flu-like symptoms and ignore the symptoms. But the virus spreads quickly and starts killing the immune cells (CD4 cells) in the body. During the acute HIV stage, the level of HIV in the blood is very high which increases the risk of HIV transmission.
2) Chronic HIV infection
The second stage of HIV infection is called the Chronic stage or Asymptomatic HIV infection or clinical latency. Generally, people in this stage of infection do not show any HIV related symptoms. Though there is no symptom shown, HIV multiplies slowly and can be passed on to other people. It takes almost 10 years to advance to the severe stage but in some people, it may advance faster.
3) AIDS
AIDS stands for Acquired Immunodeficiency Syndrome. It is the last, advanced and the most severe stage of HIV infection. During this stage, HIV completely damages the immune system and the body can't fight off against other infections. People with HIV are diagnosed with AIDS if their CD4 cell count is less than 200 cells/mm3 or if they have any other severe infection. If left untreated, people with AIDS can survive only up to 3 years.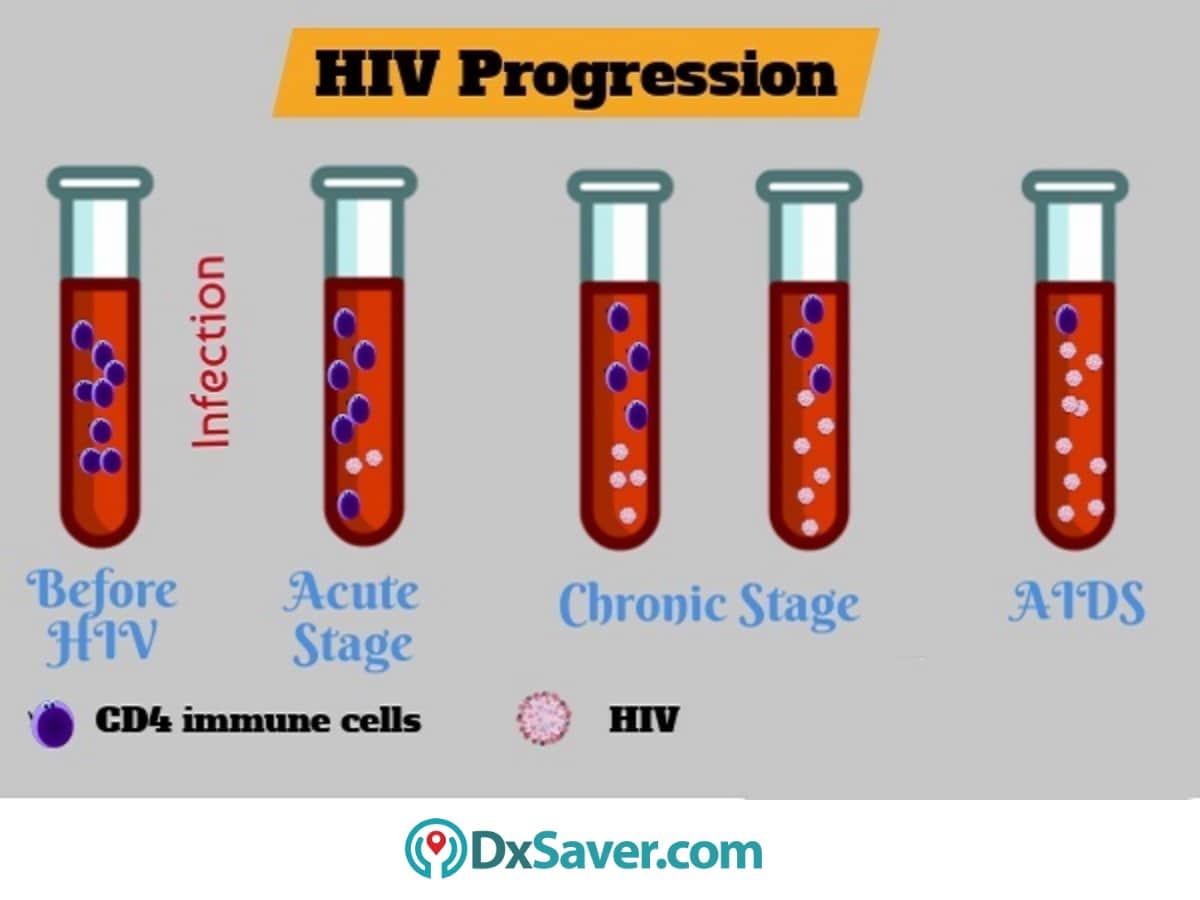 What are the signs and symptoms of HIV?
People with HIV infection experience different symptoms in the different stages of infection. The following are the signs and symptoms of HIV in both men and women.
Early signs of HIV
Headache

Fever

Tiredness

Sore throat

Rash

Muscle and joint pain

Ulcer in the mouth & genitals

Night sweat

Diarrhea

Fatigue

Swollen lymph nodes
Symptoms of HIV in the later stages
High fever

Nausea

Vomiting

Severe chillness

White spots in the mouth

Genital or anal sores

Coughing and breathing problems

Rapid weight loss

Memory problems

Persistent headache

Pneumonia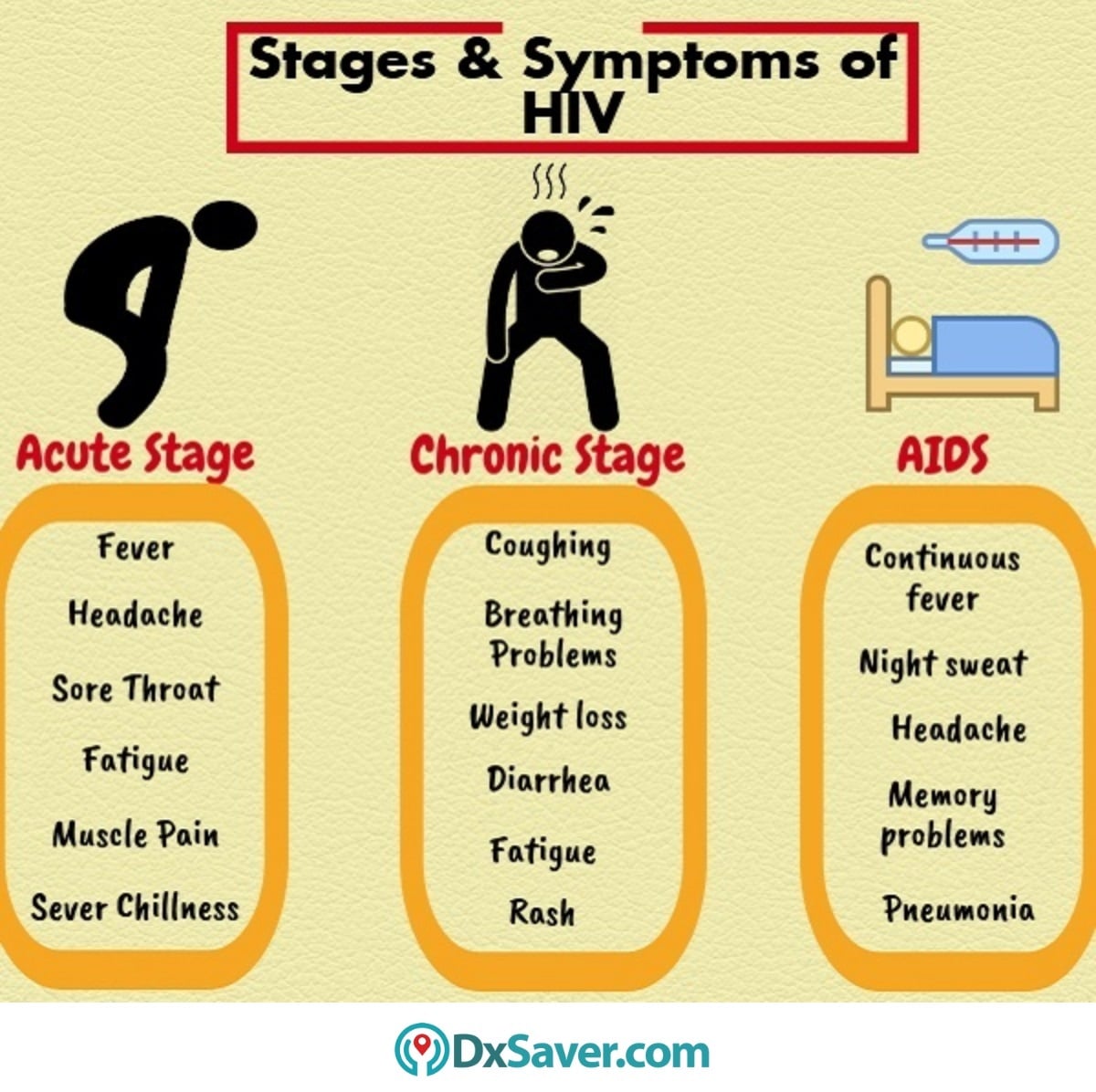 How is the HIV infection diagnosed?
If you experience any of the above-mentioned symptoms or if you suspect the possibility of being exposed to HIV, then get tested for HIV immediately as it is fatal. The HIV test requires only a blood sample. The phlebotomist will draw the blood sample and send the sample to the lab for analysis. Self-collection of the blood sample at home is also possible with HIV home test kits offered by some labs across all the cities in the United States.
Rapid HIV test
Rapid HIV test is also known as the Oraquick HIV test. This test can be taken at home when you suspect the possibility of HIV infection. Oraquick HIV test kits will be available in the retailer shops or you can shop directly from Oraquick.com. Read the instructions carefully mentioned in the kit to perform the test. You just have to take the sample of oral fluid from your gums using a swab and place it in a tube that has the developing solution. If one line appears, then the result is negative whereas if two lines appear the person is HIV positive. 
Oraquick test results are available within 20 minutes. 
However, a follow-up test is compulsory from the lab to confirm the results.
Right time to get tested for HIV infection
Our STD testing providers offer 4th Generation HIV Antibody / Antigen Test which can be done after 2-3 weeks of initial exposure. This test looks for the presence of HIV antibodies and antigens in the blood. Most people will develop these antibodies within this period, but in some rare cases it may take up to 3 months. So we also recommend retesting after three months for conclusive results.
If you are very much concerned about recent exposure, HIV RNA Early Detection Test can be done which detects the presence of HIV within 9 to 11 days after exposure.
Is there any preparation required before the test?
No fasting or any other special preparation is required before the HIV test.
What is the treatment for HIV?
There is no cure for HIV infection. But this virus can be treated with anti-retro-viral drugs. This treatment is called anti-retro-viral therapy. These drugs can control the virus and manage the symptoms. All the people infected with HIV regardless of CD4 cell count should be treated with these drugs.
This therapy is very important for the people who are having severe HIV symptoms, pregnant women, people being treated for Hepatitis B or C, and people having a CD4 cell count of 350. This treatment requires taking pills several times a day which may result in some of the complications mentioned below.
Heart diseases

Nausea

Vomiting

Diarrhea

Breakdown of muscle tissues

Increase in Cholesterol levels

High blood sugar
What happens if HIV is left untreated?
When HIV is not treated initially with anti-retro-viral drugs, the course of infection moves to several phases. It leads to a weakened immune system and opportunistic infections (these are infections that take advantage of the weakened immune system) like pneumonia, cancer, and tuberculosis.
How to prevent HIV?
Unlike other diseases, there is no vaccine to prevent HIV infection and there is no cure for AIDS. The following are some of the methods to prevent HIV.
Using a new condom every time while having anal or vaginal sex

Using a clean needle to inject the drugs

Limiting the number of sex partners

Routine HIV testing

Telling your recent partners about HIV and asking them to get tested.
Provider Locations
HIV testing can be done in any of the following locations across the U.S. either by visiting the nearest lab or by shopping the HIV home test kit. To know the HIV test cost, refer to the first section of the article.
Alabama Alaska Arizona Arkansas California Colorado Connecticut Delaware Florida Hawaii Georgia Idaho Illinois Indiana Iowa Kansas Kentucky Louisiana Maine Maryland Massachusetts Michigan Minnesota Mississippi Missouri Montana Nebraska Nevada New Hampshire New Jersey New Mexico New York North Carolina North Dakota Oklahoma Oregon Pennsylvania Puerto Rico Rhode Island South Carolina South Dakota Tennessee Texas Utah Vermont Virginia Washington West Virginia Wisconsin Wyoming
Summary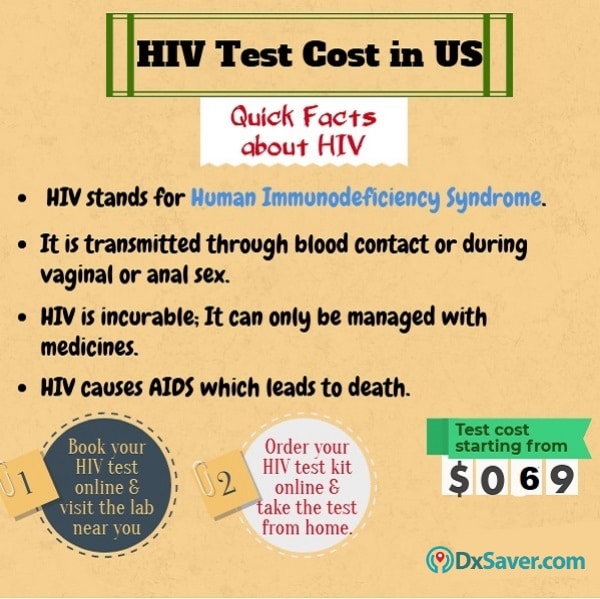 Author Rating





Brand Name
Product Name
Price
Product Availability