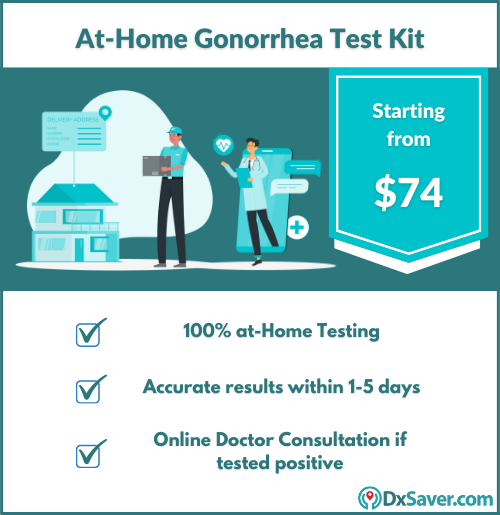 Gonorrhea is the second most reported sexually transmitted disease in the US. 
As in the case of any other disease, it is best to know in time to get the proper treatment. It is important to get tested in time even if you are showing no symptoms but may have indulged in some activity that could cause Gonorrhea. Gonorrhea does not show any symptoms early on. 
If you don't feel comfortable visiting your doctor for consultation or a nearby testing center for the medical test, you can get an at-home gonorrhea test kit and send back the sample to the lab, and get results for gonorrhea testing just sitting in your home.
Order your at-home Gonorrhea test kit and get screened from the comfort of your home.
At-Home Gonorrhea Testing in the US
Consult a physician online or medication sent home (as an add-on) if tested positive

Accurate results within 1-5 days

Free shipping to-and-from the lab

CLIA-certified labs

Pay for tests with FSA / FHA Cards
Get your at-home Gonorrhea test kit – Options
At-home Gonorrhea STD testing costs about $74 in the U.S.
No prior appointment is required. Order your test kit online, post back the sample to the mentioned address, and get the results in your email in 2 to 3 business days.
The home test kit delivery is available across the US. Once you send back the sample, reports are sent to you within the next 5 days.
Name of our Partner Labs

Book Online

(Home Test Kit)

Reports – 2 to 5 days

The entire U.S.

Home-test kit provider

If tested positive, online physician consultation & medication sent at an add-on cost
Dedicated iOS and Android apps to track your test
Use code "DX25" to avail exclusive 25% discount on checkout by shopping through DxSaver.com

Starting from

$99

$74.25
What is Gonorrhea?
Gonorrhea is one of the most common STDs found in the United States. Gonorrhea is caused by a bacterium called Neisseria gonorrhoeae which infects both men and women.
Gonorrhea is transmitted through vaginal, anal, or oral sex. Sexually active young people get infected by Gonorrhea easily when having unprotected sex or when having sex with multiple partners. This bacterium infects the warm and moist areas of the body like the urethra, rectum, eyes, vagina, and throat. Gonorrhea cannot be transmitted through casual contact like sharing food or drinks, kissing, hugging, holding hands, coughing, sneezing, or sitting on the toilet seat.
What are the symptoms of Gonorrhea?
A gonorrhea-infected person does not show any symptoms for several weeks even after the infection or until it spreads to other body parts.
Gonorrhea Symptoms in Women
Unusual vaginal discharge (dark green or yellow color)

Severe abdominal and back pain

Bleeding during sexual intercourse

Heavy periods

Vulvar (outer part of the vagina) swelling
Gonorrhea Symptoms in Men
Unusual penile discharge

Swollen testicles

Inflammation around the penis

Pain while urinating
Common Symptoms
Swelling in the neck lymph nodes

Anal discharge

Fever

Sore throat

Pain in the eye

Sensitivity to light

Painful joints

Bleeding or pain with passing bowel movements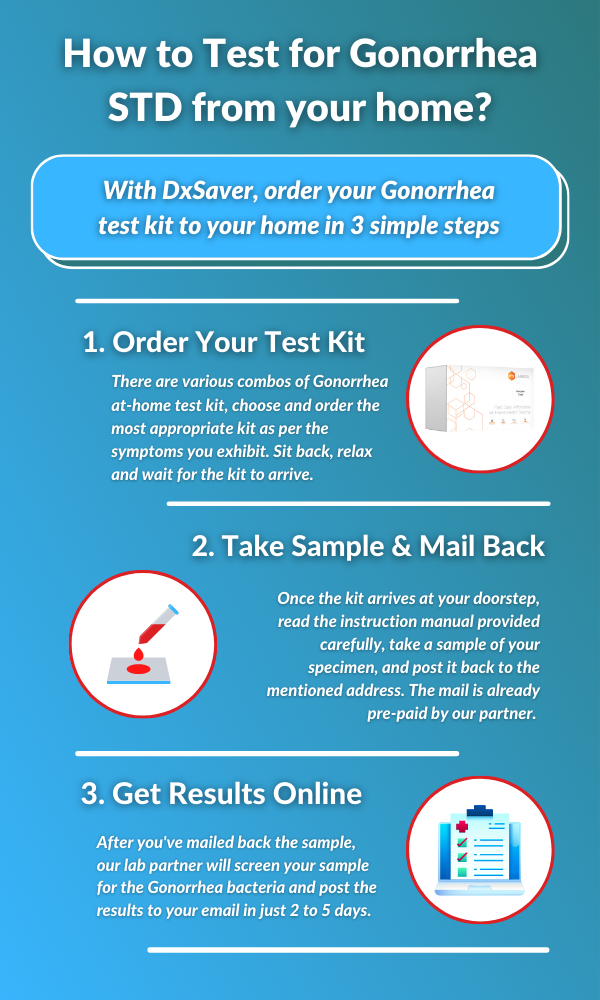 Why should you test for Gonorrhea?
Many people believe they don't need to get tested for Gonorrhea unless they are exhibiting symptoms, but that's not the case. Every sexually active person should be tested regularly for Gonorrhea and other STIs, even if they don't notice any symptoms. Gonorrhea is highly-transmissible and is ranked number #1 in active STD. case types. As many as 70% of STIs present mild symptoms or no symptoms at all and can have serious, long-term health consequences if left untreated. Even if a particular STI is not a serious risk to your health, it is very likely a serious risk to your partner.
Many STIs, including Gonorrhea, have more dangerous consequences for women than for men, especially pregnant women. Some can cause complications with pregnancy, including early delivery, birth defects, and stillbirth. For this reason, you should never assume that you do not have Gonorrhea or other STDs simply because you are not experiencing symptoms.
Order your at-home Gonorrhea test kit – Options
At-home STD testing panel cost ranges between $99 and $249 in the U.S. If you are unsure of what STD you might have been infected with (as most STDs have similar symptoms), we recommend getting testing for a panel of STDs than a singular test to best assess your exposure.
Taking multiple STD tests individually might be more expensive, rather go with a comprehensive test package which is considerably low cost compared to all the individual tests summed up.
No prior appointment is required. Order your test kit online, post back the sample to the mentioned address, and get the results in your email in 2 to 3 business days.
The home test kit delivery is available across the US. Once you send back the sample, reports are sent to you within the next 5 days. Top-selling STD test packages are given below:
2 Panel STD at Home Test ($99) – Get tested for the 2 most common STDs sitting at home – Chlamydia, and Gonorrhea – Order Now
5 Panel STD at Home Test ($149) – Get 5 tests sitting at home. HIV, Syphilis, Chlamydia, Gonorrhea, & Trichomoniasis –  Order Now
8 Panel STD at Home Test ($249) – Get the most comprehensive home STD test kit covering Chlamydia, Gonorrhea, HIV (I & II), Mycoplasma, Ureaplasma, Syphilis, Trichomoniasis, Mycoplasma Genitalium, and Gardnerella – Order Now
Other topics that you may be interested in:-
Summary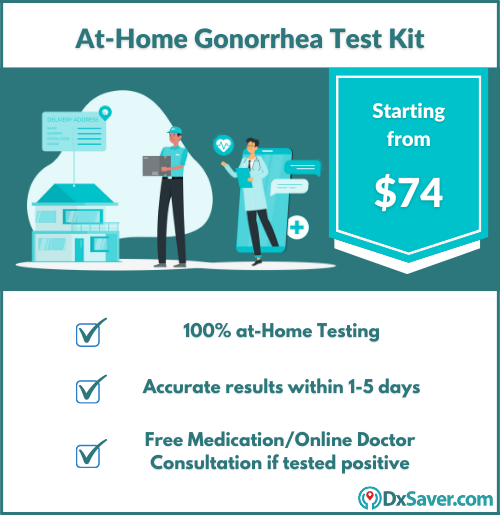 Author Rating





Brand Name
Product Name
Price
Product Availability