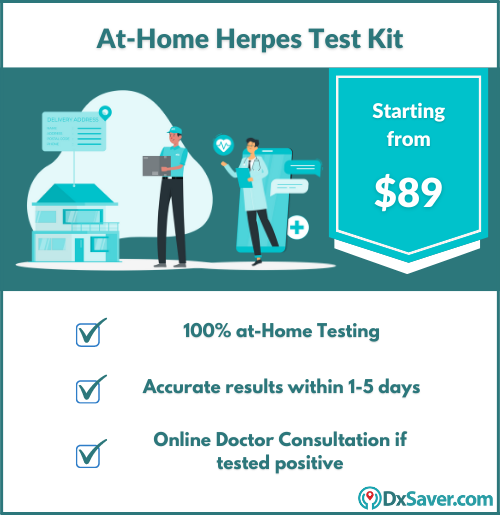 According to the American Sexual Health Association, more than half of the American adults are diagnosed and living with herpes infection. Herpes is very common among adults because the virus can be transmitted even when the symptoms are not experienced. Also, the symptoms do not show up at an earlier stage of infection. So we highly recommend every sexually active person to get tested for herpes infection at least once or twice a year.
Order your at-home Herpes test kit and get screened from the comfort of your home.
At-Home Herpes Testing in the US
Consult physician online or medication sent home (as an add-on) if tested positive

Accurate results within 1-5 days

Free shipping to-and-from the lab

CLIA-certified Labs

Pay for tests with FSA / FHA Cards
At-Home Herpes Testing Kit Combinations –
Options
At-home Chlamydia STD testing costs about $89 in the U.S.
No prior appointment is required. Order your test kit online, post back the sample to the mentioned address, and get the results in your email in 2 to 3 business days.
Name of our Partner Labs

Book Online

(Home Test Kit)

Reports – 2 to 5 days

The entire U.S.

Home-test kit provider

If tested positive, online physician consultation & medication sent at an add-on cost
Dedicated iOS and Android apps to track your test
Use code "DX25" to avail exclusive 25% discount on checkout by shopping through DxSaver.com

Starting from

$119

$89.25
What is Herpes?
Herpes is a common and highly contagious sexually transmitted disease caused by two different viruses called Herpes Simplex Virus 1 (HSV 1) and Herpes Simplex Virus 2 (HSV 2). Herpes cannot be cured but the symptoms can be relieved with some medications. It can cause severe health issues if it is not diagnosed and treated at the right time. Human Immunodeficiency Virus (HIV) can easily enter the body of the people infected with the herpes simplex virus.
What are the symptoms of Herpes?
Blisters and sores in the mouth and genital areas

Vaginal discharge

Pain and itching in the genitals

Pain during urination

Fatigue

Fever

Enlarged lymph nodes

Red blisters on the skin

Lack of appetite

Burning or tingling around the genitals

Why should you test for Herpes?
Many people believe they don't need to get tested for Herpes unless they are exhibiting symptoms, but that's not the case. Every sexually active person should be tested regularly for Herpes and other STIs, even if they don't notice any symptoms. As many as 70% of STIs present mild symptoms or no symptoms at all and can have serious, long-term health consequences if left untreated. Even if a particular STI is not a serious risk to your health, it is very likely a serious risk to your partner.
Many STIs, including Herpes, have more dangerous consequences for women than for men, especially pregnant women. Some can cause complications with pregnancy, including early delivery, birth defects, and stillbirth. For this reason, you should never assume that you do not have Herpes or other STDs simply because you are not experiencing symptoms.
Order your At-Home Herpes Test Kit now
Most people begin to experience their first outbreak of Herpes within 4 days following the initial exposure, but the incubation period for genital herpes ranges from 2 to 12 days. This means herpes may not be detectable for up to 12 days after you are exposed to it. As a result, you should not take a Herpes test within the first 2 to 12 days following the initial exposure. If you test negative within the first 2 to 12 days, it's best to retest after two weeks have passed to confirm your results.
Taking multiple STD tests individually might be more expensive, rather go with a comprehensive at-home herpes test package which is considerably low cost compared to all the individual tests summed up.
No prior appointment is required. Order your at-home herpes test kit online, post back the sample to the mentioned address, and get the results in your email in 2 to 3 business days.
An at-home herpes test kit delivery is available across the US. Once you send back the sample, reports are sent to you within the next 5 days. Top-selling STD test packages are given below:
2 Panel STD at Home Test ($99) – Get tested for the 2 most common STDs sitting at home – Chlamydia, and Gonorrhea – Order Now
5 Panel STD at Home Test ($149) – Get 5 tests sitting at home. HIV, Syphilis, Chlamydia, Gonorrhea, & Trichomoniasis –  Order Now
8 Panel STD at Home Test ($249) – Get the most comprehensive home STD test kit covering Chlamydia, Gonorrhea, HIV (I & II), Mycoplasma, Ureaplasma, Syphilis, Trichomoniasis, Mycoplasma Genitalium, and Gardnerella – Order Now
Other topics that you may be interested in: –