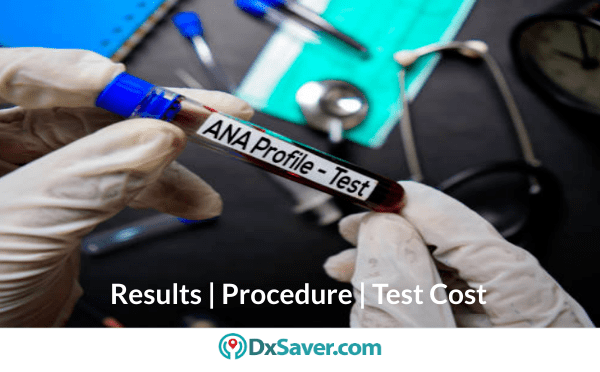 An ANA test is taken to determine the level of ANA in the blood.  The risk of an autoimmune disorder is more if the level is higher. The conditions such as infections, cancer, and other medical diseases can also result in a positive ANA test.
The article below will cover the significant and relevant topics of ANA test that include the Test cost of ANA, why is ANA test done, how the test is performed, Preparation before the test, Risk factors of the ANA test.
ANA test cost

Why is the ANA blood test needed?

How is the ANA test performed?

Is there any preparation required before the test?

Are there any risks in the test?

What does the test result mean?

Negative ANA result

Positive ANA result

Provider's Locations
For our readers, who are very much interested in knowing the ANA test cost beforehand, we would like to begin with that section.
ANA test cost
The antinuclear antibodies/ANA test cost ranges between $59 and $62 in different labs and facilities across the United States.
No prior appointment is required to get tested for ANA. Compare the price, order your test online and visit the nearest lab during business hours to get your test done. After completing the test procedures, results will be mailed to you in 2 to 3 business days. We also provide doctor consultation for any further treatment and for any kind of health condition.
The following table shows the ANA blood test cost at 2 of our partner laboratories (CLIA – Certified) network located across the United States.
PersonaLabs
Reports – 2 to 5 days

The entire U.S. except for New York, New Jersey & Rhode Island
Required to visit the lab
Starting from
$62
HealthLabs
Reports – 1 to 3 days

The entire U.S.
Required to visit the lab
Starting from
$58
$59
ANA test cost with insurance
Many health insurance policies in the U.S. cover the cost of the ANA test. However, the coverage of private health insurance companies and national health insurance programs like Medicare and Medicaid varies accordingly. So we recommend you to check your health insurance plan before getting tested for ANA test.
Our ANA blood test providers do not accept any health insurance. Although, on request, they can provide you with an itemized receipt containing all the details like the name and code of the test, and CPT code which is necessary for insurance reimbursement purposes.
What is an ANA Test?
Antibodies are proteins that are made by the immune system. They allow the body to recognize and fight infections. Antibodies mainly target harmful substances, like bacteria and viruses, by activating the immune system to vanish them. In rare cases, antibodies unknowingly target healthy cells and tissues. This action is called an autoimmune response. Antibodies that attack healthy proteins within the nucleus are known as antinuclear antibodies (ANA).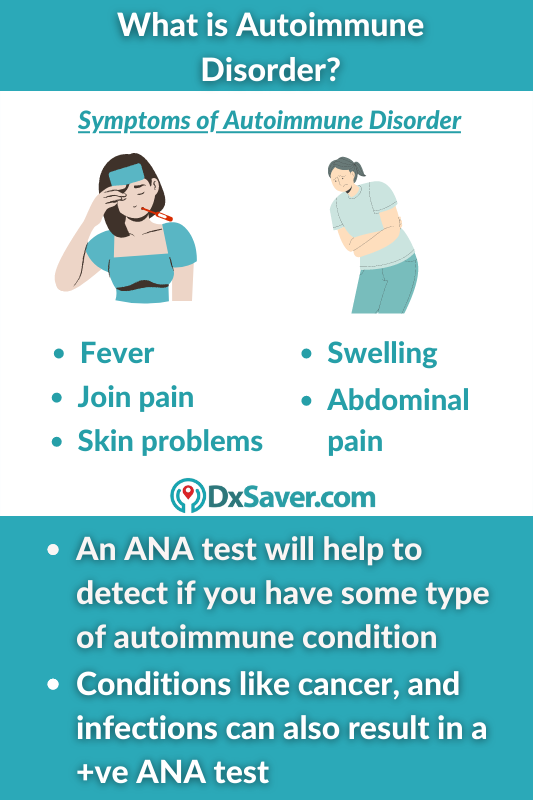 Symptoms of autoimmune disorder
There are various types of autoimmune diseases, but many of them share similar symptoms. Some of the common symptoms of autoimmune disease are:
Fatigue

Joint pain

Swelling

Skin problems

Abdominal pain

Digestive issues

Recurring fever

Swollen glands
Why is the ANA blood test needed?
Your physician will order for an ANA test if you show any signs or symptoms of an autoimmune disorder. An ANA test will help to detect if you have some type of autoimmune condition, but it is not used to diagnose any specific disorder. If you are tested positive, your physician will ask you to undergo more specific and detailed testing to find out if the autoimmune disease in your body is causing any symptoms.
How is the ANA test performed?
The ANA test is similar to other blood tests. A phlebotomist will tie an elastic band around your arm so that your veins swell with blood which makes it easier for them to find a vein. Then they will clean the site using an antiseptic, they'll insert a needle into a vein. You might feel a moderate pain when the needle goes inside, but the test isn't painful.
Blood is collected in a tube attached to the needle. After the blood is collected from your vein, the phlebotomist will remove the needle and cover the puncture site using cotton or a small plaster. For infants or children, a lancet will be used to puncture the skin, and blood will be collected using a small tube called a pipette. The blood is also collected on a test strip. Finally, the blood is then sent to a lab for analysis.
Is there any preparation required before the test?
No serious preparation is required for the ANA test like fasting. However, it's mandatory to tell your physician about the medications and supplements that you're taking, even over-the-counter ones. Some drugs, which include seizure and heart medications, may affect the accuracy of the result.
 Are there any risks in the test?
The risks of doing an ANA test are no serious. People with veins that are harder to access may experience more discomfort than others during the blood test. Bleeding, infection on the puncture site, fainting is the common risk of any blood test.
What does the ANA test result mean?
If your physician has ordered the test, then they may recommend a referral to a rheumatologist, who is an autoimmune disease specialist. They will review if there is any abnormal ANA in your body. They help to determine accurate test results or if your test results are related to any specific health condition.
For a ratio of 1:40 or 1:80, the possibility of having an autoimmune disorder is comparatively low and for a ratio of 1:640 or greater than that indicates a higher possibility of autoimmune disorder, but the results should be analyzed by a physician and additional tests should be performed to understand the condition.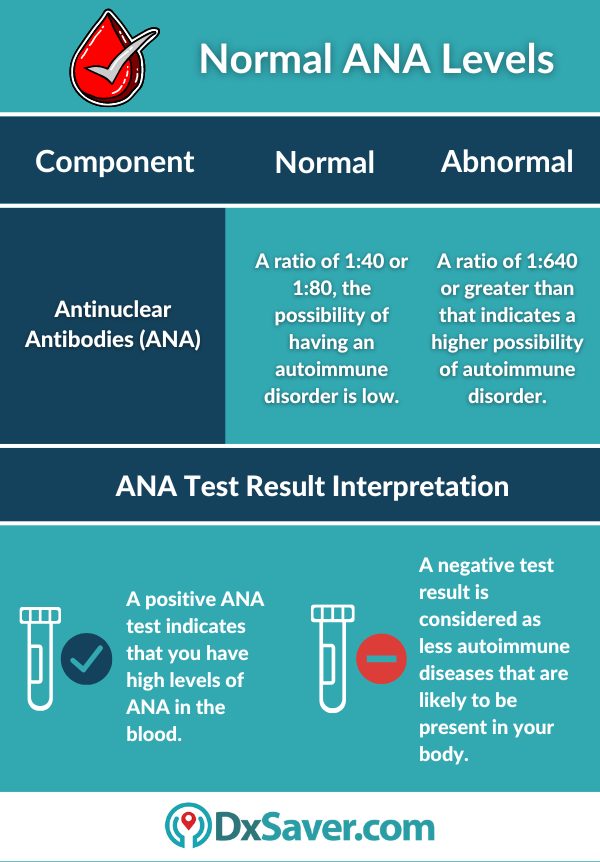 Negative ANA result
A negative test result is considered as less autoimmune diseases that are likely to be present in your body. However, other tests should also be taken if you show any kind of symptoms. Some having autoimmune diseases may get a negative test result for ANA but positive for antibodies.
A positive result doesn't mean that you have an autoimmune disease. Up to 15 percent of healthy people have a positive ANA test and that is called a false-positive test result. ANA titers may also increase with age among healthy people, so it's very important to discuss with your physician about you have symptoms and what the result means to you.
Positive ANA result
A positive ANA test indicates that you have high levels of ANA in the blood. A positive ANA test is reported as a ratio and as a pattern, such as a smooth or speckled. Few diseases are more likely to have patterns. If the titer is higher, then the result is a "true positive", which means you have significant ANAs and also an autoimmune disease.
A positive ANA test can't diagnose any other diseases. However, some health conditions that are associated with a positive ANA test may include:
Systemic lupus erythematosus: It is one of the autoimmune disorders that may affect different parts of your body, which includes the heart, kidneys, joints, and skin
Autoimmune hepatitis: An autoimmune disorder that may cause inflammation of the liver, including rashes, poor appetite, joint pain, nausea, and fatigue
Rheumatoid arthritis: This causes joint destruction, pain, swelling, and stiffness in the joints and affects the heart, lungs, eyes, and other organs. It's also of the autoimmune disorder
Sjögren syndrome: this autoimmune disorder may affect the salivary and lacrimal glands, which produces saliva and tears
Scleroderma: an autoimmune disorder that mainly affects the skin and other connective tissues and they will also affect organs
Autoimmune thyroid disease: This condition may affect your thyroid, including hypothyroidism and hyperthyroidism
Polymyositis: This autoimmune condition causes weakness, pain, and inflammation of the muscles, and may also include a rash
Talk with your physician about what your levels mean and how your symptoms are explained by the presence of ANA. If you test positive for ANA, then your physician will recommend more tests in order to help find out which autoimmune disorder you have or if the results are related to a specific condition.
The ANA test is done especially to diagnose lupus. More than 95 percent of people who have lupus, will get a positive ANA test result. But not everyone who gets a positive test result may have lupus or not everyone with lupus will show a positive test result. So the ANA test can't be used as the only way to diagnose any condition. Speak with your physician about additional tests that can be done to know if there is an underlying or any specific cause for the sudden increased ANA in your blood.
Providers Locations
An ANA test can be done in any of the following locations across the U.S. by visiting the nearest lab.
Alabama

Alaska

Arizona

Arkansas

California

Colorado

Connecticut

Delaware

Florida

Hawaii

Georgia

Idaho

Illinois

Indiana

Iowa

Kansas

Kentucky

Louisiana

Maine

Michigan

Minnesota

Mississippi

Missouri

Montana

Nebraska

Nevada

New Hampshire

New Mexico

North Carolina

North Dakota

Oklahoma

Oregon

Pennsylvania

Puerto Rico

South Carolina

South Dakota

Tennessee

Texas

Utah

Vermont
Frequently Asked Questions
Will insurance cover my testing cost?
No, insurance will not be covered in the billing. However, they will provide you a receipt for insurance reimbursement purposes.
How should I book my appointment?
You can choose the most suitable provider from above and make an appointment by following the instructions mentioned by them.
Can I cancel my lab test order?
Yes, you can cancel your lab test order anytime before your testing. A refund will be initiated after deducting the cancellation fee. However, cancellation is at the discretion of the provider.
Do the providers offer result interpretations?
Yes, a few providers may provide doctor consultation who will take you through the results and provide clarification if needed.
How do I receive my report?
To ensure your privacy, the test report will be mailed to you by the provider.
Other topics you may be interested in:-
Summary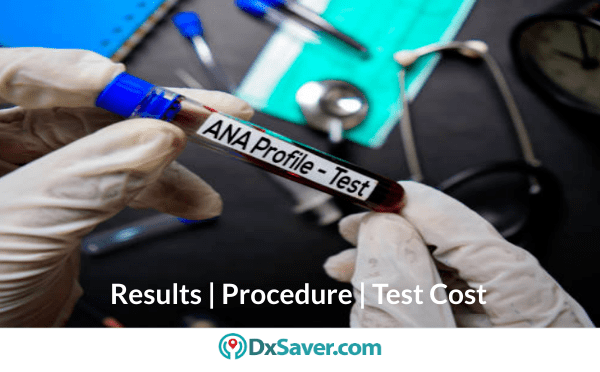 Author Rating





Brand Name
Product Name
Price
Product Availability