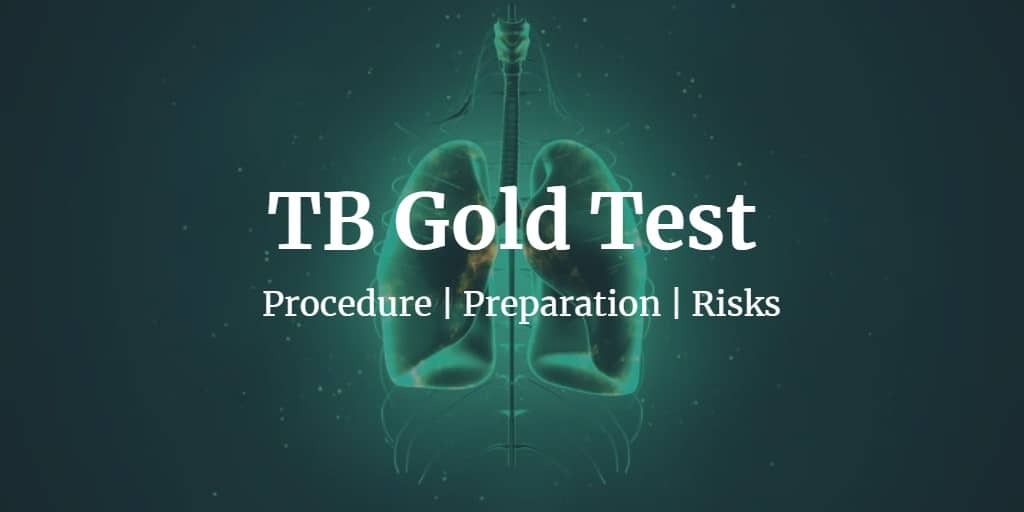 According to the Centers for Disease Control and Prevention (CDC), TB (Tuberculosis) surveillance data reported that 9029 new cases of TB were diagnosed in 2018 in the United States. Although the number of cases reported is low, it remains important for people at higher risk of getting tuberculosis to get tested for TB screening at an earlier stage to completely eradicate TB. TB is a highly contagious disease. So we recommend everyone who suspects the possibility of being exposed to tuberculosis bacterium to get tested for TB gold blood test immediately.
The article below covers all the significant topics related to TB gold blood test such as TB gold test cost, who should get tested for TB gold blood test, preparation, risks, and how to get tested for TB gold test.
For our readers, who are very much interested in knowing the TB gold test cost beforehand, we would like to begin with that section.
How much does the TB gold test cost?
TB gold test cost ranges between $199 and $208 in different labs and facilities across the U.S. To view and compare the prices in different labs offered by different providers, click the button below.
TB gold test cost with insurance
Most of the health insurance policies in the U.S. cover the cost of TB gold blood test. However, the coverage offered by private health insurance companies and national health insurance programs like Medicare and Medicaid varies widely. So we recommend you to check the coverage of your health insurance plan before getting tested for TB.
Our TB gold testing providers do not accept any kind of health insurance plan. But, on request, they can provide you with an itemized receipt containing all the details like the name and code of the test, and CPT code that is necessary for insurance reimbursement purposes.
What is a TB gold test?
TB gold is also known as "QuantiFERON TB gold". It is a simple blood test done to diagnose the presence of tuberculosis bacterium in the body. QuantiFERON (QFT) is an Interferon Gamma Release Assay (IGRA) used to detect the TB bacterium. It measures the response of a person's immune system with the help of a certain substance called gamma interferon. This substance is released by the white blood cells in a blood sample when they are exposed to specific TB antigens.
What is tuberculosis?
Tuberculosis commonly known as TB is a highly contagious disease caused by a bacterium called Mycobacterium tuberculosis. It primarily attacks the lungs but can also spread to other body parts like the brain and spine. TB bacterium can spread through the air and a person infected with TB can easily transmit the bacterium to another person via sneezing, coughing, and speaking.
Forms of tuberculosis
There are two forms of tuberculosis.
Active TB:
This form of TB remains very active in the body, causing symptoms and transmitting the bacterium to other healthy persons.
Latent TB:
This form of TB remains passive or inactive in the body. It is not contagious and does not cause any symptoms. But it can become active anytime.
Symptoms of Tuberculosis
Active tuberculosis cause various symptoms that include
Continuous coughing

Coughing up blood

Pain in the chest

Pain during cough

Unexplained weight loss

Fatigue

Loss of appetite

Nausea

Vomiting

Sweating in the night
Without proper treatment, TB bacterium can spread to other organs through the bloodstream. The symptoms differ depending on the organ infected with tuberculosis.
Bones – pain in the spine and joint destruction

Brain – meningitis (a condition causing inflammation of the meninges i.e. the three membranes that line the skull and vertebral canal)

Kidneys – blood in the urine

Heart – cardiac tamponade (compression of the heart by an accumulation of fluid in the pericardial sac)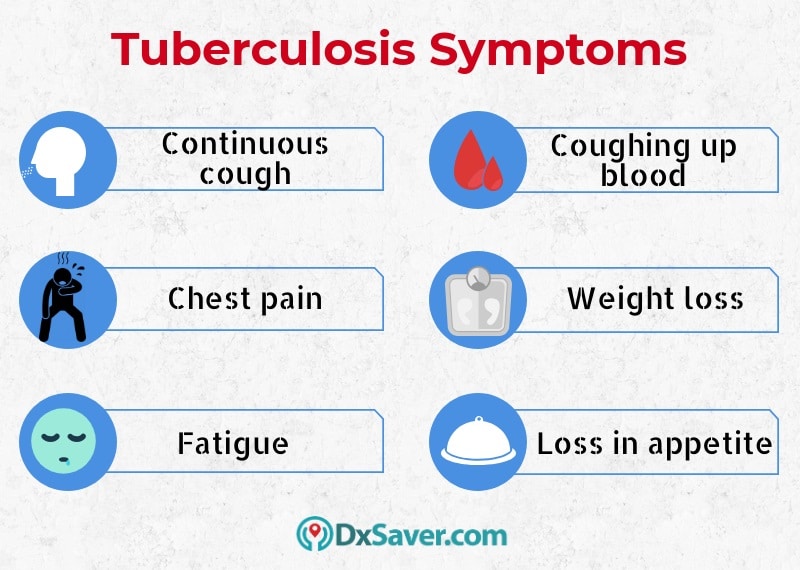 Who should get tested for TB gold test?
People with the above-mentioned symptoms or people with the following risk factors are advised to get tested for TB gold test.
Weakened immune system

HIV infection

Chemotherapy treatment

End-stage kidney disease

Diabetic patients

A positive result of TB skin test

Drug users

Close contact with the TB infected person

Traveling to regions where the TB rates are high

Use of tobacco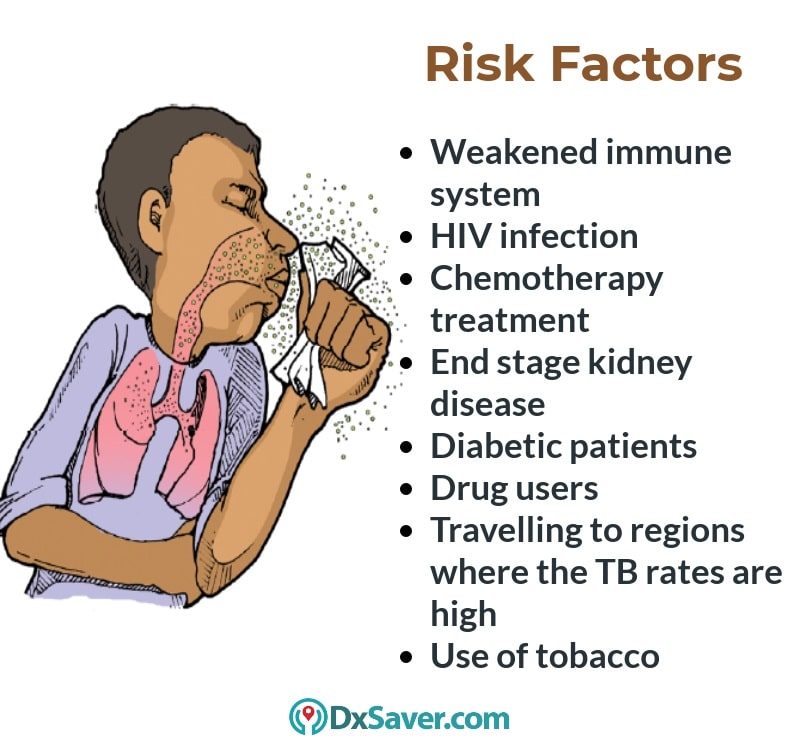 How is the TB gold test done?
TB gold test is done using the blood sample.
During this test, a lab technician or a phlebotomist will cleanse the area to be injected with a disinfectant liquid and wrap an elastic band around the upper arm to make the vein visible and swell with blood. He/she then injects a needle to draw a sample of blood and collects the blood sample in a test tube. After the blood is drawn, he/she covers the injected area with a band-aid or a cotton ball to stop bleeding. The collected blood sample is then sent to the lab for further analysis.
It takes less than 5 to 10 minutes to perform this test.
Ideal time to get tested for tuberculosis
You can get tested for TB immediately when you suspect the possibility of exposure to TB bacterium or when you experience any of the TB symptoms. There is no window period or incubation period necessary to get tested for TB gold test.
Is there any preparation required before the test?
There is no special preparation required before the TB gold blood test. There is no constraint on diet and you can carry on your regular activities. Inform the phlebotomist if you have any bleeding disorder before the test.
Are there any risks in the test?
There are no possible risks or complications in the TB gold blood test. After the blood sample is drawn, you might feel dizziness, slight pain, bruise or redness in the injected spot for a very little period.
What does the test result mean?
If your TB gold test results are positive, it indicates that you are infected with TB. As this test does not tell whether the bacterium is active or latent, your physician might order additional tests to identify it.
If your TB gold tests are negative, it indicates that you are not infected with any form of TB.
How to treat tuberculosis?
Tuberculosis can be treated with a combination of medications such as
isoniazid

ethambutol (Myambutol)

pyrazinamide

rifampin (Rifadin, Rimactane)

rifapentine (Priftin)
Sometimes, these medications can affect your liver showing symptoms such as dark urine, jaundice, and/or abdominal pain. Inform your physician when you start noticing these symptoms.
It is very important to complete the full treatment course. Otherwise, there are higher chances of the bacterium to come back.
What are the complications of tuberculosis if left untreated?
If left untreated at the earlier stage, tuberculosis can be fatal and can spread to other organs such as the brain, liver, kidney, and spine through the bloodstream. It can lead to spinal pain, damage in the joints, meningitis, heart problems, and liver and kidney disorders.
How to prevent tuberculosis?
The following measures can be taken to prevent tuberculosis.
BCG (bacillus Calmette-Guerin) vaccines are used in some countries for children to prevent severe TB (but these vaccines are not recommended in the U.S. for general use).

If you have an active TB, wearing a mask, ventilating the room, and covering your mouth can lower the risk of transmission.
Provider Locations
The TB gold blood test can be done in any of the following locations across the U.S. by visiting the nearest lab. To know the TB gold test cost, refer to the first section of the article.
Alabama Alaska Arizona Arkansas California Colorado Connecticut Delaware Florida Hawaii Georgia Idaho Illinois Indiana Iowa Kansas Kentucky Louisiana Maine Michigan Minnesota Mississippi Missouri Montana Nebraska Nevada New Hampshire New Mexico North Carolina North Dakota Oklahoma Oregon Pennsylvania Puerto Rico South Carolina South Dakota Tennessee Texas Utah Vermont Virginia Washington West Virginia Wisconsin Wyoming
Summary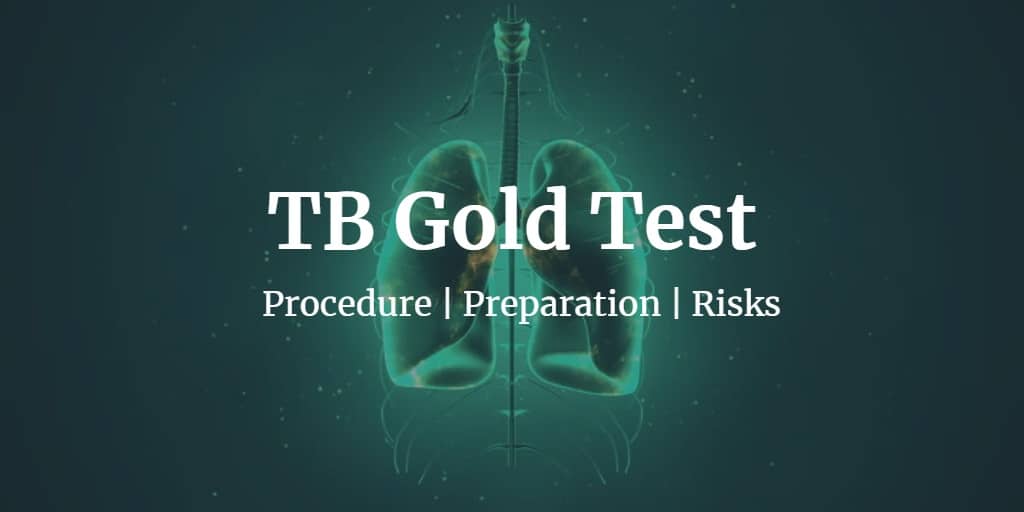 Author Rating





Brand Name
Product Name
Price
Product Availability