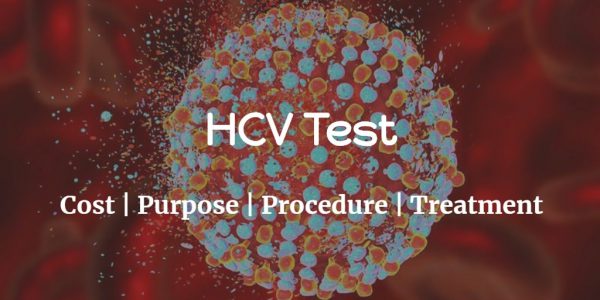 According to the Centers for Disease Control and Prevention (CDC), nearly 2.4 million people in the U.S. are living with HCV (hepatitis C virus) infection. Hepatitis C infection can be easily transmitted and lead to severe complications if left undiagnosed and untreated at an early stage. So we highly recommend everyone who is at a higher risk of getting the infection or experiences the symptoms of hepatitis C infection to get tested for HCV test.
The article below covers all the relevant topics of hepatitis C viral infection like HCV test cost, who should get tested for an HCV test, preparation, procedure, risks, and how to get tested for an HCV infection.
For our readers who are more interested in knowing the HCV test cost beforehand, we would like to begin with that section.
How much does the HCV test cost?
HCV test cost ranges between $24 and $299 in different labs and facilities across the U.S. The cost of HCV test also depends on the type of test i.e. HCV antibody test or HCV RNA test.  To view and compare the prices of HCV tests in different labs offered by different providers, click the button below.
HCV test cost with insurance
Most of the health insurance policies in the U.S. do not cover the cost of the HCV test. However, this also depends on your overall health condition and the coverage of your insurance plan.
Our HCV testing providers do not accept any kind of health insurance plan. But, they can provide you with an itemized receipt containing all the details like the test name and code, and CPT code which is necessary for insurance reimbursement purposes.
What is an HCV test?
HCV test is a simple blood test done to look for and confirm the presence of the hepatitis C virus in the body. Testing for hepatitis C virus infection is a two-step process.
1. HCV antibody test: This is the initial screening test done to look for the antibodies that fight against the hepatitis C virus in the body. The test results may be either positive or negative.
2. HCV RNA quantitative test (real-time PCR): This test is done as a follow up after initial positive HCV screening to confirm the diagnosis. It also helps in the prognosis and treatment of the infection.
What is HCV?
HCV refers to the hepatitis C virus, one of the five hepatitis viruses. This virus invades the liver cells and causes a contagious liver disease called hepatitis C.
Hepatitis C is the most common blood-borne disease in the U.S. This infection gradually progresses in the stages starting from the liver inflammation to severe liver damage or cirrhosis (scarring of liver tissue). If the hepatitis C infection is not treated and cured in the initial stage, it becomes chronic and leads to scarring, liver cancer, and death in extreme cases.
How is HCV transmitted?
Hepatitis C is generally transmitted through blood or other body fluids of an infected person. It can be also be spread when a person comes into sexual contact with an HCV infected person. A pregnant woman with the infection can easily pass the disease to her child at birth. However, HCV is not spread through casual contact, sharing food, utensils and lip balm, kissing, or mosquito bites.
Types of hepatitis C infection
1. Acute HCV infection: Acute HCV infection is hardly diagnosed because of the lack of symptoms experienced. People with acute HCV infection will start noticing the symptoms only after 4 to 15 weeks of initial exposure to HCV.
2. Chronic HCV infection: HCV infection becomes chronic when the virus stays in the body for more than six months after the acute stage. This infection cannot be cured until treated with proper medications. If left untreated, it can lead to cirrhosis, liver failure, and liver cancer.
Symptoms of HCV infection
People with HCV infection experience symptoms based on the type of HCV infection.
Symptoms of acute HCV infection
People with acute HCV infection are mostly asymptomatic. However, some develop symptoms that include
Pain in the abdomen

Loss of appetite

Yellowish, dark urine

Fatigue

Fever

Clay-colored stool

Joint pain

Nausea

Vomiting

Jaundice (in rare cases)
Symptoms of chronic HCV infection
Fatigue

Unexplained itchiness

Jaundice

Loss of appetite

Swelling in the legs and abdomen

Abnormal weight loss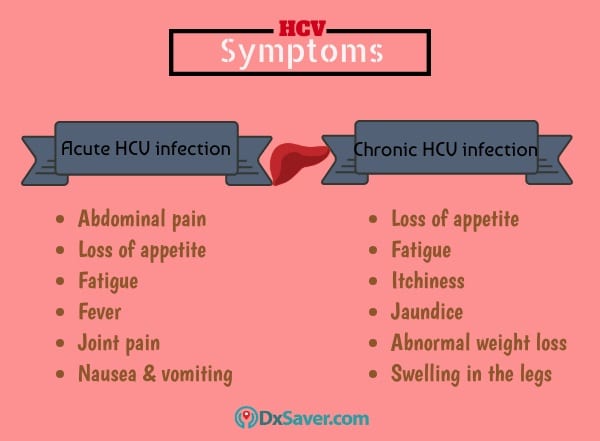 Who should get tested for an HCV test?
People with the above-mentioned symptoms or people with the following risk factors are advised to get tested for an HCV test.
Older than 45 years of age

Currently injecting or using drugs

Having an HIV infection

Long-term kidney dialysis

Had a blood transfusion before July 1922*

Children born to HCV infected women

Have been exposed to the blood of HCV infected person

Hemophilia (a rare condition in which the blood doesn't clot properly)

Unprotected sex

Liver disease

History of daily alcohol use
*The blood supply has been monitored in the U.S. since July 1992 and any blood that tests positive for HCV infection is rejected.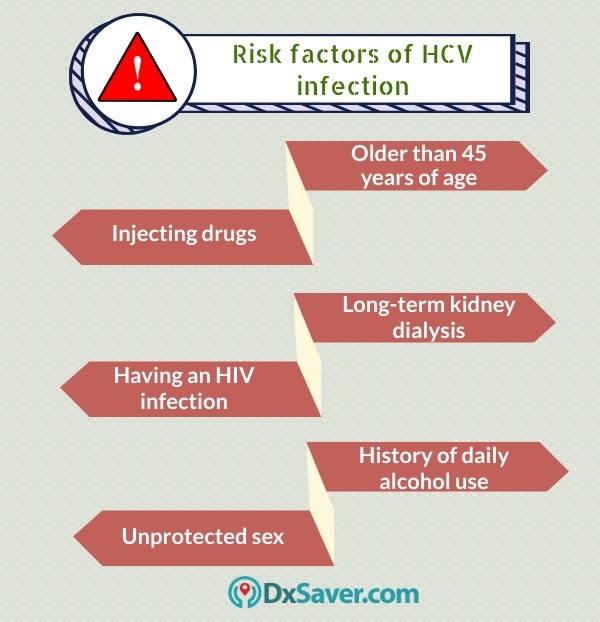 How is the HCV test performed?
HCV test is a simple blood test done using the blood sample.
During this test, a lab technician or a phlebotomist will cleanse the area to be injected with an antiseptic and wrap an elastic band around the upper arm to make the vein visible and pool with blood. He/she then injects a needle to draw a sample of blood and collects the blood sample in a test tube. After the blood is drawn, he/she covers the injected area with a band-aid or a cotton ball to stop bleeding. The collected blood sample is then sent to the lab for further analysis.
It takes less than 5 to 10 minutes to perform this test.
Right time to test for HCV infection
Generally, HCV antibodies do not appear up to 12 weeks after the initial exposure of infection. To ensure accurate results, physicians recommend waiting for up to a certain period or getting retested after 3 to 6 months of initial testing.
Also, we highly recommend getting tested for HCV infection again after 6 months of the initial treatment to get rid of reinfection.
Is there any preparation required before the test?
No fasting or any other special preparation is required before taking the HCV test. If you have any abnormal bleeding disorder, inform the phlebotomist before taking the test.
Are there any risks in the test?
There are no possible risks or complications in taking the HCV blood test. But sometimes, after the blood sample is drawn, you might feel slight pain, dizziness, redness or bruise in the injected area for a very little period.
What does the test result mean?
If the HCV antibody test results are negative, it means that the person has not been exposed to the virus. However, if you suspect that you have been exposed to the virus, get tested for HCV antibody test again after a certain period. If the test results are positive, it means that the person has been exposed to the virus at some point in time.
Your physician will order an HCV RNA (real-time) PCR test if your HCV antibody test results are positive. This test will ensure whether the virus is still present in the body.
If the PCR test results are positive, it means that the virus is still present and a liver biopsy might be ordered to evaluate the severity of the disease and the extent of liver damage. The genotype of the virus will also be established by testing to determine the treatment, cure rate, and preferred medications.
How to treat HCV infection?
Your physician will decide the treatment based on the severity of the disease. Early-stage hepatitis C infection can be treated with antiviral medications. If the liver is damaged extensively, liver transplantation may be an option. However, it will not be able to cure the infection completely. The infection will more likely return and to get rid of reinfection, your physician may prescribe some antiviral medications.
What happens if HCV is left untreated?
If HCV is left untreated in the earlier stages, it might lead to more complications like cirrhosis (scarring of the live tissue), liver failure, liver cancer, and death in the most extreme cases.
How to prevent HCV infection?
There is no vaccine to prevent hepatitis C unlike hepatitis A and hepatitis B. The following are some of the best ways to prevent HCV infection.
Use condoms or dental dams during vaginal, anal or oral sex if you have multiple sex partners.

Don't share needles or razor blades.

Don't get tattoos or piercings in an unregulated environment.

Avoid alcohol as alcohol makes the infection very difficult to treat.

Quit smoking.

Maintain a healthy, and balanced diet.

Avoid direct contact with blood or blood products.
Provider Locations
HCV testing can be done in any of the following locations across the U.S. by visiting the lab. To know the HCV test cost, refer to the first section of the article.
Alabama Alaska Arizona Arkansas California Colorado Connecticut Delaware Florida Hawaii Georgia Idaho Illinois Indiana Iowa Kansas Kentucky Louisiana Maine Maryland Massachusetts Michigan Minnesota Mississippi Missouri Montana Nebraska Nevada New Hampshire New Jersey New Mexico New York North Carolina North Dakota Oklahoma Oregon Pennsylvania Puerto Rico Rhode Island South Carolina South Dakota Tennessee Texas Utah Vermont Virginia Washington West Virginia Wisconsin Wyoming
Summary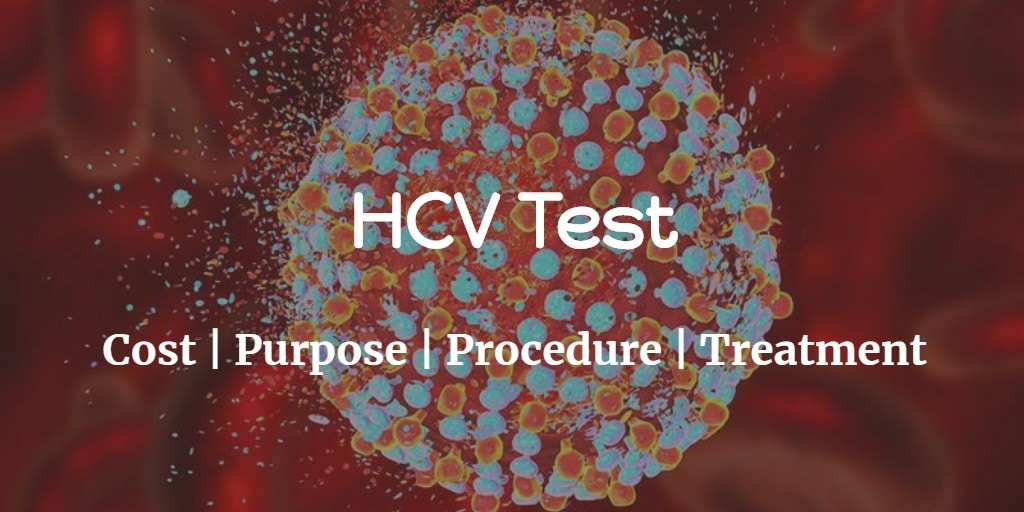 Author Rating





Brand Name
Product Name
Price
Product Availability